Silicone Rubber Membrane For Vacuum Press With Smooth And Textured Surface Finish | Deer Hunter
Quick Overview
High tear strength vacuum or lamination process material with self-healing properties
Silicone Rubber Membrane 3MM 2MM 1MM Thick Silicon Sheet Roll For Vacuum Press With Smooth Textured Surface Finish
High tear strength

High elasticity (860%)

Improved abrasion resistance

Ability to withstand puncture damage without catastrophic failure

Durability and Lifespan

Developed specifically for use as a vacuum bagging material

Supplied as standard in Translucent

Capability to color match if required
Silicone rubber membrane tolerance allowance - width 3%, length 5%.
We are the leading manufacturer & supplier in Asia offering seamless silicone rubber membranes at a width of up to 3500m, made in China. All units beyond this dimension will be joined by a seam. We make our products of thicknesses 1mm, 1.5mm, 2mm, and 3mm. Additionally, we enable you to make your choice of different hardness degrees according to customers' special requirements.
Silicone rubber membrane for vacuum press with smooth surface finish
Silicone rubber membranes are used for vacuum forming solid surfaces, thermoplastics, and similar composite materials. Thanks to their high-temperature resistance and elasticity, vacuum forming membrane has proven suitable for hot press and thermoforming applications.
High strength silicone membrane for vacuum press
We offer high tear strength silicone rubber membranes for large moulds and components to press up to 1 m in height. Please contact us for tailored advice.
IN STOCK - Available per linear meter
Descriptions
Both sides of the sheet are smooth. It is characterised by high stretchability. High resistance to high temperatures.
Silicone rubber membranes for all types of vacuum membrane presses with working temperature till 250°C. Elasticity, till 860%. The optimum combination of strength and elasticity.
Silicone rubber membrane for vacuum presses with textured finish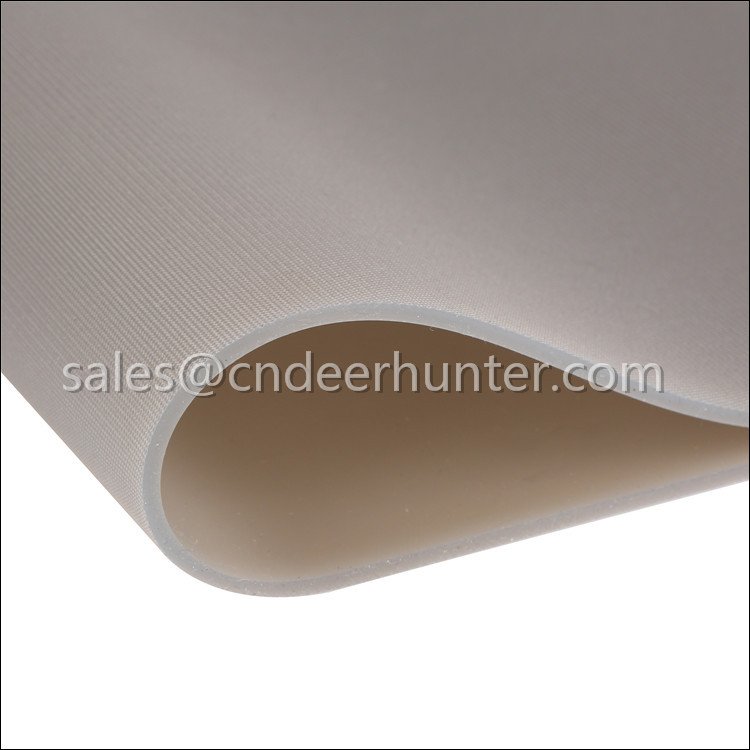 Textured silicone rubber membranes are used for vacuum forming solid surfaces, thermoplastics and similar composite materials. The texturized surface ensures perfect air evacuation and guarantees high-quality sublimation with the Vacuum Heat Presses. Thanks to the high temperature resistance and textured finish, the membrane has proven to be the superior choice for vacuum heat presses, where continuous air evacuation is needed.
Technical Data:
| | |
| --- | --- |
| Model No. | DH2211 - high tear strength silicone rubber membrane |
| Colour | Gray Transparent |
| Material | Silicone (VMQ) |
| Roll Length (m) | Any |
| Width (mm) | Max up to 3500mm |
| Sell by the metre | Yes |
| Hardness (Shore A) | 40-45 |
| Maximum Temperature (°C) | 250 |
| Minimum Temperature (°C) | -60 |
| Tensile Strength (MPa) | 11.5 |
| Elongation at break (%) | 860% |
* Most customers now prefer DH2211 as their top priority for vacuum presses.
* "Give the people what they want" - Custom-made thickness, width and length are available.
* The color does not impact on the quality; it is really just to make it easier to distinguish different material durometers or product characters.
Applications
The widely-used applications are the veneering of molds, the coating of canvas covers and curved surfaces as well as the bonding of molds. Furthermore, there are lots of other alternatives in use. Our vacuum forming membranes are outstandingly suitable for all current vacuum table presses.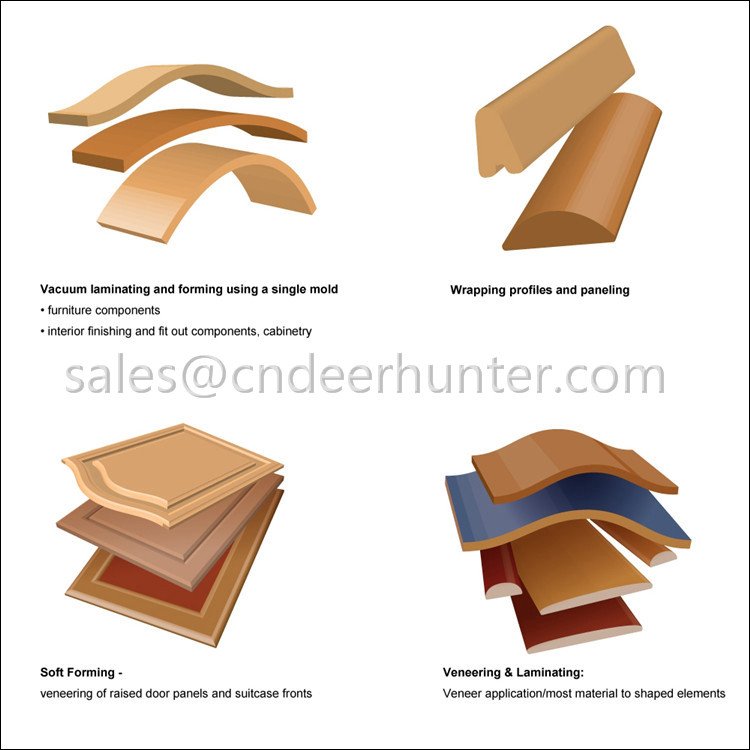 Laminating of foil, veneer, production of triplex, thermoforming of solid surface and thermoplastic materials.
Vacuum laminating and forming using a single mold
* furniture components
* interior finishing and fit out components, cabinetry
Wrapping profiles and paneling
Soft forming
veneering of raised door panels and suitcase fronts
Veneering & Laminating
veneer application/most material to shaped elements
Below images of silicone rubber membranes are for you to tell the difference of thickness 1mm, 2mm, and 3mm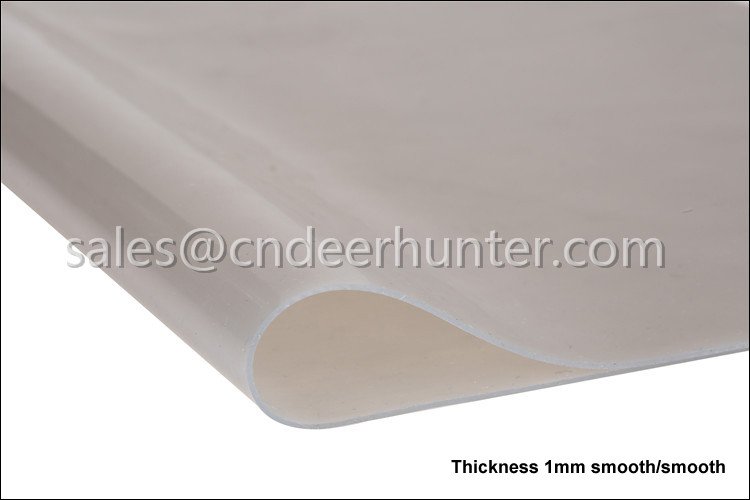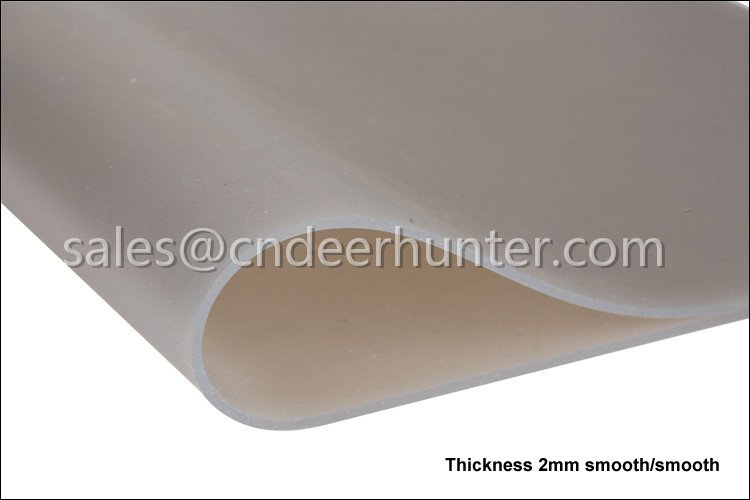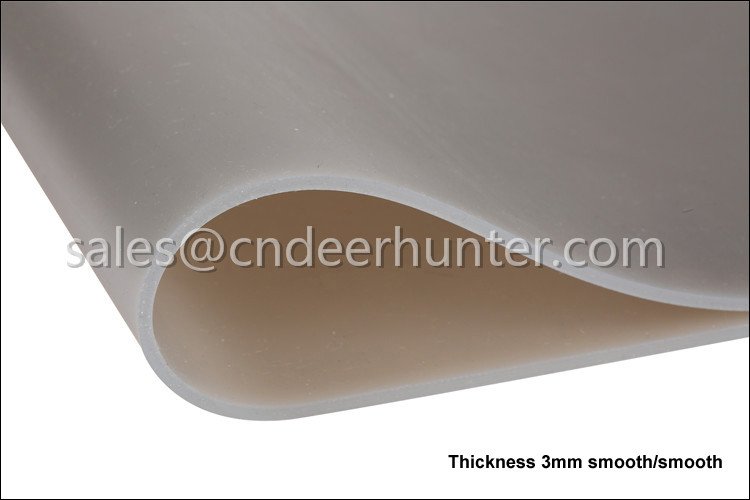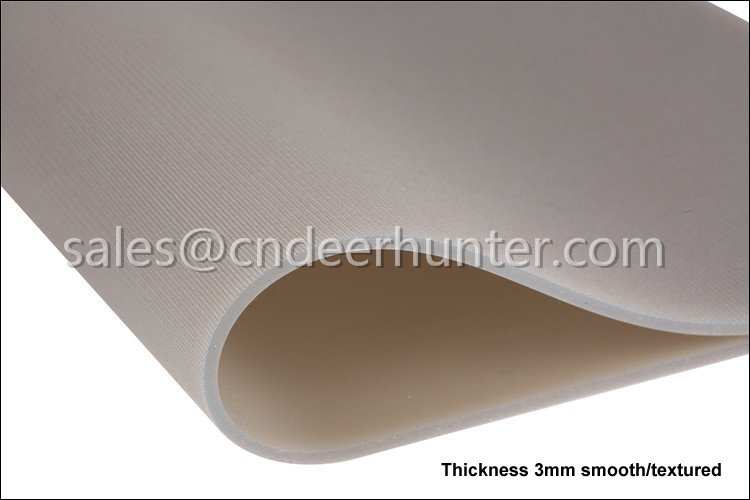 Widely-Used Silicone Rubber Membranes from our regular customers
1600 x 18000 x 1mm
1600 x 12000 x 1mm
1500 x 12200 x 2mm
1500 x 18500 x 2mm
1500 x 18000 x 2mm
1660 x 25000 x 2mm
3000 x 5200 x 2mm
1500 x 12000 x 3mm
1500 x 15200 x 3mm
1500 x 9200 x 3mm
1700 x 12000 x 3mm
1800 x 10000 x 3mm
1800 x 11500 x 3mm
1800 x 13000 x 3mm
1800 x 13200 x 3mm
1850 x 7400 x 3mm
2000 x 6600 x 3mm
2000 x 6700 x 3mm
2000 x 7600 x 3mm
2300 x 4300 x 3mm
3300 x 4900 x 3mm
3500 x 9000 x 3mm
Deer Hunter is your professional partner for the purchase and production of high quality silicone rubber membrane for vacuum presses. Let our expertise and superior products help improve your quality, productivity, and bottom line. Check out the wide range we have to offer – and feel free to contact us for solid advice in determining exactly which thickness will work best for your application.
And you can contact us by email at sales@cndeerhunter.com
Mobile/Whatsapp/Wechat: +86-13823789007
Skype: FULLCHANCE100