Silicone Vacuum Bag For Laminating Machine
Silicone Vacuum Bag is a long life and reusable product. It is made up superior silicone rubber sheet used for laminating glass, so it is also called silicone rubber vacuum bag or silicone vacuum seal bag. It is highly essential in glass lamination. It is very important to pump the air between the EVA film and glass with a vacuum machine. Make sure NO AIR in the bag. It could be prevented gum spilt on the machine. High-quality silicone vacuum bags can effectively reduce substandard product waste.
Each bag is a combination of assembled parts with glue-bonding.

-Upper Silicone Sheet

-Down Silicone Sheet

-Edge Gear (silicone sealing strips)

-Silicone Tubes

-Silicone Nozzles

PS:

Before quoting, please let us know the actual size of your working area you are really requiring.

Standard dimensions
Width X Length: As requested
Material thickness: 3mm/2mm
Vacuum Bags for Glass Lamination
It is a blanket. It is a bag. It is a silicone vacuum bag for laminating glass.
Each set of silicone vacuum bag consists of one top and one bottom silicone sheets. The top and bottom silicone membrane sheet edges are sophisticatedly embedded to each other, to make sealed room for vacuuming. The interlocking of edges and corners are easy. Edges and corners are specially modified, such as locking strength grow larger when vacuum pressure becomes higher.
As one of the leading silicone vacuum bags manufacturers in China, we know that your production has specific needs. The materials we provide you must be strong, long-lasting, and fit for your task. That's one reason why we focus on technical applications – it allows us to give you the maximum performance you need in a vacuum silicone bag.
Common colours are Translucent and Blue: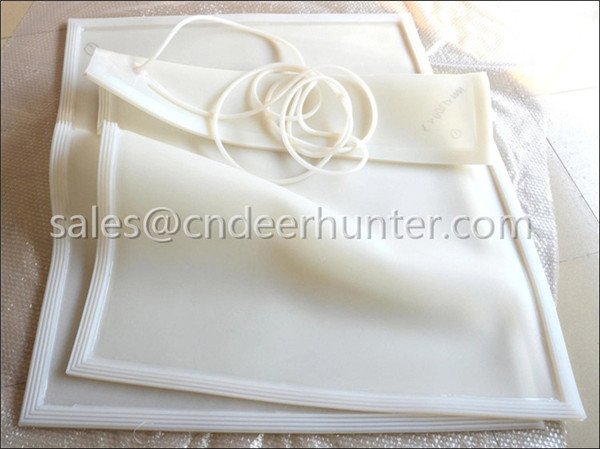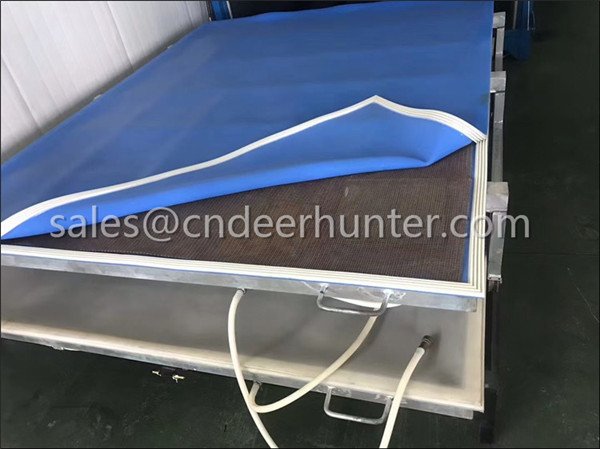 Technical Parameters of Silicone Vacuum Bag:
| | |
| --- | --- |
| Material | Silicone 50 |
| Color | Translucent and Blue |
| Surface | Textured/Smooth |
| Tensile Strength | 9.5MPa |
| Tearing Strength | 32N/mm |
| Material Hardness | 50±5 Shore A |
| Elongation at Tear | 650% |
| Compression set | ≤8% |
| Max. Temperature | 250°C (482° F) |
| Maximum Glass Width | 3300mm (130") |
| Maximum Glass Length | no limits |
| Silicone Thickness | 3mm (0.12") |
| Thickness Tolerance | ± 0.4mm (0.016") |
And you can also download the technical data sheet as below:
For the glass lamination field, you have found the right co-worker. With the precision of Chinese design, Deer Hunter offers you the best silicone vacuum bag that will help you get the right products.
And you can contact us by email at sales@cndeerhunter.com
Mobile/Whatsapp/Wechat: +86-13823789007
Skype: FULLCHANCE100