Anti-Static Sheets and ESD Flooring Mats
Anti-Static sheets are also known as ESD sheets (Electrically Static Dissipative sheets) and are created with durable materials for the safety of employees while working with and around electronic components and assemblies. Anti-static mats are designed to drain static charges from items placed on its surface, while protecting the surface of ESD sensitive devices from wear and tear. ESD sheet also protects the surface of sensitive devices from abrasion during processing.
The word "anti static sheet" is typically used to refer to sheet. It is comprised of two layers: a top static dissipative rubber layer and a bottom black carbon-loaded conductive scrim layer.

Specifications:
Material: NBR (Nitrile butadiene rubber)/neoprene
Surface Treatment: Glossy or Dull
Structure: Two layer composite
Color: Apple Green/ Black/Blue /Brown /Gray /Green /Yellow or make-to order
Size: Thickness (2.0-5.0) mm*Width (0.6, 0.8, 1.0, 1.2m)*Length (10m/20m)
ESD Curtains – Antistatic PVC Curtain Sheet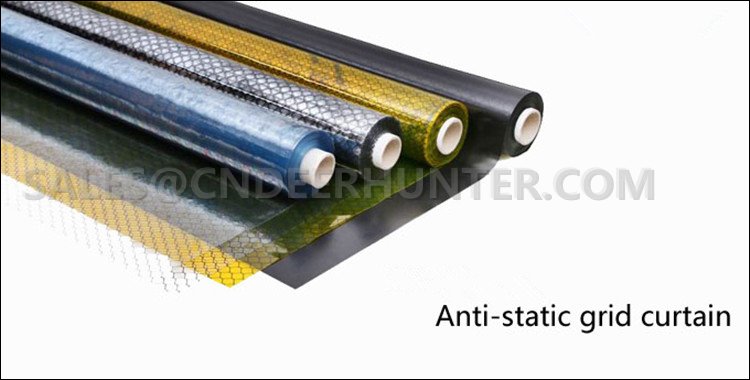 Anti-Static and ESD curtains are a great way to separate critical workspaces while also attending to the static-sensitive nature of certain products.
Transparent PVC ESD curtains are an ideal barrier wall for sensitive environments. Honeycomb grids are installed on both sides of the PVC curtain for the safe dissipation of static electricity. These Antistatic Curtains are critical for applications where any electrical discharge could pose damage to critical components or explosion risks such as electronics, pharmaceutical, medical, printing, painting.
Technical Data Sheet:
Various Types of ESD PVC Curtain Rolls for Electronic Cleanroom
| | | | |
| --- | --- | --- | --- |
| Type | Width | Length | Thickness |
| Transparent Curtain | 1.37M | 30m | 0.3mm/0.5mm/1.0mm/2.0mm |
| Transparent Grid Curtain | 1.37M | 30m | 0.3mm/0.5mm/1.0mm/2.0mm |
| Black Grid Curtain | 1.37M | 30m | 0.3mm/0.5mm/1.0mm/2.0mm |
| Yellow Grid Curtain | 1.37M | 30m | 0.3mm |
The Anti-Static Sheets also have a great draping ability so that they can be used as a protective covering for carts, instruments, or entire walls. The PVC material is very flexible and easy to cut for your specific application.
And you can contact us by email at sales@cndeerhunter.com
Mobile/Whatsapp/Wechat: +86-13823789007
Skype: FULLCHANCE100