Silicone Sheeting Manufacturer - Deer Hunter
Thanks for stopping by Deer Hunter! We specialize in manufacturing silicone rubber sheeting for the woodworking industry.
We now focus on various types of silicone sheeting membranes (or diaphragms, bladders, blankets, or whatever you prefer to call them) for the woodworking and solar industries. So if you want to assure peak performance for your membrane vacuum presses or solar module laminators, you are coming to the right place!
Let our expertise and superior products help improve your quality, productivity, and bottom line. Check out the wide range we have to offer – and feel free to contact us for solid advice in determining exactly which thickness will work best for your application.
Silicone Sheeting High Temp Rubber Membrane Sheet 1mm X 1660mm X 3000mm For Vacuum Press Thermoforming Machine
Thermoforming silicone membrane for vacuum press
Since the earliest days of 3D lamination, We have worked closely with 3DL component producers as well as membrane press and vacuum former manufacturers in order to supply the most effective, high temp silicone vacuum membrane to the woodworking industry. We are honored to offer a consistent and valued product to the woodworking, solar, solid surface, composite, dye sublimation and steel-rule die industries.
Our silicone sheeting membranes are valued world-wide for their consistency and durability. Surfaces are available for smooth/smooth and smooth/textured, ensuring that each customer can find the correct membrane for their 3D lamination application.
Building on their success, Deer Hunter continues to research and develop products specific to the various industries they serve.
Thickness 1mm silicone membrane sheet - smooth/smooth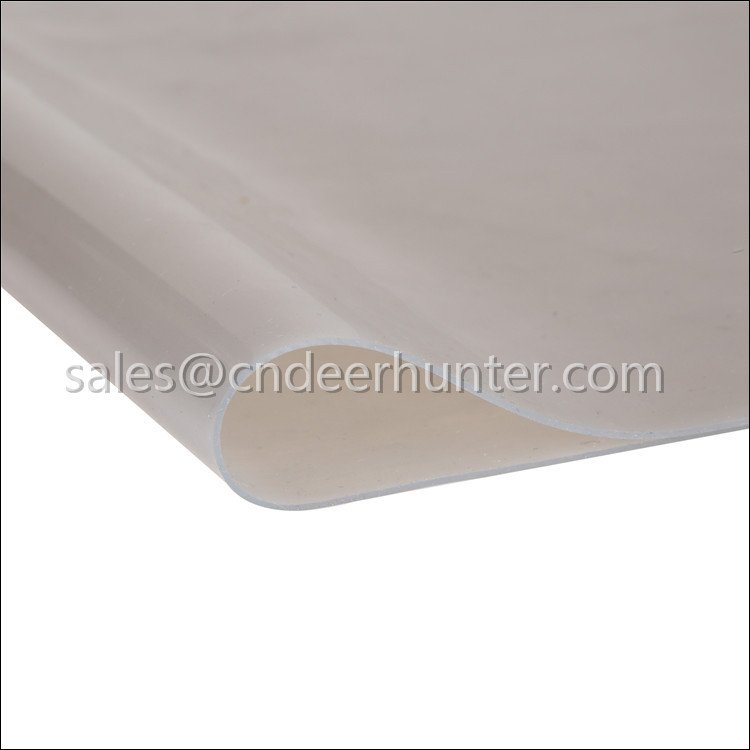 Thickness 2mm silicone membrane sheet - smooth/smooth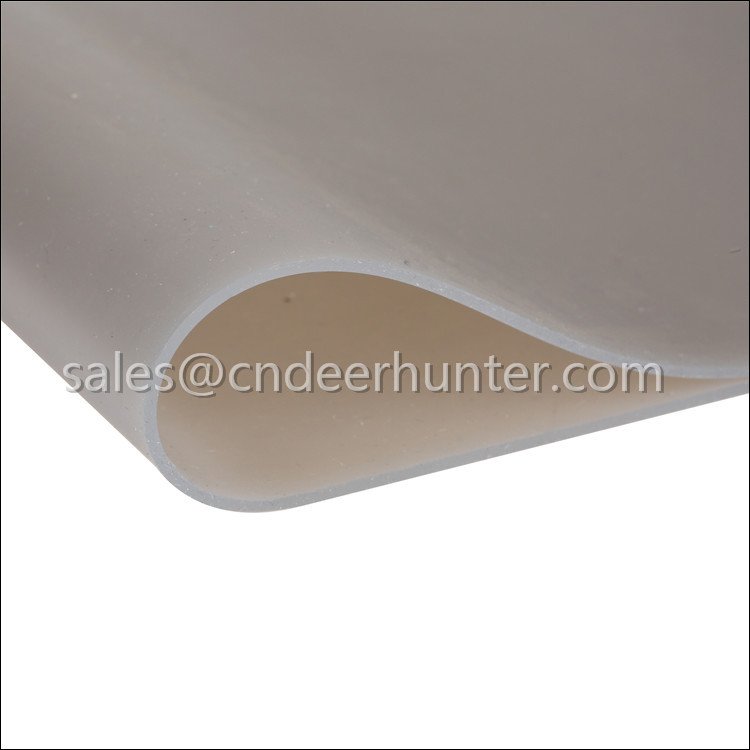 Thickness 3mm silicone membrane sheet - smooth/smooth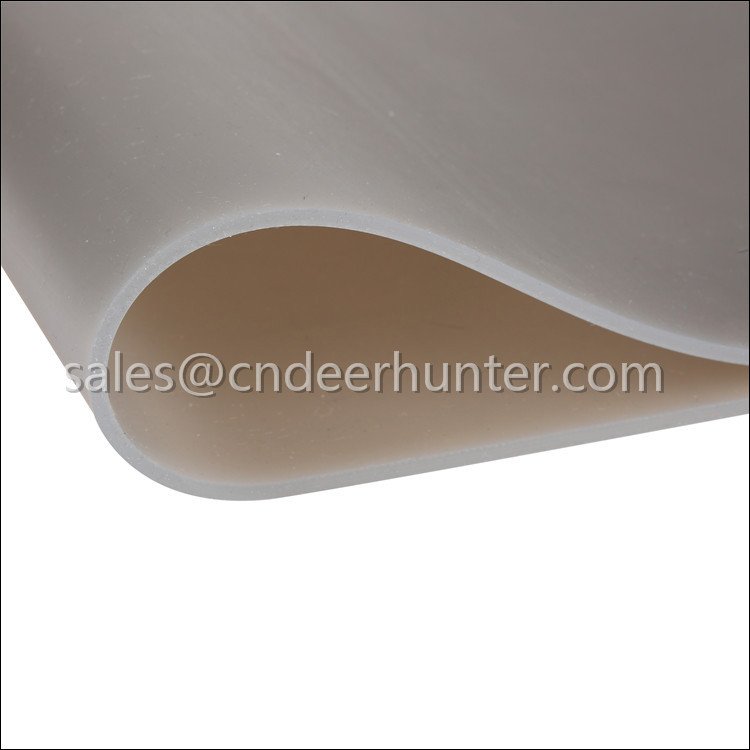 Thickness 2mm and 3mm silicone membrane sheet - smooth/textured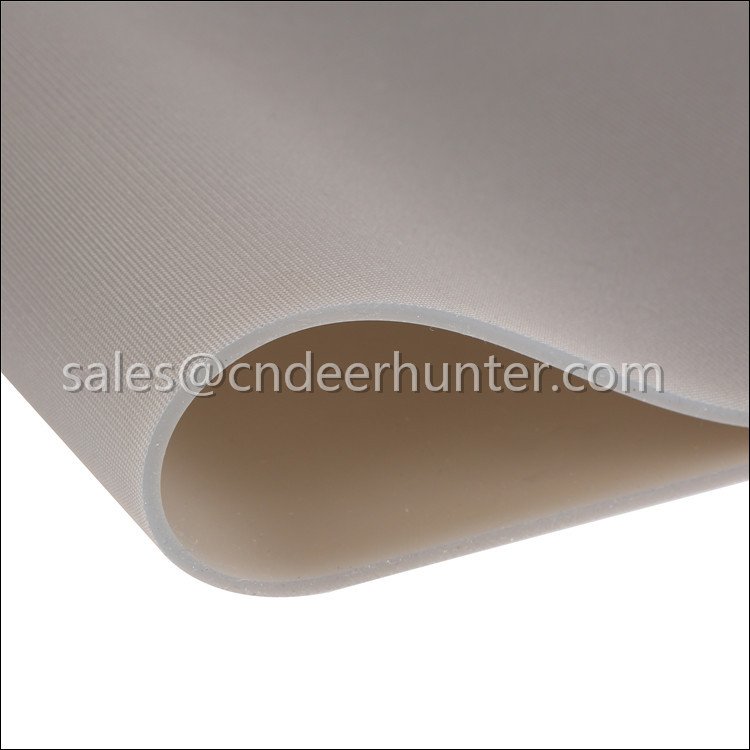 Blue Durometer 50A Silicone Rubber Sheet - Textured/Smooth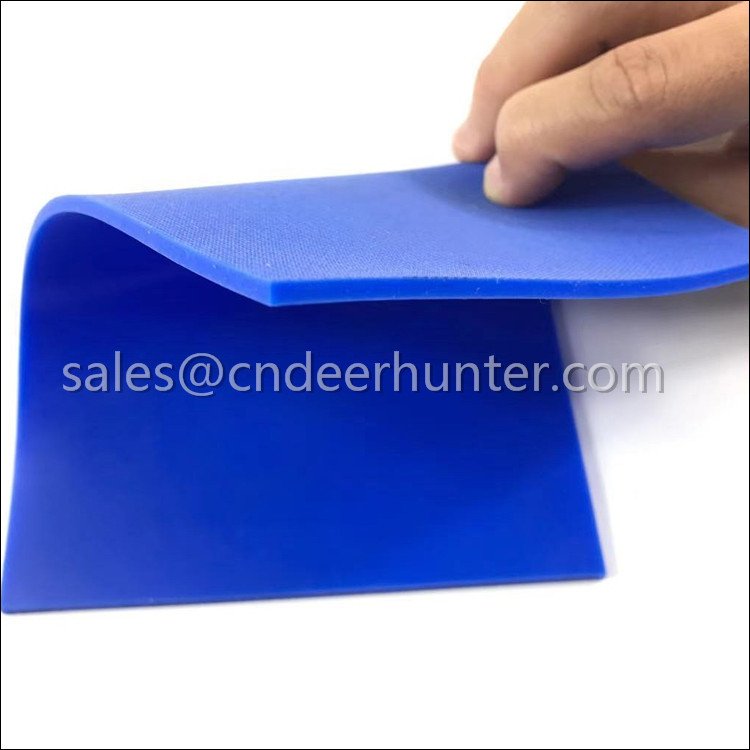 Silicone sheeting membranes for the furniture industry
As to the coating and veneering of furniture, vacuum table presses are mostly the first choice in case of delicate surfaces or complicated models. The result is significantly influenced by the quality of the silicone sheeting membrane used in the press so the suitable thickness, the fitting material, and high quality have to be observed.
For years, our high tear strength DH2211 silicone rubber sheeting has been used successfully in the furniture and kitchen industry and combine persistence, abrasion hardness, and heat resistance in one product. So, for example, they are used for veneering of high-gloss furniture panels of kitchens and also to coat counter surfaces made of solid or plywood with scratch-proof or water-repellent materials.
Product Features:
*High tear strength
*High elasticity (860%)
*Improved abrasion resistance
*Ability to withstand puncture damage without catastrophic failure
*Durability and Lifespan
*Developed specifically for use as a vacuum bagging material
*Supplied as standard in Translucent
*Capability to color match if required
*Vacuum presses membranes tolerance allowance - width 3%, length 5%.
Technical Data:
| | |
| --- | --- |
| Model No.: | DH2211 - high tear strength silicone sheeting |
| Thickness, mm: | 1, 2, 3 |
| Thickness tolerance, mm: | +/- 0,2 |
| Width, mm: | Max up to 3800mm |
| Length, m: | On request |
| Density, g/cm3: | 1.25 ± 0.05 |
| Tensile strength, Mpa: | 11.5 |
| Hardness, ShA: | 40 ± 5 |
| Elasticity, %: | 860 |
| Tear strength, N/mm: | 45 |
| Working temperature, °C : | from -60 till +230, max +250 |
| Color: | Transparent grey |
| Surface: | Smooth |
Area of application
Solar panel laminating, laminating of foil, veneer, production of triplex, thermoforming of solid surface and thermoplastic materials.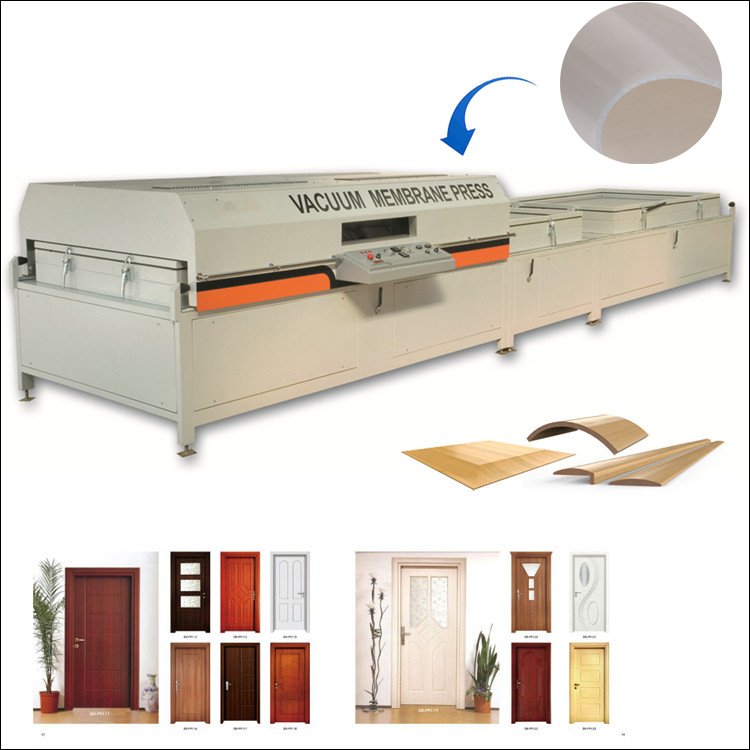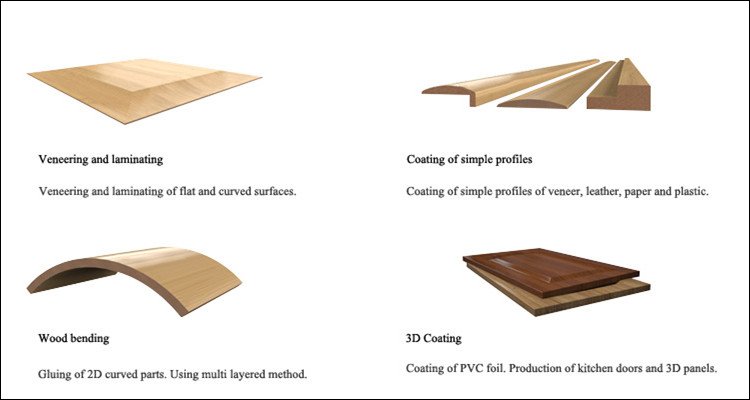 Why 3D Lamination?
Amid growing concerns about sustainability and deforestation, 3D Lamination offers many of the aesthetically pleasing advantages of real wood without depleting that natural resource. And with the huge variety of 3D Laminates now available, shapes and surfaces that were once either very expensive or pure fantasy can become reality at affordable prices.
As a result, the demand for quality laminated materials has exploded, with companies around the world looking for quality membrane pressed components to complete their important projects.
Benefits of 3D Lamination
Flexibility in design

Cost-Effective

Prevents Bacterial Growth and Contamination

Water-Resistant

Create soft or rounded edges

Easy to Clean

Durable

Good for various commercial applications
Check out our wide range of products we have available and contact us today for a consultation to determine which membrane material is best for your application. We pride ourselves on the ability to provide attentive customer service and timely results to help our clients get the high-quality materials they need for all woodworking projects.
Silicone Sheeting Membranes FAQs
Do you have questions about our products or services?
Below are the most commonly asked questions from our customers. If you have additional inquires that are not addressed here, please contact us for more information.
(1) What difference does the color make?
- The color is really just to make it easier to differentiate between different material durometers.

(2) So why do you have some different colors for the same durometer?
- The answer to that is simply "Give the people what they want!" Some of our customers maintain that certain colors work better for them than others in the same mixture. Whenever we can, we'll accommodate that.

(3) What's better, a smooth or a textured surface?
- It depends on what works best for your application. Some customers need a smooth surface for high-gloss finishes. Some prefer a textured or matte surface toward the heating platen for improved heat transfer. Some use the textured or matte surface down toward the foil to get a slightly different sheen on their foil or to prevent darker foils from scuffing.

(4) I call it a membrane, but my co-workers keep calling it a sheet and now you're telling me some others call it a diaphragm! What's the real name?
- Stop giggling and call it whatever you like, we'll know what you mean. we'll know what you mean. Although there are various names for the same product, we are able to decipher your needs and help you get the best product for your application, whether it's a bladder, diaphragm or any other name your team calls it.
(5) Widely-used sizes of our slicone rubber sheeting from our regular customers?
- Please check below.
1600 x 18000 x 1mm
1600 x 12000 x 1mm
1500 x 12200 x 2mm
1500 x 18500 x 2mm
1500 x 18000 x 2mm
1660 x 25000 x 2mm
3000 x 5200 x 2mm
1500 x 12000 x 3mm
1500 x 15200 x 3mm
1500 x 9200 x 3mm
1700 x 12000 x 3mm
1800 x 10000 x 3mm
1800 x 11500 x 3mm
1800 x 13000 x 3mm
1800 x 13200 x 3mm
1850 x 7400 x 3mm
2000 x 6600 x 3mm
2000 x 6700 x 3mm
2000 x 7600 x 3mm
2300 x 4300 x 3mm
3300 x 4900 x 3mm
3500 x 9000 x 3mm
We are the leading manufacturer & supplier in Asia offering seamless silicone sheeting at a width of up to 3500m, made in China. All units beyond this dimension will be joined by a seam. We make our products of thicknesses 1mm, 1.5mm, 2mm, and 3mm. Additionally, we enable you to make your choice of different hardness degrees according to customers' special requirements.
And you can contact us by email at sales@cndeerhunter.com
Mobile/Whatsapp/Wechat: +86-13823789007
Skype: FULLCHANCE100