Silicone Rubber Sheet For Vacuum Press
Silicone rubber sheet is used for vacuum forming solid surfaces, thermoplastics and similar composite materials. Thanks to their high temperature resistance and elasticity, silicone rubber sheets have proven suitable for hot press and thermoforming applications.
Silicone Rubber Sheet For Woodworking Membrane Vacuum Press - DH2211 Smooth/Smooth 2MM Thick Silicone Rubber Sheet
Our silicone vacuum sheets are valued world-wide for their consistency and durability. Silicone is available in different durometers, as well as smooth or textured surfaces, ensuring that each customer can find the correct membrane for their 3D lamination application. Building on their success, Deer Hunter continues to research and develop products specific to the various industries they serve.

Technical Data:
Model No.:

DH2211 - high tear strength

DH2111 - standard tear strength

Thickness, mm:

1, 2, 3

1, 2

Thickness tolerance, mm:

+/- 0,2

+/- 0,2

Width, mm:

Max up to 3800mm

Max up to 2800mm

Length, m:

On request

Density, g/cm3:

1.25 ± 0.05

1.25 ± 0.05

Tensile strength, Mpa:

11.5

9.0

Hardness, ShA:

40 ± 5

50 ± 5

Elasticity, %:

860

480

Tear strength, N/mm:

45

30

Working temperature, °C :

from -60 till +230, max +250

Color:

Transparent grey

Transparent white

Surface:

Smooth

Smooth
1: For vacuum press machines, there is now a trend towards our high tear strength silicone rubber sheet (DH2211), which is really gaining in popularity among our customers.
2: "Give the people what they want" - Custom-made thickness, width and length are available.
3: The color does not impact on the quality; it is really just to make it easier to distinguish different material durometers or product characters.
Area of application:
Laminating of foil, veneer, production of triplex, thermoforming of solid surface and thermoplastic materials.
Vacuum laminating and forming using a single mold

* furniture components

* interior finishing and fit out components, cabinetry

Wrapping profiles and paneling
Soft forming

veneering of raised door panels and suitcase fronts

Veneering & Laminating

veneer application/most material to shaped elements
DEER HUNTER - MAKE YOUR SOLID SURFACE IDEAS COME TRUE
We offer vacuum forming rubber sheet for a broad range of woodworking applications. Depending on durability, temperature resistance and elongation properties, the membranes can be effectively used to form intricate shapes. They are widely used in vacuum presses for thermoforming Solid Surfaces, wood laminations and even in composite industries, including the aerospace and automotive sectors. Please check out our products below for further information, and our specialists will be happy to provide tailored advice.
High-volume sheets
We offer high-volume silicone rubber sheet for large moulds and components to press up to 1 m height. Please contact us for tailored advice.
IN STOCK - Available per linear meter
Thermoplastics
2D and 3D plastic sheet vacuum forming and pressing.
Automotive
Wrapping or covering car dashboards, wood veneering of car panels or trims and laminating car side panels or covers.
Sublimation
Large format sublimation of hard substrates and sublimation and thermoforming of solid surface and thermoplastic materials.
Composite
Hot vacuum pressing and forming of multiple fiber layers.
Woodworking
Bent laminations and form veneering, flat pressing of panels, wood veneers and decorative laminates, veneering profiles, and high-strength bondings.
Solid Surfaces
Preheating and vacuum forming or pressing of solid surface and similar materials.
Rigid Thermofoil
2D and 3D foil lamination of moldings, e.g. MDF panels, profiles, kitchen fronts.
Below we will see what happens when our customers put our silicone rubber sheet on their vacuum press machines: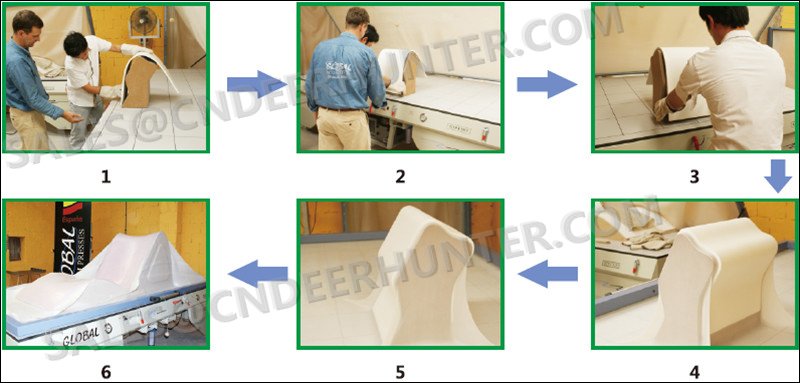 And you can contact us by email at sales@cndeerhunter.com
Mobile/Whatsapp/Wechat: +86-13823789007
Skype: FULLCHANCE100