Silicone Rubber Sheet For Solar Laminator
* Because high quality materials make the difference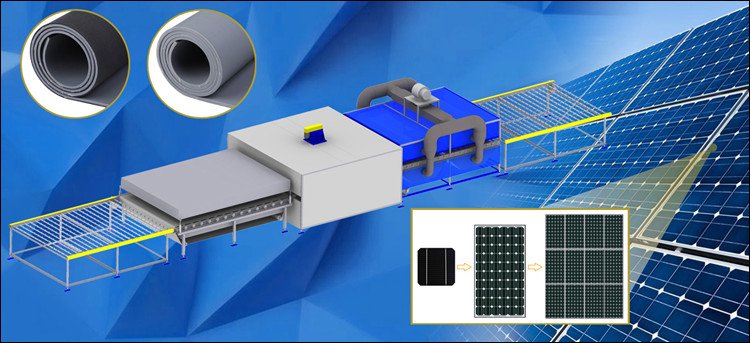 Silicone rubber sheets are essential components inside the lamination process of solar modules. China Deer Hunter is providing solar silicone sheets with more advantages as below:
resistance to high temperatures

outstanding chemical resistance

long-term flexibility

excellent elasticity

constant quality thanks to their internal quality management

extra large available up to 3500 mm

different material thicknesses

durability results in longer machine running times and thus shorter set-up times
As technology progresses, Deer Hunter has introduced the top 3 silicone rubber membranes for solar PV panels lamination. They are 2nd Gen, 5th Gen, and 5th-lite Gen. The solar membranes are mainly designed to protect the PV panels and the lamination equipment in extreme temperatures.
Mutual properties of our silicone rubber sheet roll:
Widely used in thickness 4mm – but also 3mm available

1 layer high temperature aramid fabric reinforcement – tough mechanical strength

Maximum life cycle – 10,000 times
In the process of solar photovoltaic panel's lamination, the panel manufacturers encapsulate all components with ethylene-vinyl acetate (EVA) adhesive film to ensure that module layers remain secure. That will cause high heat to melt the EVA (typically 145-155°C). That's why those makers need our flexible, resilient, and durable silicone rubber sheet designed for use in the solar laminators to provide compression on the PV panes in repeated cycles.
As a silicone sheet supplier in China, Deer Hunter has worked in partnership with the foremost solar laminator manufacturers to develop silicone rubber sheets that meet the specific requirements of PV module manufacturing. Here it is our great honor to introduce "The 5th Generation Silicone Rubber Sheet".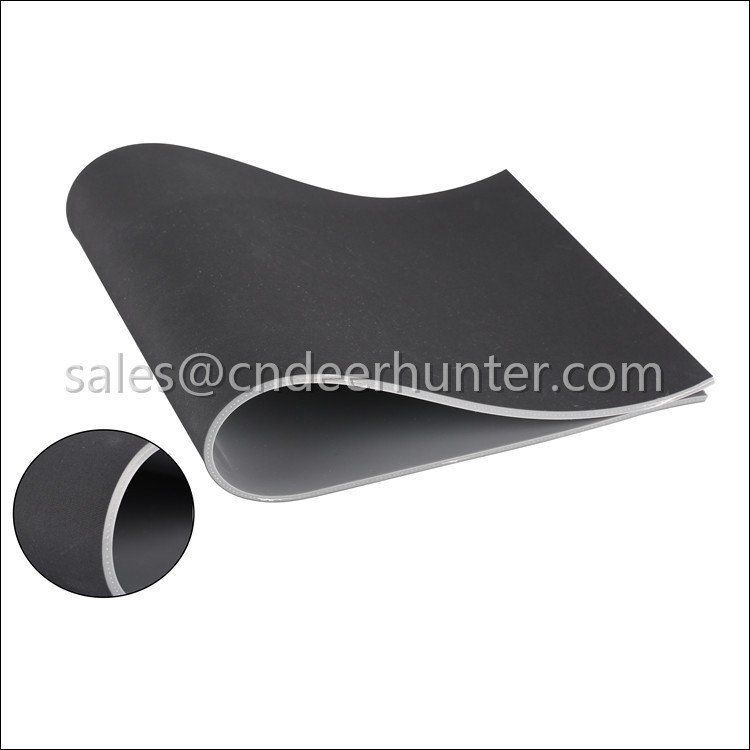 The 5th Gen is a specially developed membrane consisting of a silicone backing material and a unique covering layer. This covering layer is extremely resistant to outgassing and related decomposing processes of EVA films. This makes our membrane particularly durable and increases your machine running times.
* It has an EVA resistant fluorine laminated surface with additional fabric reinforcement.
Structure
1# Black EVA resistant fluorine - working layer
2# Grey silicone
3# 1 Ply premium aramid fabric reinforcement
4# Grey silicone - buffering layer
Product descriptions and advantages
1 piece seamless sheet width up to 3800mm wide (no weak joints or marks on lay-up)

Good cycle life - more than 10,000 cycles

Good reusability&durability when exposed to high pressures&elevated temperatures: +250°C

Special fluorine covering layer (black) on silicone backing (grey)

Bond of the two layers cannot be separated mechanically

Black covering layer is resistant to decomposing eva outgassing during the lamination process
Technical Data:
Material

Silicone/FKM

Color

Grey/Black

Surface

Smooth/Textured

Reinforcing Layer

1 Ply Premium Grade Aramid Fabric

Hardness

EVA Resistant Working Surface

(Black FKM)

Buffering Surface

(Grey Silicone)

70+/-2 Shore A

60+/-2 Shore A

Density

1.95 ± 0.05g/cm3

1.25 ± 0.05g/cm3

Tensile Strength

14MPa

8.5MPa

Tear Strength

45N/mm

30N/mm

Temperature resistance

250°C

250°C

Elongation

600%

180%

Compression Set

4%

4%

Resilience

8%

25%
And you can also download the technical data sheet as below:
Deer Hunter – Asia's leading manufacturer for special silicone rubber sheet for solar PV panels encapsulation in the renewable energy market. We can choose from a variety of laminator brands and types. Depending on the solar module production line requirements, a solar panel laminator from 3S, Meier, Bürkle, Komax, Electro Solar, or others is integrated.
Standard dimensions of silicone rubber sheets for solar panels manufacture
Length - Any

Width - Max up to 3500mm

Material Thickness - 4mm or 3mm

Widely-used sizes are from our customers' regular purchasing orders.
Country

Sizes

USA

4mm * 2550 * 6550
4mm * 2850 * 5550
4mm * 3050 * 4850

Mexico

4mm * 2600 * 4100
4mm * 2730 * 5870
4mm * 3200 * 5200

Morocco

4mm * 2000 * 2400

India

4mm * 2550 * 5720
4mm * 2575 * 4675

Jordan

4mm * 2760 * 4960

Turkey

4mm * 2650 * 4730
4mm * 2750 * 4100
4mm * 2850 * 5050
3mm * 3110 * 4460

Vietnam

4mm * 2800 * 4100

Philippines

4mm * 2500 * 4100

South Korea

3mm * 2755 * 4925

Germany

4mm * 2410 * 4500

Poland

4mm * 2200 * 3700
4mm * 2700 * 4500
Package
To confirm there will be no damage in transport. Deer Hunter logistic staff provide strong package service for our customers.
1: Quantity below 5rolls - usually put inside cardboard tubes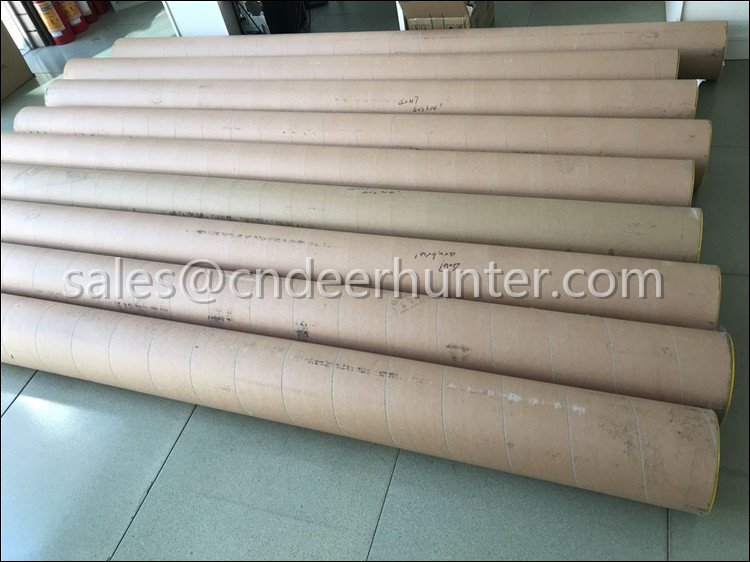 2: Quantity more than 5rolls - We prefer to put all rolls in wooden cases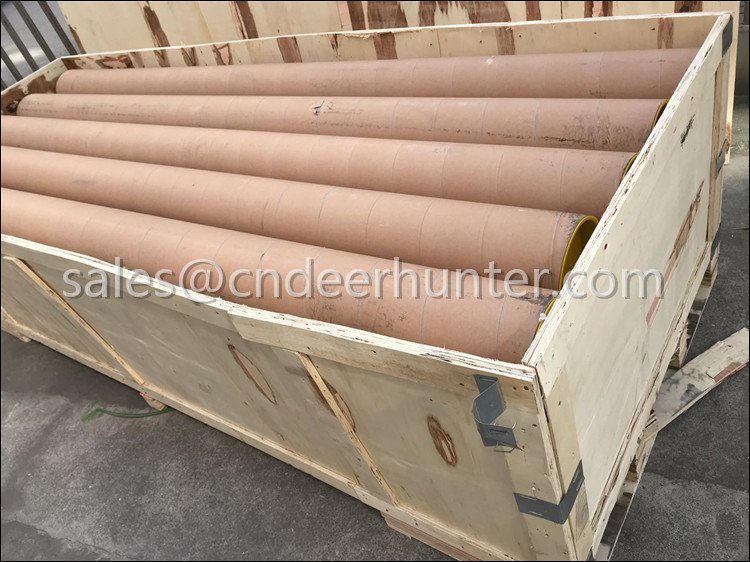 3: Shipping marks will be stuck on the packing surface if necessary.
RFQ
1: What's the best silicone rubber sheet for solar photovoltaic modules lamination?
A: This is really a vital question and can be best discussed together face-to-face. There is no one answer that is right for everybody. There are many determining factors that can affect the choice of silicone diaphragm for example type of encapsulant, the composition of the modules, size of the modules, the brand of laminator, and budget constraints, etc.
2: How long should the silicone rubber sheet last?
A: Commonly our data shows that The 2nd Gen - 4,000cycles + The 5th Gen - up to 10,000 cycles. As there are a number of variables beyond our direct control, it is very difficult to "guarantee" an exact cycle life.
3: Does color or surface finish have any impact on membrane performance?
A: Based on feedback from customers worldwide, we can see no advantage or disadvantage of different colors, or indeed surface finish. Actually, colors are now used to differentiate between suppliers.
4: What can we do to extend the life of our sheet?

A: Consider protecting it with a layer of PTFE sheet between the modules and the membrane. We have several options for this.
5: Can you do tailor-made products?
A: We are very willing to research and develop a kind of silicone rubber sheet for your special requests.
And you can contact us by email at sales@cndeerhunter.com
Mobile/Whatsapp/Wechat: +86-13823789007
Skype: FULLCHANCE100