Teflon Tape One-sided Self -adhesive PTFE Coated Glass Fabric Sheet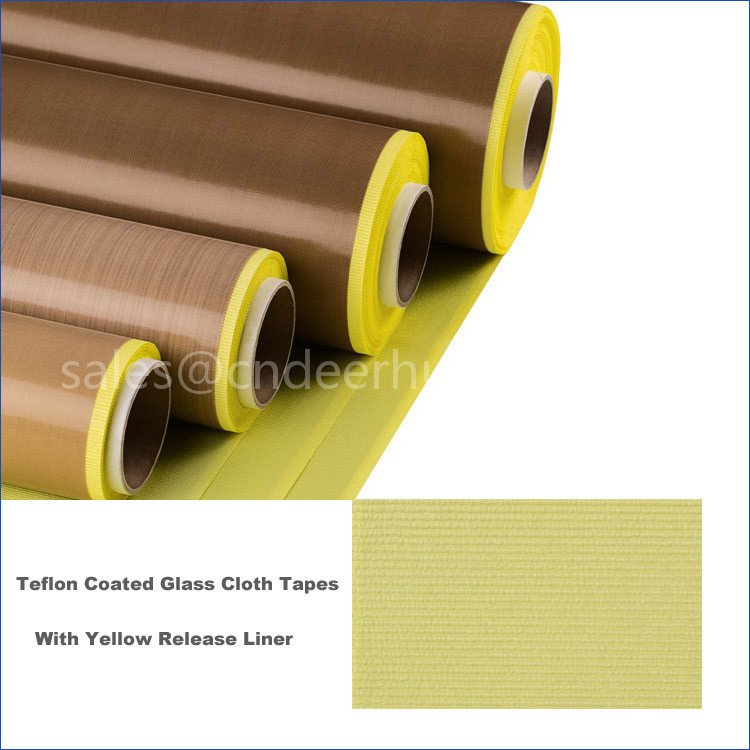 High temperature pressure sensitive Teflon tape produced from PTFE impregnated glass fabric that is coated with a kind of heat resistance silicone adhesive. The PTFE provides a smooth anti-stick surface while the glass fabric provides strength and dimensional stability. This Teflon high temperature tape has excellent electrical, mechanical and chemical properties. The Teflon tape is primarily used as insulation in a variety of electrical equipment and heat sealing bars, chute liners, gaskets, bearing surfaces, tabletop covers, guide rails, and roll covers and offers low friction surface and abrasion resistance.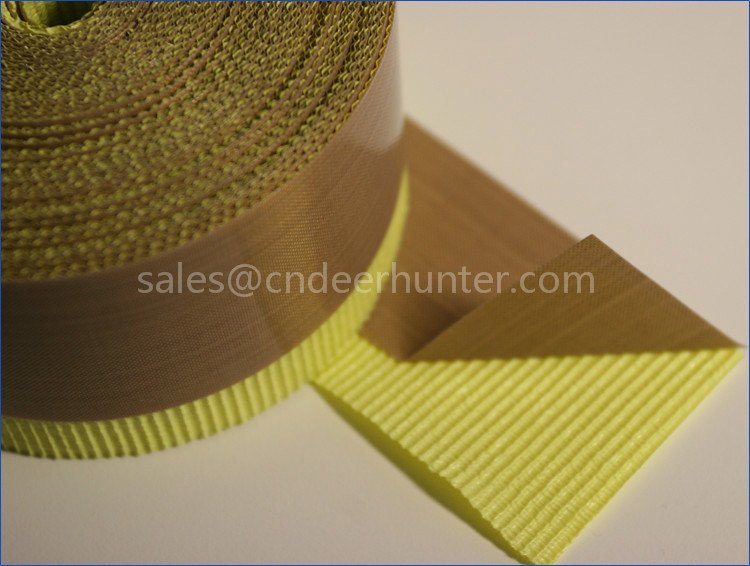 Product Descriptions
| | |
| --- | --- |
| Structure | Teflon PTFE Nonstick Coating + E Glass Fiber+ Silicone Adhesive + Yellow Release Liner |
| Backing Material | PTFE Coated Fiberglass Fabric |
| Adhesive type | Super Stick Silicone |
| Fabric thickness | 0.08mm, 0.11mm, 0.13mm, 0.15mm, 0.18mm, 0.25mm, 0.3mm |
| Width | 1M, 1.2M or customized |
| Package | Rolls or Sheets |
| Finishing | Teflon PTFE Nonstick Coating |
| Feature | Non Stick/Easily Cleaned/Heat Resistance |
| Function | Non-Stick Cooking Surface |
| Maximum temperature | 260°C |
| Applications | Abrasive/Aerospace/Conveyor belts/Food processing/Packaging/Solar photovoltaic |
| Estimated delivery time | 3 to 5 working days |
Technical Data Sheet
Model No.

Standard Color

Fabric thickness

Total thickness

Fabric weight

Total weight

Adhesion Strength (to Steel(N/4cm)

Docking Test

High Temperature Peel Test

(mm)

(mm)±0.02

(g/m²)

(g/m²)

GB-T2794

(times)

(260℃,half hour)

DF008

Brown

0.08

0.14

≥150

≥205

≥15

≥3

No peeling for half an hour at 260℃

DF013

0.13

0.18

≥240

≥300

DF015

0.15

0.2

≥300

≥355

DF018

0.18

0.24

≥350

≥405

DF025

0.25

0.28

≥470

≥530

DF035

0.35

0.4

≥620

≥680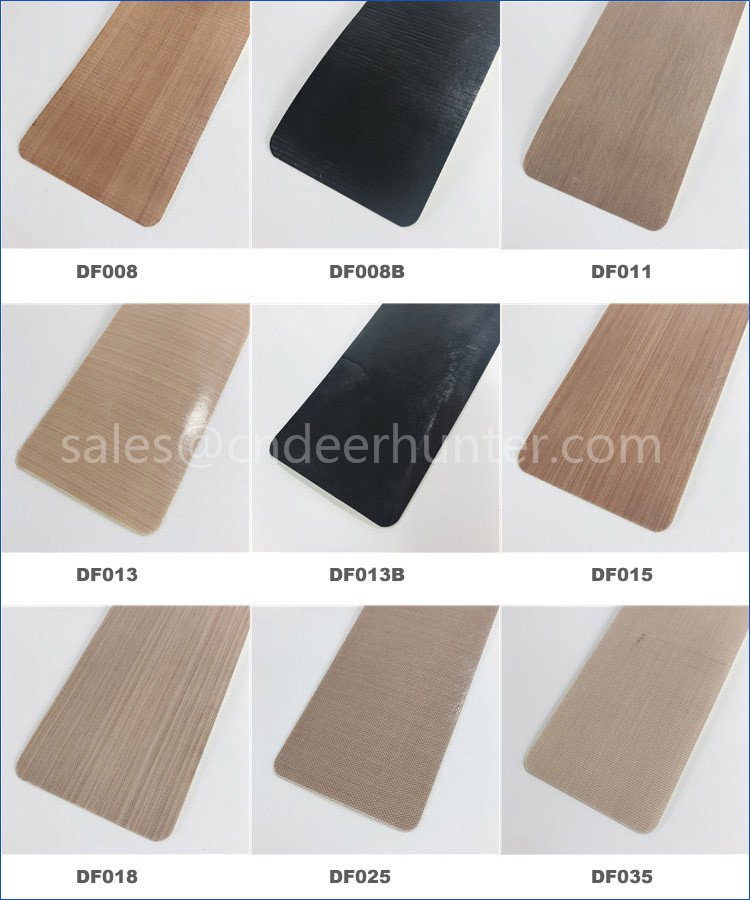 Product Features
* Non-sticky PTFE materials prevent the build-up of molten film and plastic on its surface.
* The temperature resistant PTFE coating allows high and low operating temperatures.
* A yellow corrugated release liner is used on our PTFE tapes providing fast and easy removal.
* Manufactured in varying thicknesses to cover a wide range of applications and our Teflon coated glass fabric tapes are of the highest quality available in today's market.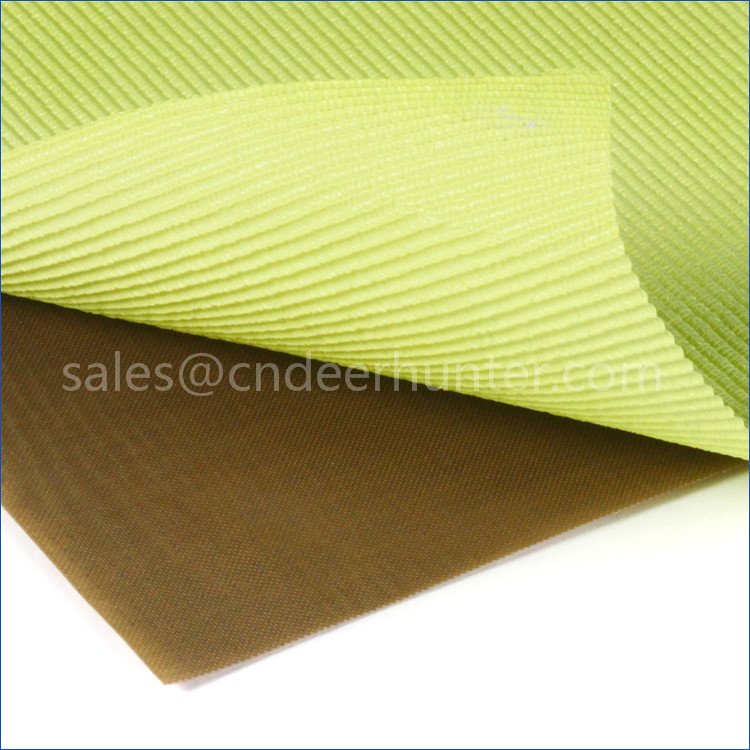 Applications
PTFE coated glass cloth tape, also known as Teflon tape, is a high performance material that offers excellent release characteristics whilst being able to cope with extreme temperatures. PTFE coated glass fabric tapes are manufactured with a high temperature resistant surface and a pressure sensitive silicone adhesive.
Teflon tapes are often used as a release tape for the protection of sealing jaws and heat-sealing wires on equipment such as bag and L-sealing machines. Heat resistant tapes can also be found in vacuum and blister packing operations too.
Additional Information
* Available in widths from 10mm up to 1000mm wide and are slit from stock
* Rolls lengths of 30m meters as standard
* Short lead times 1 – 2 working days on all slit rolls
What are your contact details?
And you can contact us by email at sales@cndeerhunter.com
Mobile/Whatsapp/Wechat: +86-13823789007
Skype: FULLCHANCE100