PTFE Coated Fiberglass Fabrics Sheet For Solar Photovoltaic Panels Laminator
PTFE coated fiberglass fabrics are made of high-performance glass fiber fabric impregnated with PTFE emulsion. It's designed for varieties of applications in diverse industries where high temperature, non-stick, chemical resistance, and dimensional stability characteristics.
We manufacture many styles of PTFE coated fiberglass fabrics from thickness 0.07mm to 1mm. Our PTFE coating percentages range from 15% to over 60% by weight.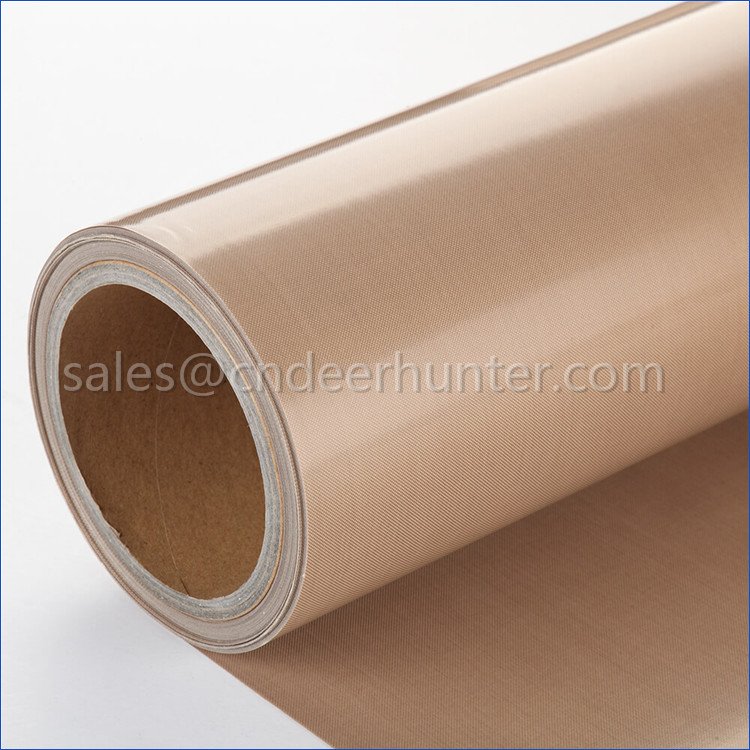 Main properties:
* High-temperature resistance(-100℉ to +550℉).
* Non-sticky and easy to clean.
* Food grade and nontoxic.
* Heat resistance and fireproof.
* Resistant to chemical corrosion, strong acid and alkali.
* Good dimensional stability, high strength, and has good mechanical properties.
* Low friction coefficient (0.05-0.1), the best choice for oil-free self-lubrication.
* Light transmittance up to 6%~13 %.
* High insulation property (the value of dielectric constant is only 2.6, and the value of tangent is less than 0.0025).
* Anti-static and Ultraviolet-proof.
Capacity and Options:
* Normal color: Brown, black or white.
* Normal Thickness: from 0.07 mm to 1 mm
* Widths: from 9mm to 4000 mm. Please see the maximum width of each style in our technical specifications.
* Roll length for roll goods: standard roll length from 10m~100m, but the roll length can be customized.
* Size of piece goods: Cut pieces according to your request.
* Anti-static or none anti-static
* Closed fabric or mesh fabric.
* With adhesive or without adhesive
* Single color or double colors of two sides.
* As an assembled transport belt, endless woven also available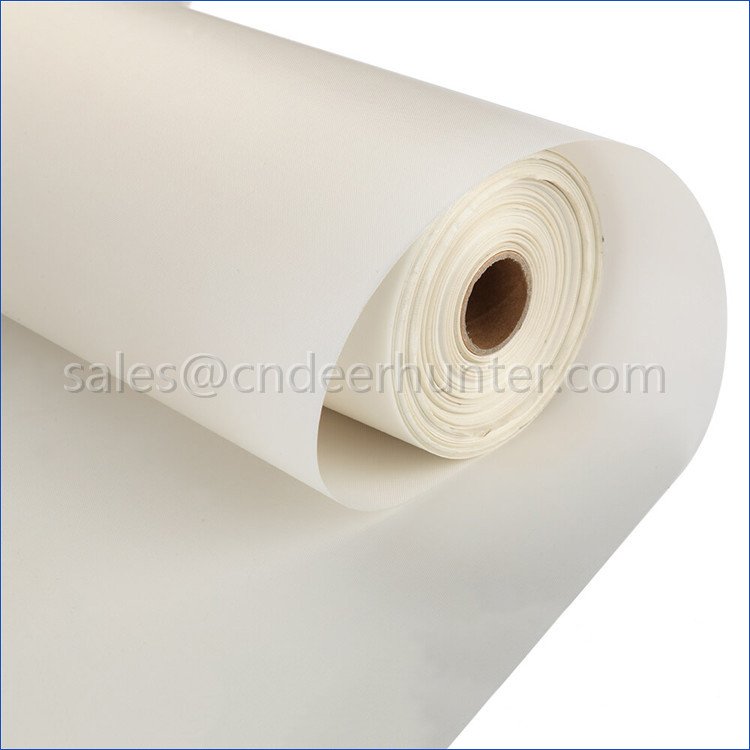 Classification:
Depending on application requirements, PTFE coated fiberglass fabric can be produced with different grades.
* Common industrial grade
Coated PTFE fabric has good heat resistance, corrosion, non-stick properties, mainly used in various industrial fields.
* Standard grade
Using imported materials production, in addition to good corrosion-resistant properties, the surface is more smooth, flat, non-stick performance is good, both can be applied to general industrial applications, more advantages in some products used plastic stripping or separation sheets, gaskets, off mold surface.
* Food grade
Smooth surface, good release properties, heat resistance and easy to clean, use more secure in the food industry.
* Anti-static grade (anti-static cloth) Teflon fabric:
In addition to traditional performance of PTFE coated glass fiber fabric, adding anti static agent when producing PTFE coated glass fiber fabric, so that it has anti-static properties to meet specific customer's requirements.
Main applications:
* Heat sealing plastic film
* Gaskets & diaphragms
* Plastic bag manufacturing
* Conveyor belt
* Food drying mats and belts
* Reusable cooking tray liners
* Adhesive tape
* Welding cloth for welding and sealing; plastic film, heat sealing liner..
* Flexible compensator, friction material, wheel slice
* Anti-static cloth
Main Technical specifications:
Model No.

Color & Feature

Thickness (mm)

Weight of Fiberglass (g/m2) ±3%

Total Weight (g/m2)±5%

Tear Strength (N/5cm) ±5%

Tear Strength (N/5cm) ±5%

Warp

Weft

Warp

Weft

Test Method

—

Weighing

Weighing

Weighing

HG/T2580

GB/T 25042-B

DH015

DH015AJ

Brown

0.14

105

300

1350

1250

18

18

DH015BJ

Black

0.14

105

290

1300

1200

18

18

DH025

DH025AJ

Brown

0.23

205

490

2200

1750

25

25

DH025BJ

Black Anti-Static

0.24

205

450

2000

1700

25

25

DH035

DH035AJ

Brown

0.32

255

620

3000

2100

40

35

DH035BJ

Black Anti-Static

0.32

255

620

2800

2000

40

35
* Remarks: Thicknesses and Sizes can be customized.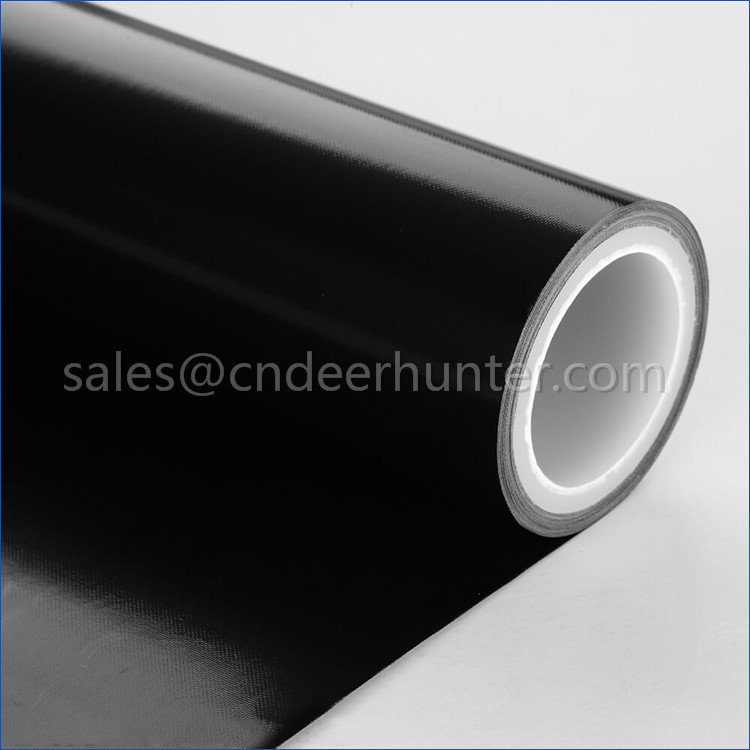 * As there are different types of PTFE coated fiberglass fabrics from us. Please contact us to discuss more.
And you can contact us by email at sales@cndeerhunter.com
Mobile/Whatsapp/Wechat: +86-13823789007
Skype: FULLCHANCE100