Brown PTFE Glass Fiber Teflon Coated Fabrics With Non-Adhesive
PTFE glass fiber is made from high-quality E glass fiber fabric (PCB glass cloth) with PTFE impregnated. Teflon coated fiberglass fabric is produced with premium grade, standard grade, porous grade. Colors and anti-static finish can be made as customers.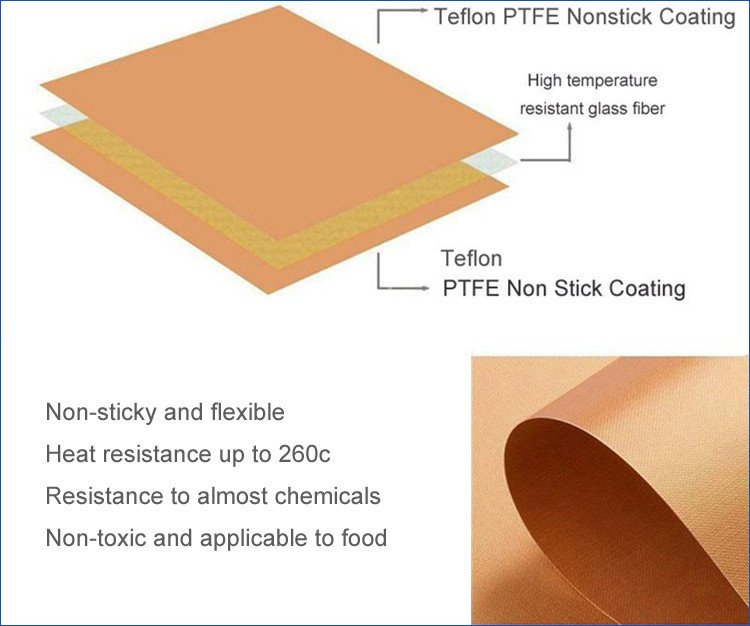 Our PTFE glass fiber consists of a fiberglass substrate which is then coated with PTFE (polytetrafluoroethylene). This combination provides a superior non-stick surface and dimensional stability, allowing your equipment to work smoothly and more efficiently. These fabrics are designed for durability and long life at high temperatures, resulting in less production downtime. PTFE fabric withstands the high temperatures of heat sealing applications while allowing the proper rate of heat transfer from the sealing unit to the package. It is also resistant to tears, punctures, and abrasions. For these reasons, they are widely used on L-bar and tabletop impulse sealers.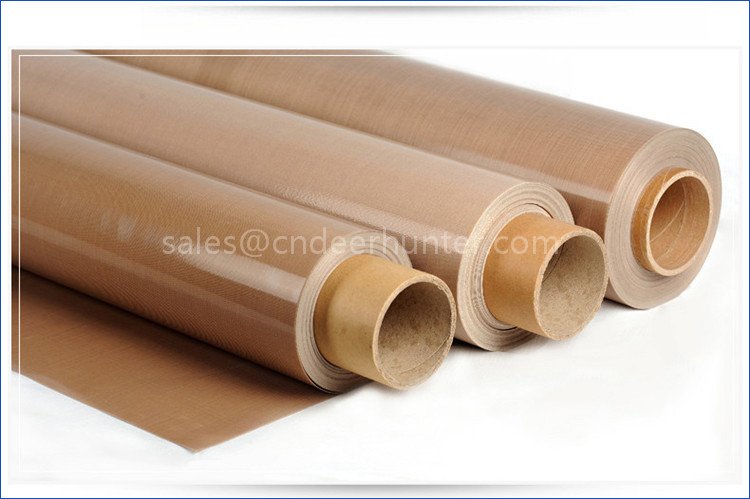 Product descriptions:
| | |
| --- | --- |
| Material | E Glass Fiber+Teflon PTFE Nonstick Coating |
| Coating content | 15%-70% |
| Typical thickness | 0.08mm, 0.11mm, 0.13mm, 0.15mm, 0.18mm, 0.25mm |
| Width | 1M, 1.2M, 1.5M or customized |
| Package | Rolls or Sheets |
| Finishing | Teflon PTFE Nonstick Coating |
| Feature | Non Sticky/Easily Cleaned/Heat Resistance |
| Function | Non-Stick Cooking Surface |
| Applications | Abrasive/Aerospace/Conveyor belts/Food processing/Packaging/Solar photovoltaic |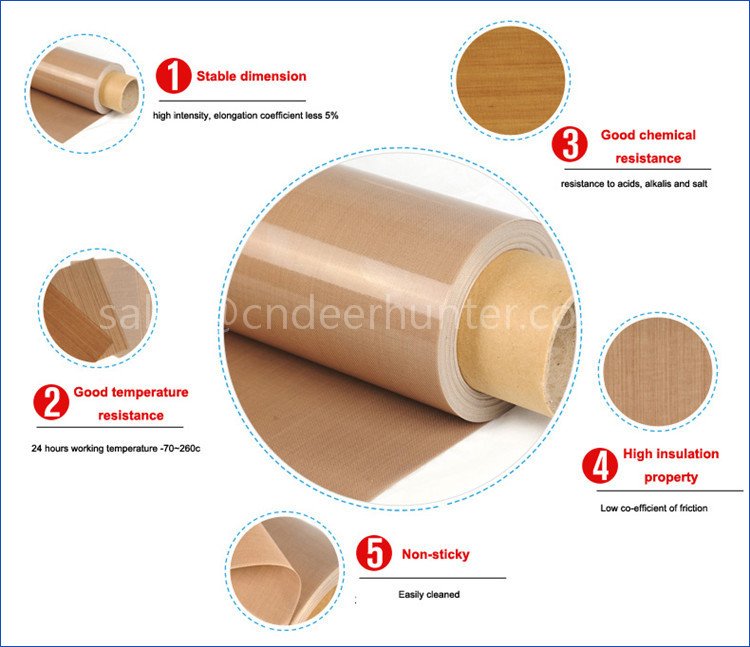 Technical data as below:
Model No.
Color
Thickness (mm)
Weight of Fiberglass (g/m2) ±3%
Total Weight (g/m2)±5%
Tear Strength (N/5cm) ±5%
Tear Strength (N/5cm) ±5%
Warp
Weft
Warp
Weft
Test Method
—
Weighing
Weighing
Weighing
HG/T2580
GB/T 25042-B
DH008AJ
Brown
0.07
48
150
650
550
8
8
DH011AJ
Brown
0.105
105
228
1150
1050
10
10
DH013AJ
Brown
0.125
105
250
1200
1100
15
15
DH015AJ
Brown
0.14
105
300
1350
1250
18
18
DH018AJ
Brown
0.17
165
350
1750
1550
20
20
DH025AJ
Brown
0.23
205
490
2200
1750
25
25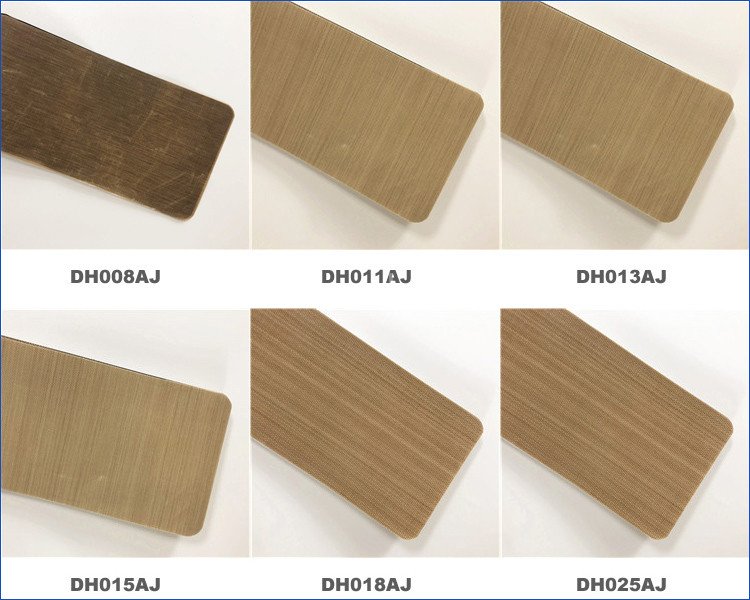 PTFE coated glass fiber fabrics are available in standard roll form if this is the most suitable for your own particular end-use.
Alternatively, our brown PTFE coated fiber glass fabrics can be cut and stitched into specific sized products (that can be tailor-made to customers' own bespoke individual requirements and designs). We are U.K. manufacturers so we can make almost any size you may require
All these PTFE coated glass fibre fabrics are completely non-asbestos (asbestos-free)
Please note below some properties of PTFE Coated Fiberglass Fabric
* Non-stick surface
* Excellent temperature resistance: from -70°C to +260°C
* Chemically inert
* High tensile strength
* Very low coefficient of friction
* Non-toxic and compliant for food applications
* Strong resistance to all chemicals (except for molten alkaline metals and certain highly reactive fluorinated agents)
* Excellent dimensional stability and strong tensile strength due to glass fabrics
* High electrical insulating power, strong resistance to electric arc
* Insensitive to microwaves, UVs and IRs.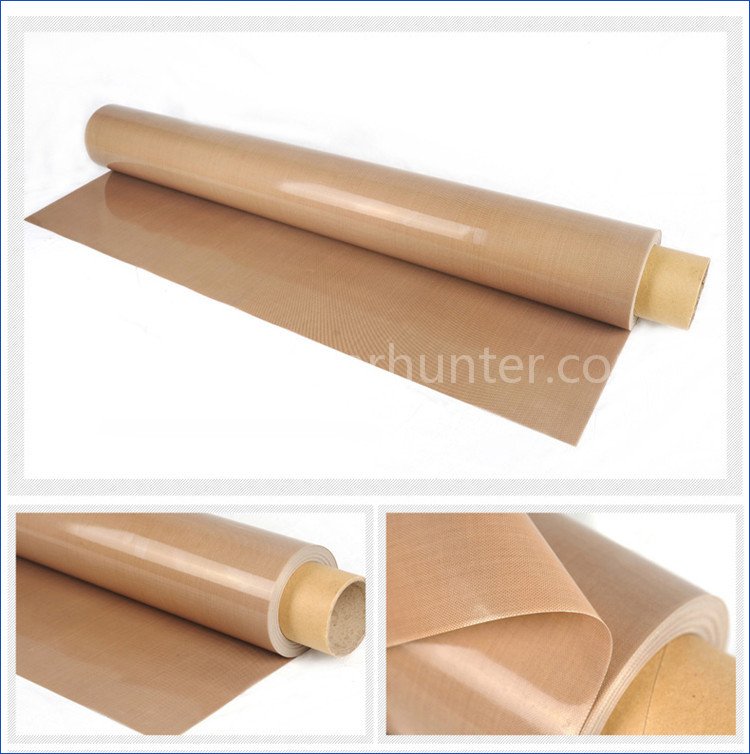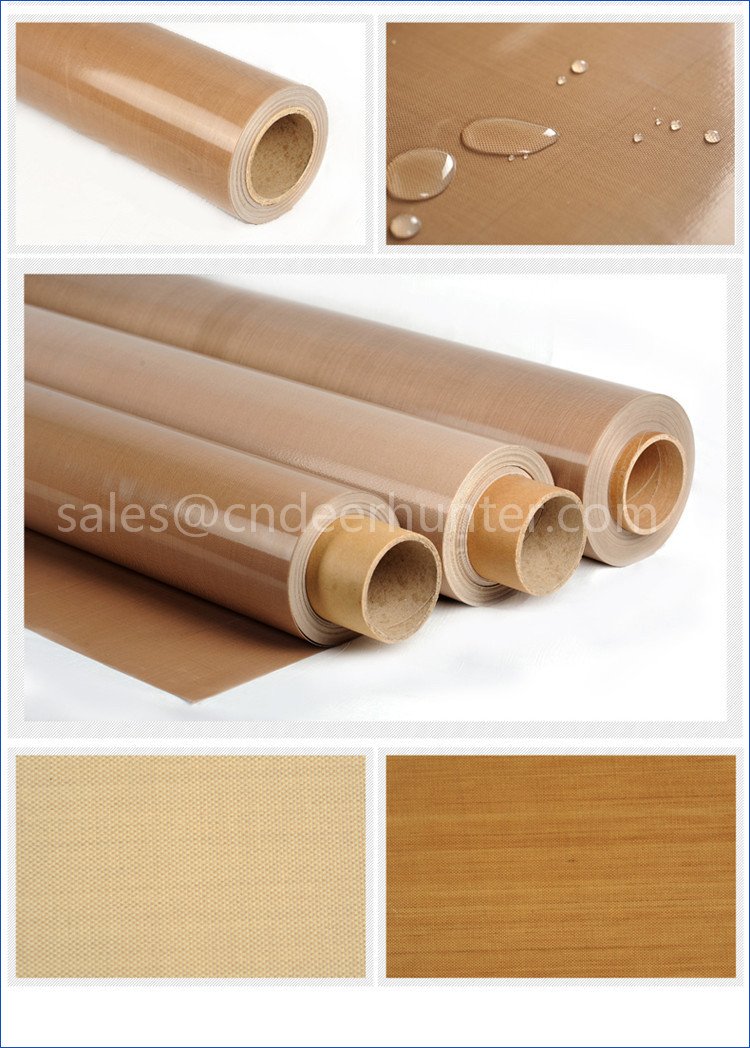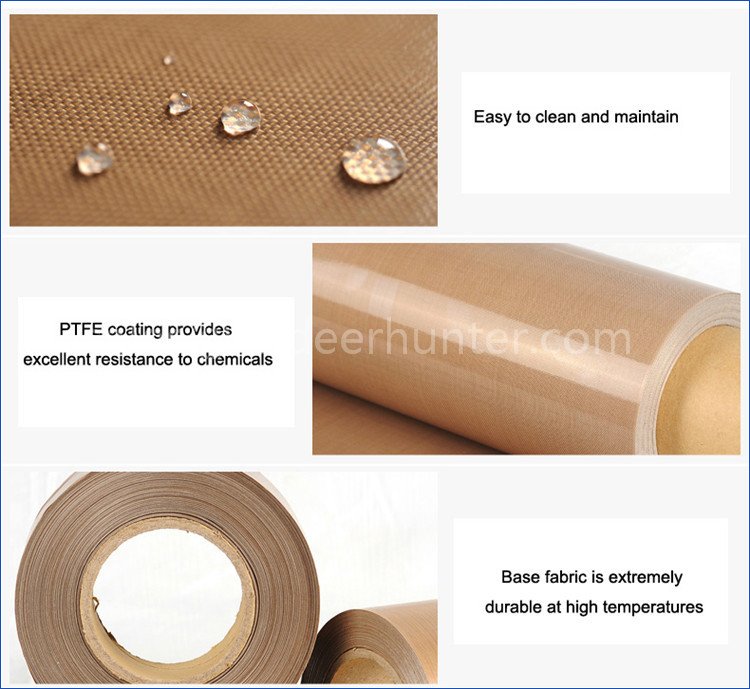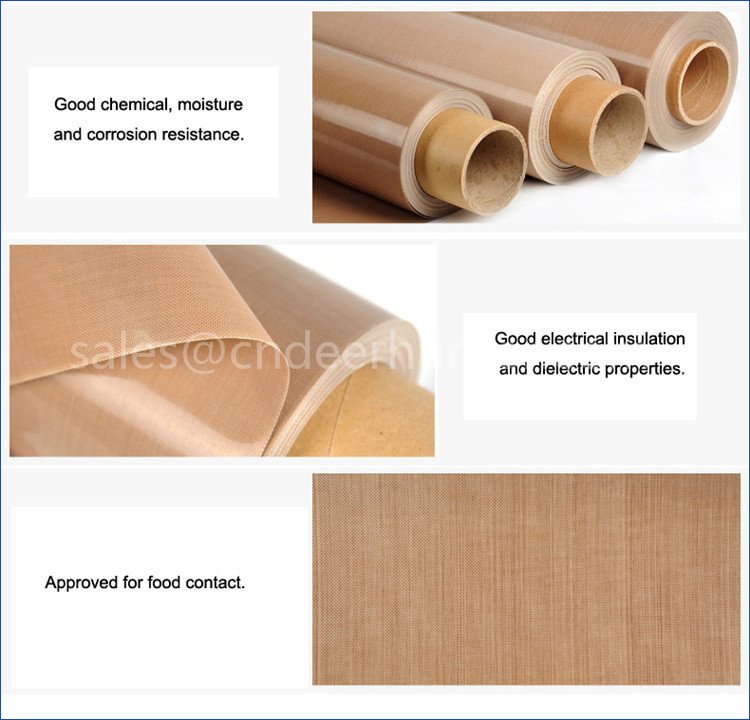 Packaging:
*For roll goods
Normal packaging: PP film + carton + Pallet.
Packaging can be customized as request.
* For piece goods
Normal packaging: Carton or Carton + Pallet.
Packaging can be customized as request.
As there are different types of PTFE glass fiber fabrics from us. Please contact us to discuss more.
And you can contact us by email sales[at]cndeerhunter.com
Mobile/Whatsapp/Wechat: +86-13823789007
Skype: FULLCHANCE100