PET Impossible Glass - 3 Layers Structure
As technology progresses, China Deer Hunter is now producing a kind of new anti shatter screen guard glass film rolls for worldwide customers. This type of clear PET protective impossible film includes 3 layers, but the actual real anti-shatter clear screen protector film is with black and blue release films on both sides. We call it thickness 0.44mm (440μm, but its actual working layer is 0.3mm (300μm). According to the below simple drawing, you can know more about the thickness of each layer.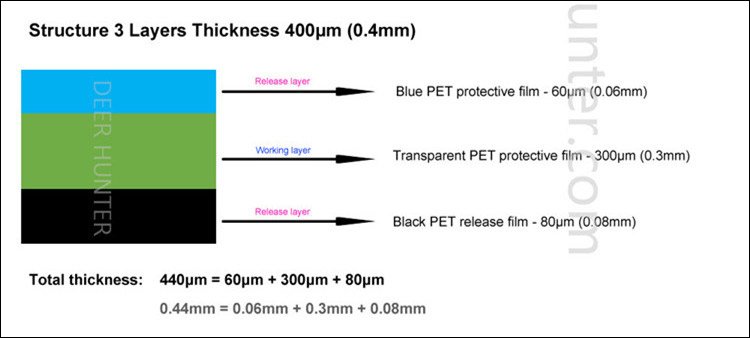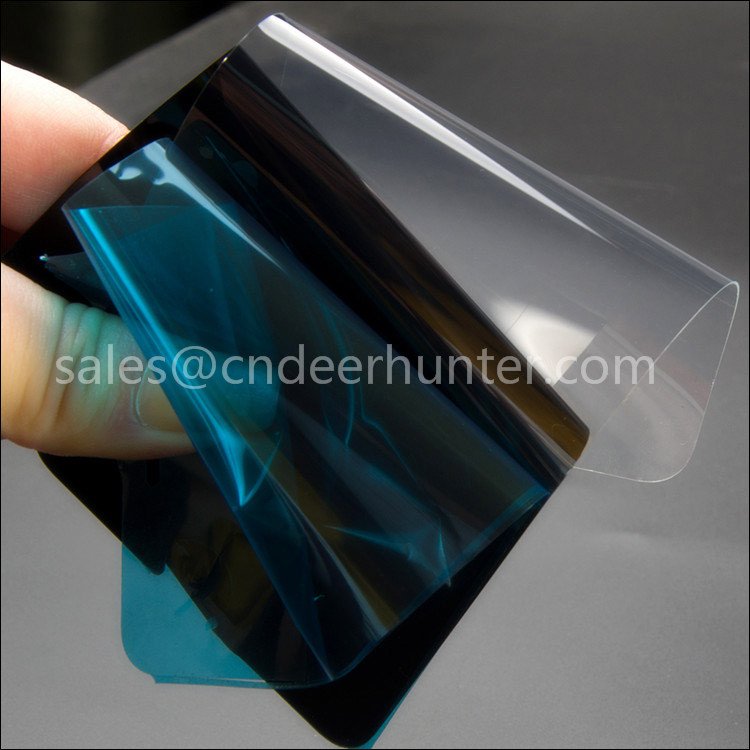 Product Descriptions for 3 layers of PET Impossible Glass Film Rolls
1: Technical Data Sheet
Item
Feature
Spec.
Appearance
Naked Eye
Clear
Actural use layer
mm
0.3mm
Available processing for surface treatment
Yes
Anti Scratch
Structure with 3 Layers
Blue PET protective film
Release layer
μm
60
Transparent PET protective film
Working layer
300
Black PET release film
Release layer
80
Coated Adhesive
Silicone
Peel strength
gf/25mm
6~9
Light Transmittance
%
98
Hardness
H
7
Total Thickness
mm
0.44
Width
mm
1040
Length
M
100
2: Structure for transparent Nano Glass Film working layer (0.3mm)
That's why India some people call it "PET Impossible Glass For Mobile Phone, 0.4mm" or "PET Impossible Film". We have below data to help you learn more about our product.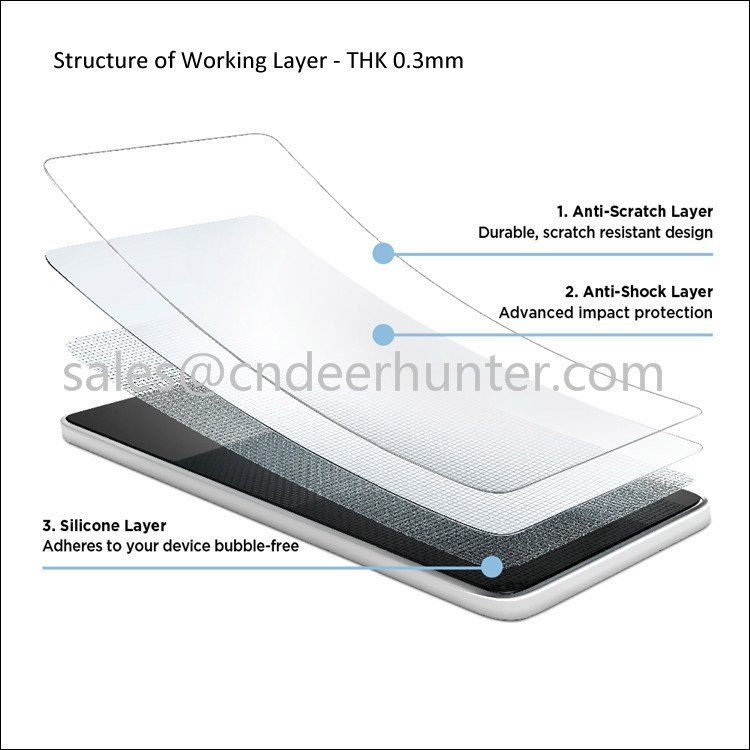 3: Packaging & Shipping:
* Inside - plastic tube core
* Outside - carton boxes and pallets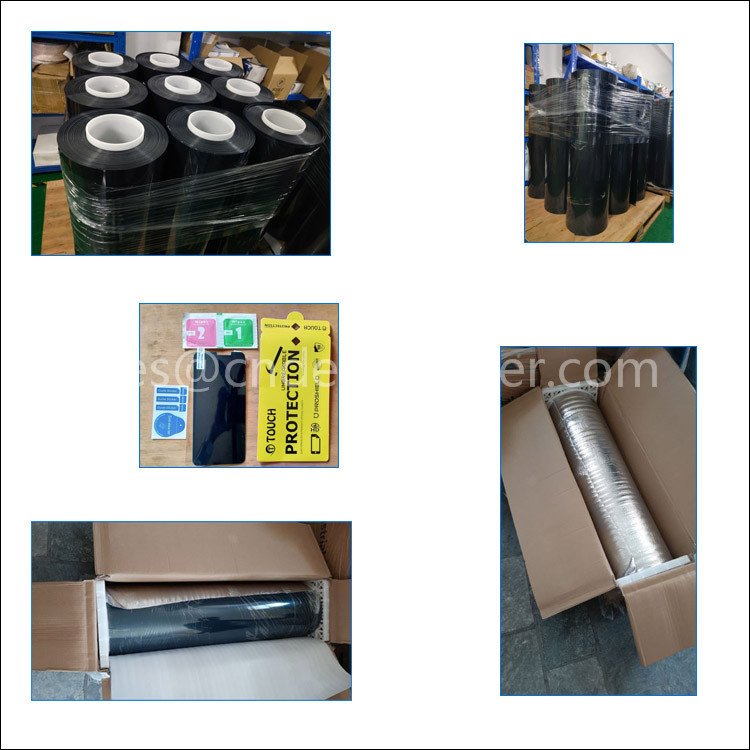 Storage conditions:
It should be stored in the normal temperature and humidity (23℃ ± 10%, under 55% RH), and avoided the direct rays of the sun.
Storage terms (terms of availability):
The above condition is satisfied, and the environment of storage place doesn't affect the solvent inside of this film directly or indirectly, damage directly or indirectly, it can be stored for 6 months.
RFQ:
1: Structure with 5 layers or 3 layers, which is better?
* Same. Psychological factors may influence your choice. Based on our internal data, the proportion between 5 layers and the 3 layers is half and half.
2: Can you do the cutting service?
* Yes, we can. If you want our film rolls to be cut into different sheets, please advise the drawing and more information.
3: Can you provide samples firstly to test?
* Yes, we can send samples with A4 size. And also we pay the freight.
4: Do you know other names for "PET screen protector film"?
* In different regions, people are in the habit of calling it with different names. For example, Soft micro nano anti shock screen protector film, Anti-Shock Screen Protector, Anti Shock Screen Guard, Nano Glass Protector, Flexible shatter proof glass, Wholesale Best PET Film Screen Protectors, etc. But in India, customers prefer to call it "impossible glass" or "impossible film". We don't know the reason.
5: For urgent questions about Explosion-Proof PET Impossible Glass, can you send more contact information?
* Please check below to contact us - 7days/24hours.
And you can contact us by email sales[at]cndeerhunter.com
Mobile/Whatsapp/Wechat: +86-13823789007
Skype: FULLCHANCE100