THK 0.44mm with 3 Layers and THK 0.5mm with 5 layers Multi-layered Screen Protector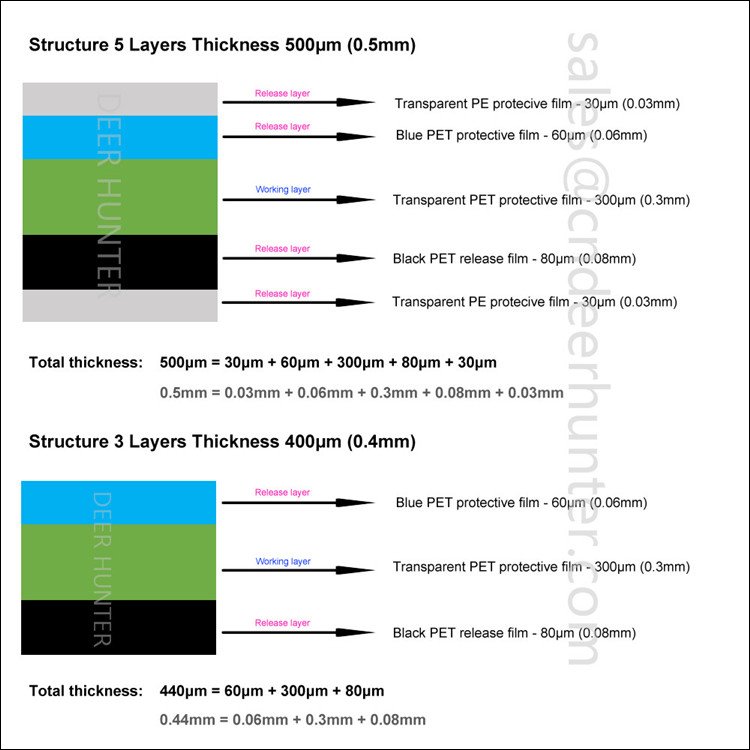 PET film screen protectors are anti-shatter & scratch proof, and usually come with 3 layers or 5 layers. Their downside is that plastic is the easiest to discolor from sun rays and oil buildup from your fingers, and it doesn't feel as nice as glass does to the touch.
However, having a big scratch on your phone is like having an itch in your brain you just can't reach. Plus, it lowers the resale value of the device when you want to upgrade. So PET film screen protector can keep the surface pristine, but buying one is more complicated than it should be. Let's break down the difference between the different types, so you don't waste your money.
RFQ:
1: Structure with 5 layers or 3 layers, which is better?
* Same. Psychological factors may influence your choice. Based on our internal data, the proportion between 5 layers and the 3 layers is half and half.
2: Can you do the cutting service?
* Yes, we can. If you want our film rolls to be cut into different sheets, please advise the drawing and more information.
3: Can you provide samples firstly to test?
* Yes, we can send samples with A4 size. And also we pay the freight.
4: Do you know other names for "PET screen protector film"?
* In different regions, people are in the habit of calling it with different names. For example, Soft micro nano anti shock screen protector film, Anti-Shock Screen Protector, Anti Shock Screen Guard, Nano Glass Protector, Flexible shatter proof glass, etc. But in India, customers prefer to call it "impossible glass" or "impossible film". We don't know the reason.
5: For urgent questions about PET film screen protector, can you send more contact information?
* Please check below to contact us - 7days/24hours.
And you can contact us by email sales[at]cndeerhunter.com
Mobile/Whatsapp/Wechat: +86-13823789007
Skype: FULLCHANCE100