Vacuum Silicone Bag For EVA Glass Laminating Machine
Vacuum silicone bag is also called silicone vacuum seal bag, which is mainly made of silicone rubber material, it is highly essential in glass lamination, help to pump out the air between the glass and EVA film, will fix the two glass on the right position to avoid the error. Besides, after fixing the glass, it is useful for the glue adhesion when the EVA film starts to melt. It is high heat resistance and tear resistance.
Vacuum Silicone Bag For EVA Glass Laminating Machine 3MM X 2000MM X 3000MM Silicone For Vacuum Bag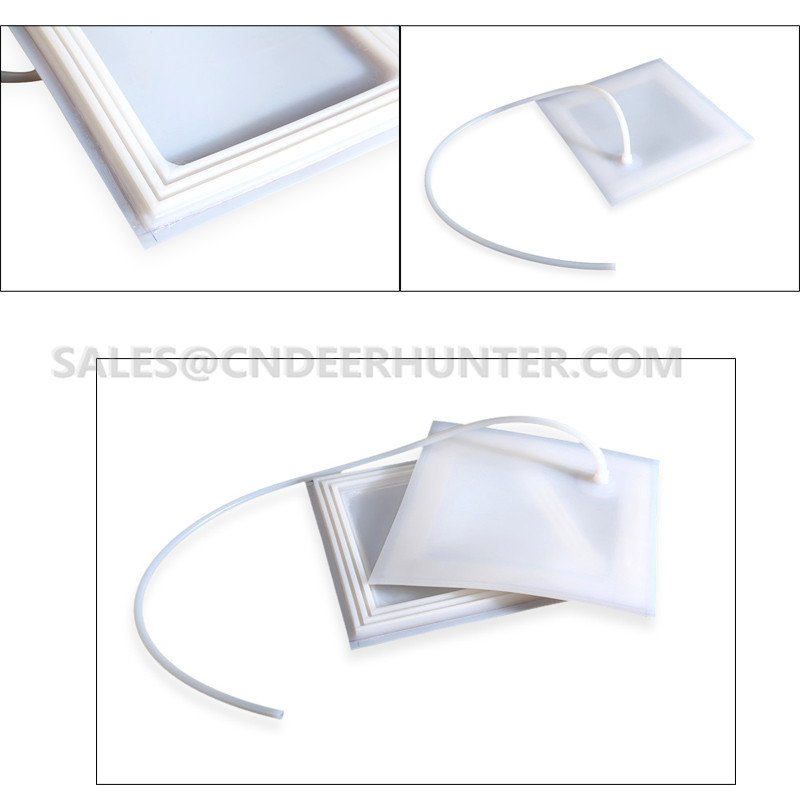 Each set of vacuum silicone bag includes two silicone sheets, buckle and nozzle, also the tube.
Durable & Flexible Silicone For Vacuum Bag
This strong silicone pad meets the most severe industrial tests. It is made of special high-temperature resistant silicone. The material will not become brittle after numerous heating and
cooling cycles. It is resistant to high-pressure forces when wrapping around glass during vacuum.
Patented Silicone Blankets Edge Seal
Top and bottom pad edges are specially designed, providing an airtight interlocking system. The higher the vacuum in between the top and bottom pads, the firmer the edges are sealed.
Vacuum Bag Sketch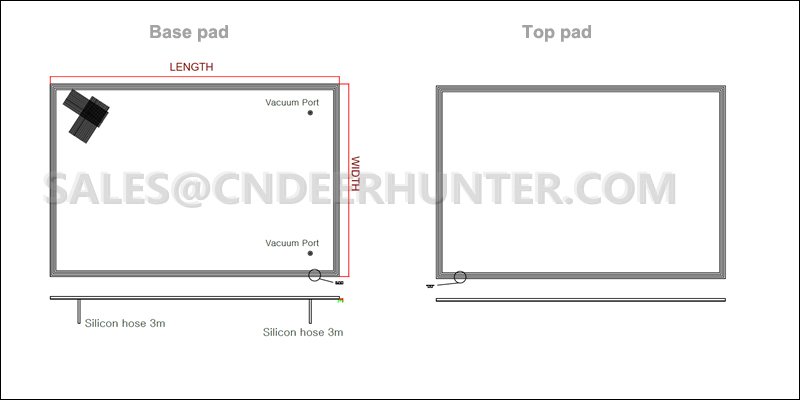 * Please let us know your Max Glass Size, as we want to get your real working area.
Features:
* It is high anti~tearing, able to bear high temperature.
* It's highly flexible, inertia sufferance to avoid mucosity, bear oil & ageing,its soft material is best
suitable for hard glass, ensuring glass not bent and break at high temperature.
* Connecting vacuum pump, pump out the air and keep air pressure well in lamination.
* A whole set includes the nozzle, tube, silicone sheet, Sealing strips.
* At least 5 years of service time.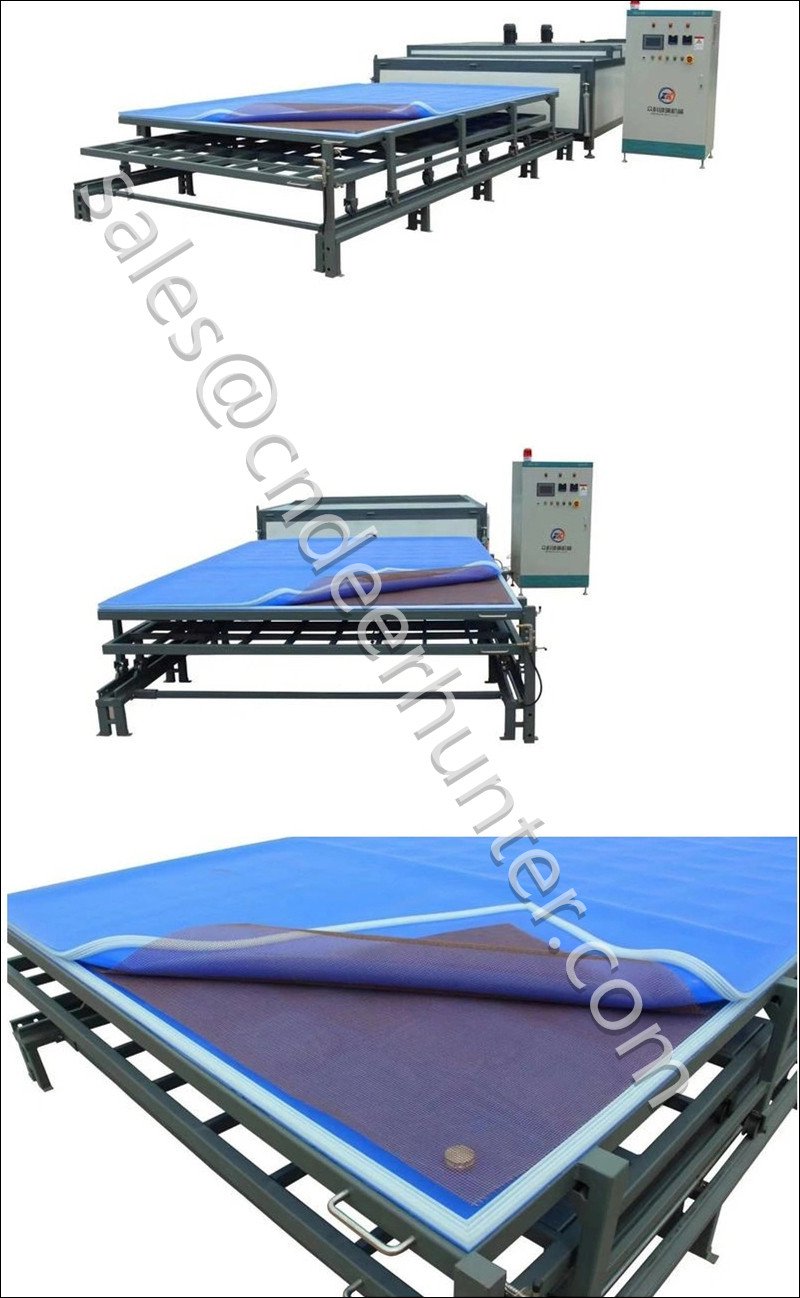 Silicone vacuum bags with chequered sealing edge
We offer you as a special product a flat silicone for vacuum bags of high resilience and heat resistance at temperatures up to 250°C. The bag consists of 2 pieces with chequered sealing edge and perfectly fits flat components of glass. The glass pane is put at the bottom part of the bag. Subsequently, the other part is attached on top. Due to this bisection, it is possible to put large, heavy glass panes into the bag from the top using a vacuum cup, for example when manufacturing laminated safety glass. In the top half of the bag, there is a conventional profile contact for vacuum pumps assuring easy handling.
The 2-parts vacuum bag and our sheets are offered in different sizes. We manufacture our products according to your individual measurements and we like to consult you on-site. Even a stockage in our warehouse is possible.
Product description and advantages

• Area of application: Glass Laminting Machinery
• Constant quality thanks to quality management
• Excellent elasticity
• Long-term flexibility
• High-temperature resistance to 250°C
Standard dimensions
Width X Length: As requested
Material thickness: 2 mm
3mm
Technical Parameters of Silicone Vacuum Bag:
| | |
| --- | --- |
| Material | Silicone 50 |
| Color | Translucent and Blue |
| Surface | Textured/Smooth |
| Tensile Strength | 9.5MPa |
| Tearing Strength | 32N/mm |
| Material Hardness | 50±5 Shore A |
| Elongation at Tear | 650% |
| Compression set | ≤8% |
| Max. Temperature | 250°C (482° F) |
| Maximum Glass Width | 3300mm (130") |
| Maximum Glass Length | no limits |
| Silicone Thickness | 3mm (0.12") |
| Thickness Tolerance | ± 0.4mm (0.016") |
And you can also download the technical data sheet as below:
For the glass lamination field, you have found the right co-worker. With the precision of Chinese design, Deer Hunter offers you the best vacuum silicone bag that will help you get the right products.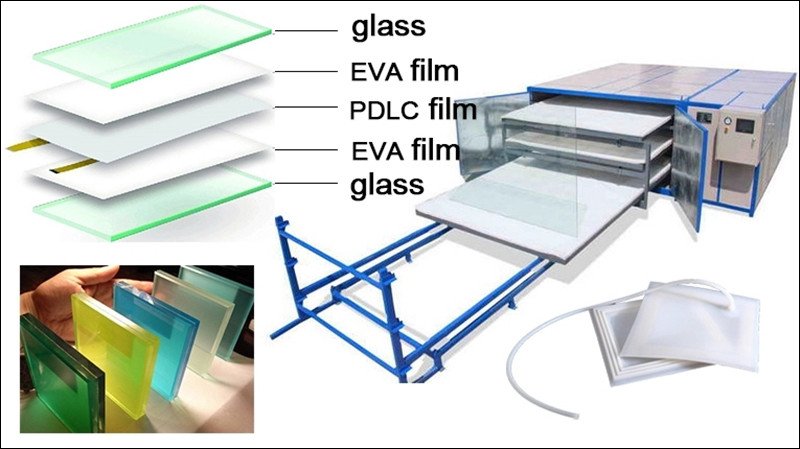 And you can contact us by email at sales@cndeerhunter.com
Mobile/Whatsapp/Wechat: +86-13823789007
Skype: FULLCHANCE100