1 Pair Magic Silicone Gloves With Wash Scrubber
Heat Resistant and Eco-Friendly Silicone Cleaning Gloves for Multipurpose - Kitchen, Bed Room, Bathroom, Pet Care, Hair Care, etc.
1: Product Overview
| | |
| --- | --- |
| Product Name | Magic Silicone Dishwashing Gloves |
| Material | Food Grade Silicone |
| Size | Approx 340*160mm |
| Weight | 165-185g/pair |
| Color | Pink, Blue, Gray, Orange, Purple, Green or Customized colors |
| Function | Dish Scrubber Glove |
| Feature | Non-toxic, tasteless, non corrosive, environmental protection |
| Application | Washing, Cleaning, Removing |
| Advantages | One size fits all - perfectly for women and men |
| Package | 1 Pair of Silicone Gloves |
* Multi-Functional Silicone Cleaning Gloves
* Used for Fruit & Vegetable Washing
* Long Cut-Off Design to Avoid Water Ingress
* Five-Finger Anti-Skid Design
* Waterproof and Oil Resistant
* Many colors available from us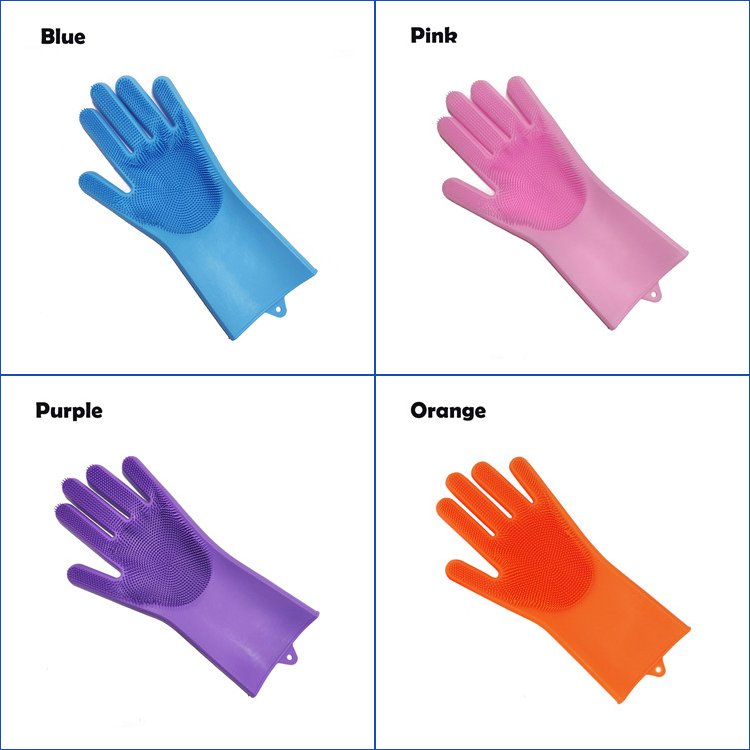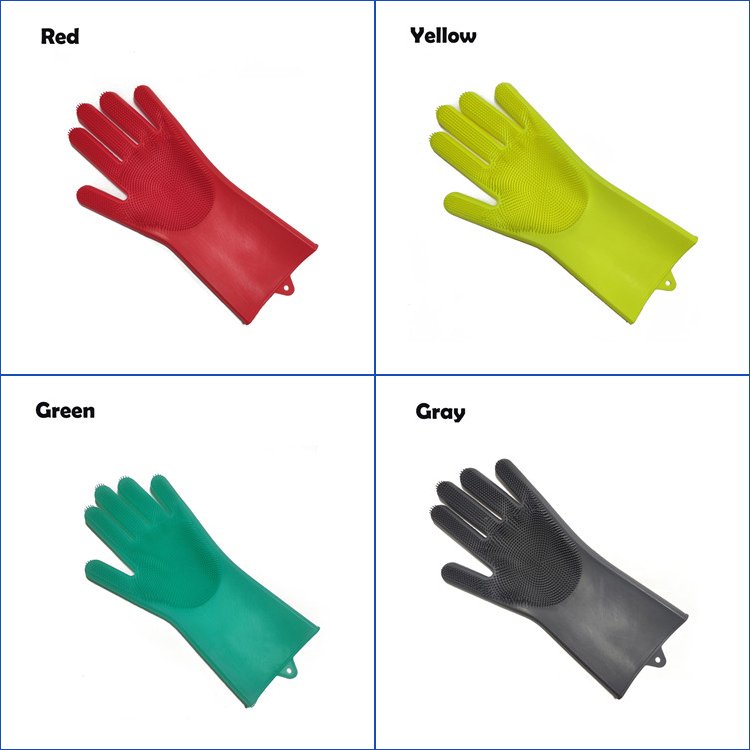 2: Product Description
- Material: 100% Food-grade Silicone
- Dimension: 34cm x 16cm x 2cm
- Heat resistance: 230 ° C
- Color: Pink/Blue/Gray/Green/Purple/Orange, etc.
- Application: Pet hair massage, Cleaning bathroom/kitchen, Washing the car, Removing the wardrobe dust.
3: Product Highlights
* Convenient, simple, and durable multi-purpose wash gloves as it combines the function of the scrubber and rubber gloves.
* Heat-resistant up to 230 ° C, it can be disinfected safely with boiling water or microwave. Hot water disinfection/Microwave disinfection.
* Super easy to foam and clean the brush, just rinse with water or put it in the dishwasher, there is no residue.
* Non-slip design, never worries the gloves will slip. Don't hurt your hand.
* With hook design, the hook hole can be stretched 1.8 in. Portable and Foldable.
4: Product Features
(1) FOOD GRADE SILICONE
- Made from 100% food-grade silicone, BPA-free, FDA-approved, LFGB standard. non-allergic to latex. This Magic Silicone Gloves can be used in the kitchen to do the dishes, clean fruits & vegetables, for cleaning the bathrooms, bedrooms, removing wardrobe dust, care for pet hair, and washing the cars.
(2) OUTSTANDING CLEANING
- Palms and fingers covered with thick silicone bristles which can quickly wash away oil stains and maintain a strong grip on the products being washed, and are not harmful to delicate kitchen utensils. Magic Silicone Gloves leave no bacteria nor residue.
(3) OIL RESISTANT and HEAT RESISTANT
- From -60 °C to 230 ° C (-76 ° F to 501 ° F), Reusable silicone magic hands gloves can be placed in a dishwasher or in boiling water for cleaning. It can also be used to move hot dishes or to remove oven dishes. The unique oil-resistant formula guarantees the easy removal of oil from the gloves.
(4) WIDELY USED and EASY to CLEAN
- Use these reusable kitchen silicone insulated gloves for washing dishes to replace your old style brush for improving kitchen hygiene. Simply rinse with water or place it in the dishwasher. Reusable silicone cleaning gloves will have no residue. no more stinky bacteria-laden sponges.
(5) DURABLE and WARRANTY
- Thanks to the high-quality silicone, the silicone does not deform, stretch, or fracture. We are so confident you'll think we have the best silicone cleaning gloves on the market. If you have any problems with magic silicone cleaning gloves, please feel free to contact us by email. We will offer a free replacement or a full refund.
5: Main Applications
(1) Kitchen
* Fruit and Vegetable washing
* Gloves for an oven container
* Dishwashing and Kitchen scrubbing
(2) Outer Uses
* Bath and hair care for companion animals
* Car washing and internal cleaning
(3) Bed Room
* Cleaning of beds
* Removal of dust from clothes and wardrobes
(4) Bath Room
* Cleaning of sinks
* Cleaning of bath tiles
* Cleaning of toilets
6: Friendly Reminder
(1) Due to the difference between the light and the screen pixels, there may be a little chromatic aberration, which is normal, everything is subject to the real thing.
(2) Please allow 1-3cm error due to manual measurement. Please make sure you do not mind before buying.
(3) There are 2 options, a pair for right and left hand OR 1 pc for right or left hand, please select carefully.
7: Frequently Asked Questions
(1): Is the Glove latex-free?
* Yes, it is latex-free. Our Silicone Dishwashing Gloves are made of high quality and food grade silicone, it is non- allergic to latex and can be used to clean vegetables and fruits. Speedy natural drying, No Bacteria, No Deformation, No Residue. BPA-Free, FDA-Approved.
(2): When should you replace them?
* Like any other product, once they look worn and can no longer scrub as good as they once did, it'll be time to replace them.
(3): Does it have cotton lining or any lining so the gloves don't stick to my skin?
* No other lining inside. All made In silicone. If you are a sweaty person, it may stick to you. Otherwise, it is ok.
(4): My husband is usually the one that does the dishes with gloves, but will these fit his big working-mans hands?
* Yes, they will stretch to fit his hands. I have big hands and they still have more room.
(5): How many magic silicone gloves in a pair? In some descriptions which says 2 pack, does it mean 2 pairs in one order?
* 1 pair (1 left and 1 right). So it is 2 pack, my dear friend.
(6): What are your contact details?
* You can email us at sales[at]cndeerhunter.com or phone us on +86-13823789007