Resistance Loop Bands - Set of 5 Resistance Bands for Improving Mobility And Strength, Yoga, Pilates or for Injury Rehabilitation - Suitable for Women and Men - Made From Liquid Natural Latex Material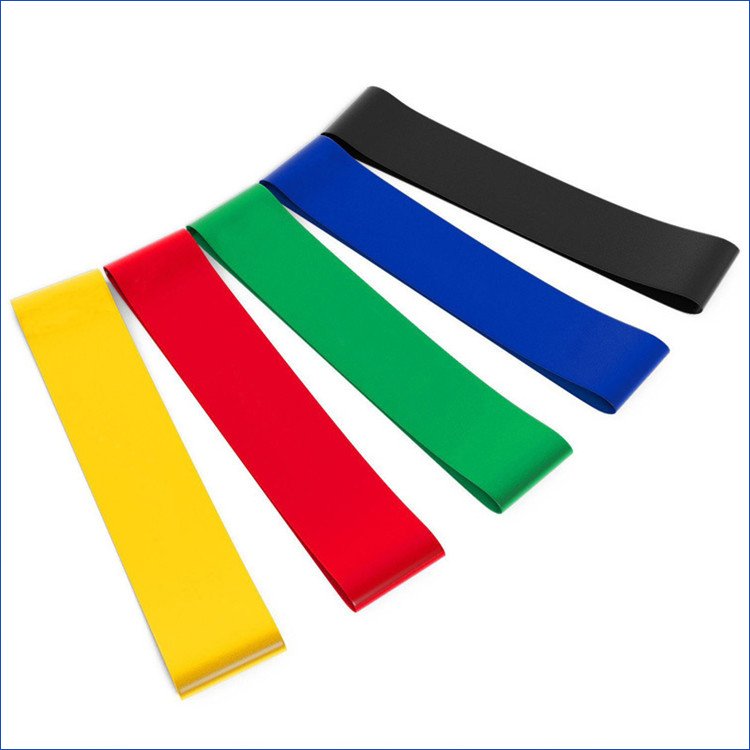 The best resistance bands to pack in your gym bag. These bands can make a big difference in your workouts.
Product Descriptions:
| | |
| --- | --- |
| Product name | Resistance loop bands |
| Material | 100% Natural Latex |
| Color | Green/Blue/Yellow/Red/Black |
| Thickness | 0.35mm/0.5mm/0.7mm/0.9mm/1.1mm |
| Width | 2'' (50mm) |
| Size: | 10'' (500mm) and 12'' (600mm) |
| Feature | 5pcs per set |
| Packing | Opp bag, Nylon bag and Noven fabric bag |
| HS code | 9506911900 |
| Included components | 5 Resistance bands of varying levels of strength, one instruction leaflet, one carry bag |
| Type | X-Light, Light, Medium, Heavy, X-Heavy |
Product Features:
1: Suitable for everyone
These resistance loop bands are great for women and men of all fitness levels. Each elastic band offers a different level of resistance making it possible to work muscles Throughout The whole body progressively and safely. Use any one band individually or multiple bands together to provide the right level of resistance for you.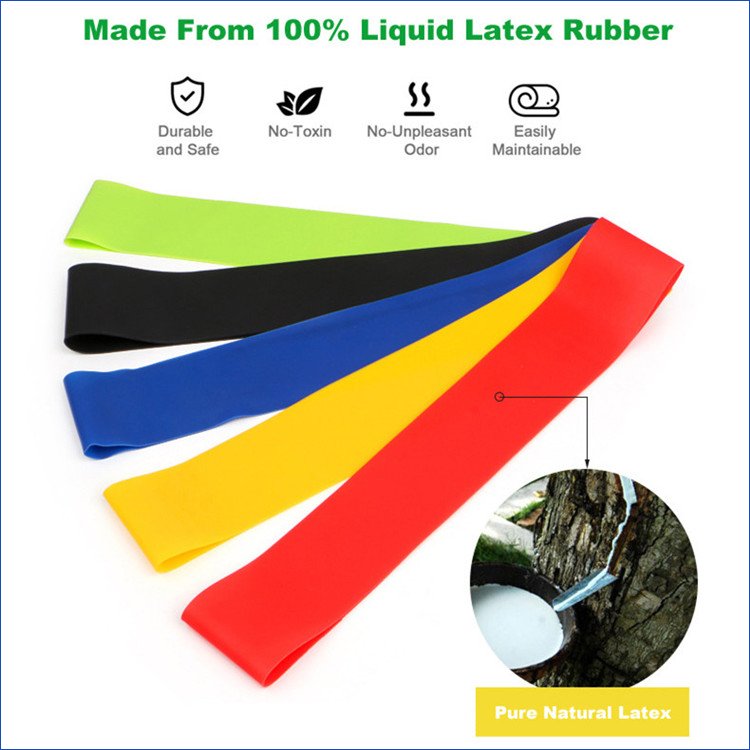 2: Versatile
Best exercise bands for CrossFit, Yoga, Pilates, fitness, and ideal for increasing strength and mobility. Use of resistance bands can help to strengthen stabilizing muscles which may help to prevent injury or assist greatly in injury rehabilitation. Perfect resistance bands for legs and glutes as well as chest and arms.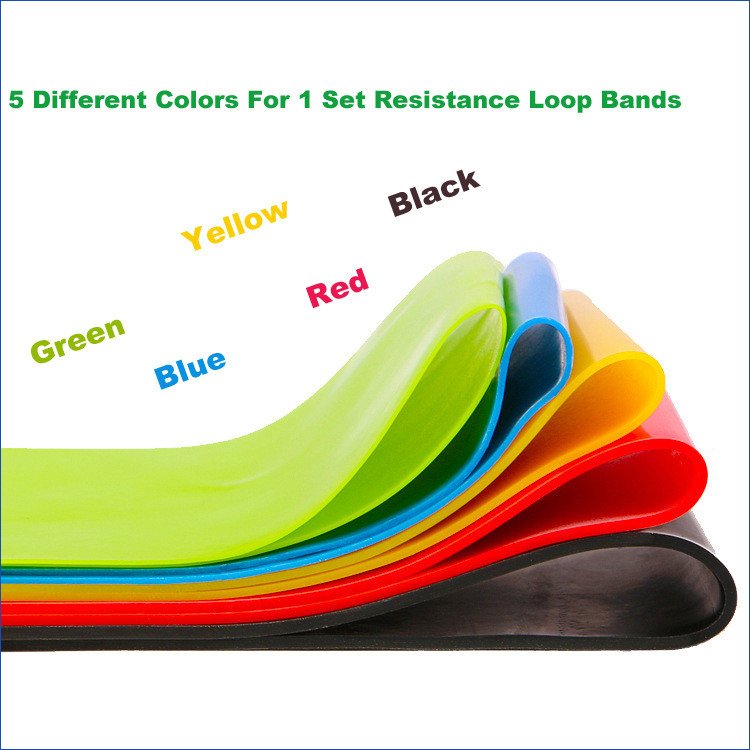 3: Premium quality
These 12'' (30 cm)/10'' (25cm) long and 2" (5 cm) wide resistance bands are durable and built to last. They can be stretched repeatedly year after year and are made from natural latex material which is kind to the environment. The resistance provided by each band is as follows: Green - 5 lbs, Blue - 10 lbs, Yellow - 20 lbs, Red - 30 lbs, Black - 40 lbs.




4: Use them anywhere
Resistance bands set can be easily transported to use wherever and whenever you want. The exercise bands fit easily into the carry bag provided. Use them at home, in the gym, when traveling or as part of an exercise class.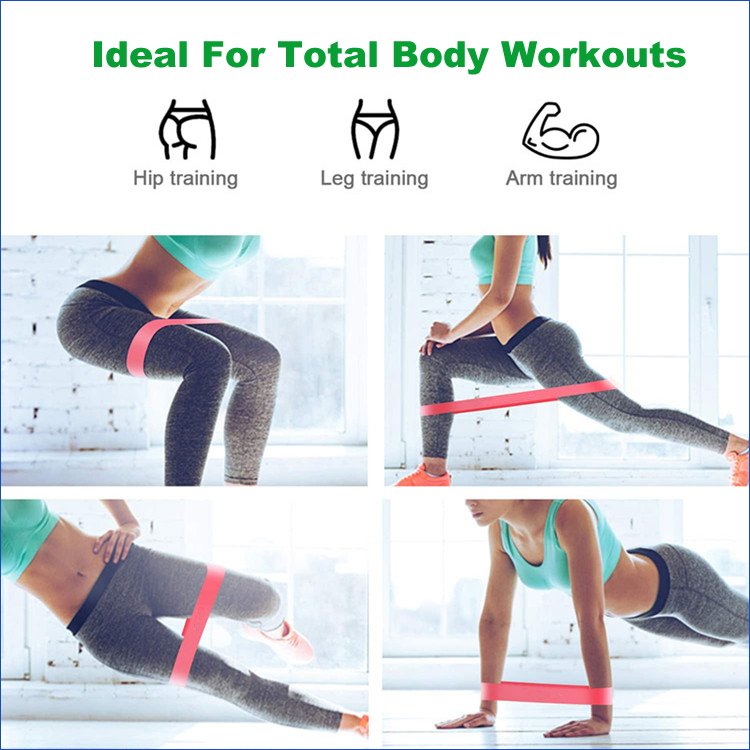 5: Resistance band wholesale in China
Reputable, reliable & innovative products from one of the leading verified suppliers in China.
6: No Logo or Custom Logo as your requests.
USE & CARE
* Before each use, check each band for breakage prior to starting your workout.
* Do not stretch bands more than 3x their original length.
* Do not use bands on rough or abrasive surfaces.
* When under tension, carefully return all bands to original length before releasing to avoid injuries.
* We highly recommend storing your set at room temperature with no moisture, heat or direct sunlight to increase the life cycle of the product.
* Only clean your product with a damp rag with NO cleaning products or soaps. Any cleaning products or soaps may damage or weaken your bands.
Frequently Asked Questions
Q1: Is there latex in the bands?
A1: Yes. It 100% made of natural latex. Our Resistance Bands are made of the highest quality, using the highest quality from Thailand with high elasticity and extra thick high-grade silicon that will not dry out, snap or deform.
Q2: How can I clean the exercise bands?
A2: Latex rubber loop bands can be rinsed with water and dried. Do not expose to sunlight.
Q3: Would this help me lose weight?
A3: You can gain balance, limber up and muscle tone.
Q4: Can this be for a 4 years old girl?
A4: I think these exercise bands were designed for adults, but my 7 years old daughter have fun with them! While your daughter will be able to use the green and blue bands because they the lightest ones, you will be able to use the rest of them.
Q5: Can I grow muscle using the Resistance Loop Bands Set?
A5: Yes, you can grow muscle if you maintain to workout daily using the correct way.
For urgent questions, can you send more contact information?
* Please check below to contact us - 7days/24hours.
And you can contact us by email sales[at]cndeerhunter.com
Mobile/Whatsapp/Wechat: +86-13823789007
Skype: FULLCHANCE100