Latex Rubber Workout Belt Fit Simplify Resistance Loop Exercise Bands For Home Fitness Stretching Strength Training Physical Therapy Bodybuilding - 5 Different Colors Available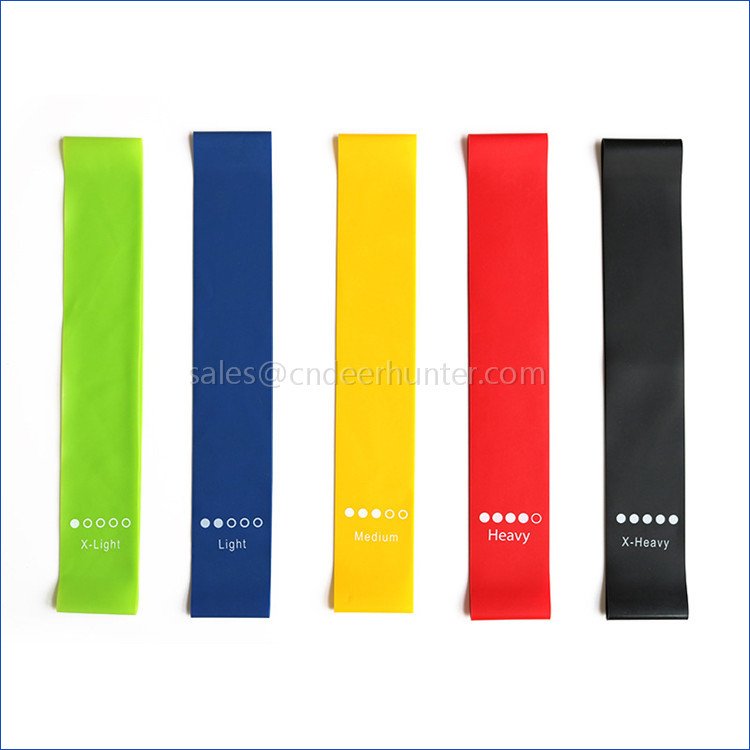 Exercise Bands Features:
exercise bands: It's convenient to use, increase your flexibility & strength, suited to Yoga and Pilates
loop bands: It's 5 different strengths band to choose for different strength training levels.
resistance bands: It's come with a mini carry bag, convenient to carry
It's made of high-quality material Latex

Workout Bands Descriptions:
1: Latex exercise loop bands are now gaining more popularity these days, as people can do exercise indoors.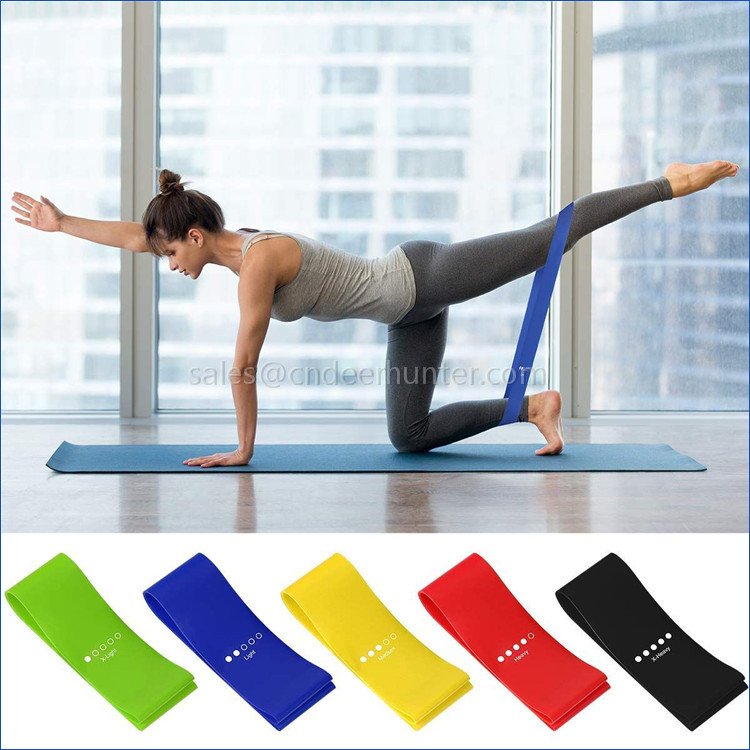 2: One set of resistance bands from us includes 5 colors - Green/Blue/Yellow/Red/Black.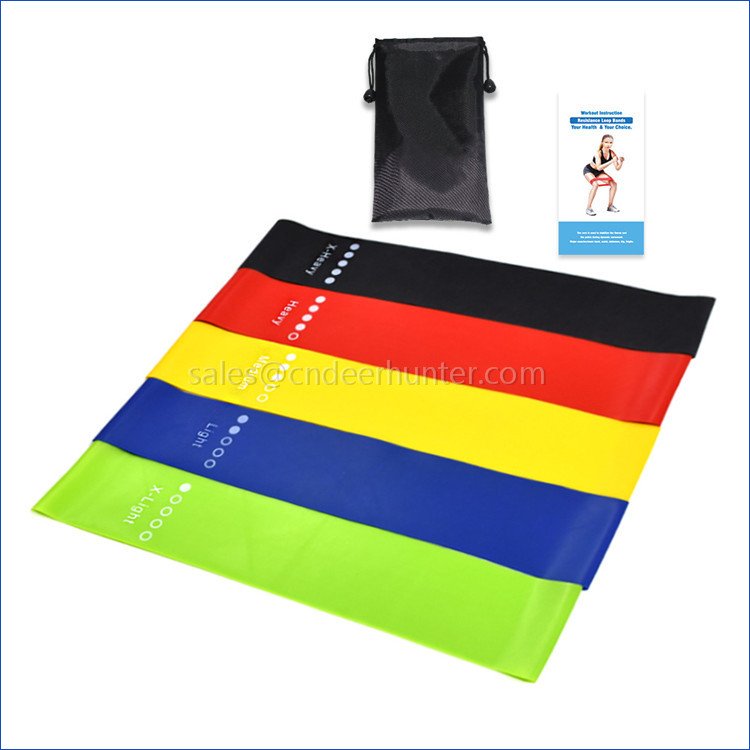 3: Size 50mm X 500mm (10inch) and 50mm X 600mm (12inch) are both available from us. Please choose the right model.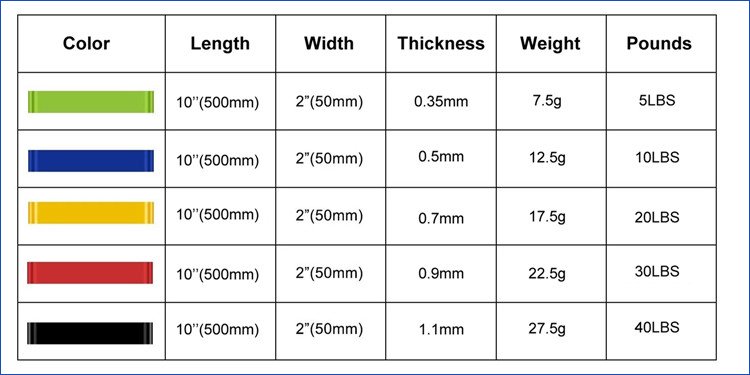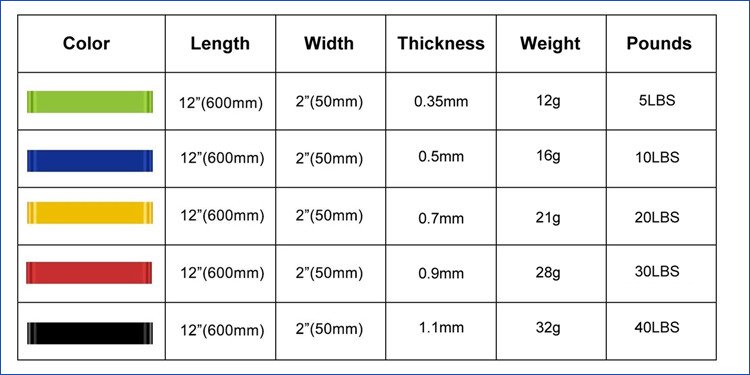 Get ready to workout with these fit simplify resistance loop exercise bands!
The exercise resistance loop bands are the perfect affordable way for anyone to get in shape now. This set includes five lightweight and durable armbands of varying resistance levels which can be transported easily to give you the workout, stretching, or physical therapy you need anytime, anywhere!
From fitness newbies to long time pros, the exercise bands are ideal for anyone who enjoys working out. They are appropriate for all age levels, and five levels of resistance mean you choose the strength you want to use. The bands are vibrantly color-coded and have graphics printed on them to help you decide how much strength you will need.
The latex exercise loop bands are tough, durable and built to handle all of your exercising needs. Strengthen your arms, legs, booty and more with no fear of snapping or tearing.
These versatile workout tools can help strengthen your biceps, triceps, chest and shoulders, thighs, legs, buttocks, and more! Get the full-body workout you're looking for without all of the expensive gym equipment or memberships with our Excercise Resistance Loop Bands!
All You Will Ever Need!

The five loop bands roll and fit perfectly inside the included carry bag, which can easily be transported in a purse, briefcase or bookbag! The carry bag filled with bands weighs next to nothing, so you'll never feel like you're lugging around heavy or bulky equipment. The carry bag securely stays closed with a drawstring, so they'll stay in place and be easily ready for your workout whenever needed.

Lightweight
Carry Bag Included
Fits in Purse or Briefcase
Securely Closes with Drawstring

Add Comfort To Your Workouts!

Being comfortable is a key factor in working out and sticking with your routines, and our exercise resistance loop bands are ergonomically designed to stretch and contour around your hands, legs, and thighs without any pain or chafing. The bands provide a natural no-slip grip, so you'll maintain total control and get the workout you desire!

Workout in the comfort of your home
A variety of resistances to meet all your needs
Bands can be combined to have even more resistance
Made for any experience level

Target The Muscles You Want!

The exercise resistance loop bands are specifically designed to be easily incorporated into all types of workouts. Strengthen your arms, legs, core, and buttocks with easy implementation into any of your typical stances stretch and poses. Don't worry about having to learn all new routines and master new forms, use these loop bands in whatever styles of exercises you are comfortable with to get the results you desire without changing what you know.

Easy to Use
Versatile
Use in Any Workout
Improve Your Routine!
Package details:
* Standard parcel - one set consists of 5 colors latex rubber loop bands + 5 opp bags + 1 non-woven bag
* G.W. - 123g/set
* Carton size - 48cm * 36cm * 23cm
* Quantity - 100sets per ctn
* Weight - 13kgs/ctn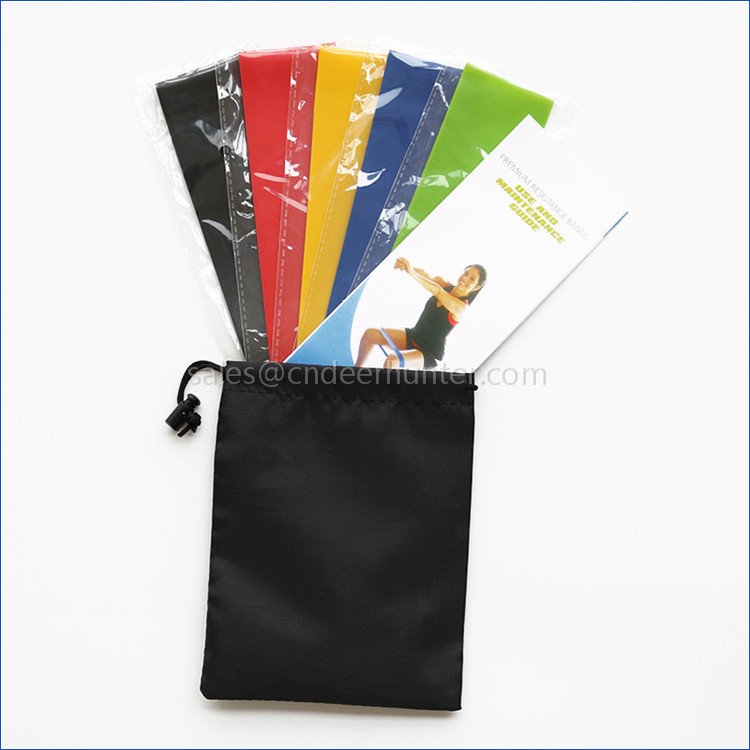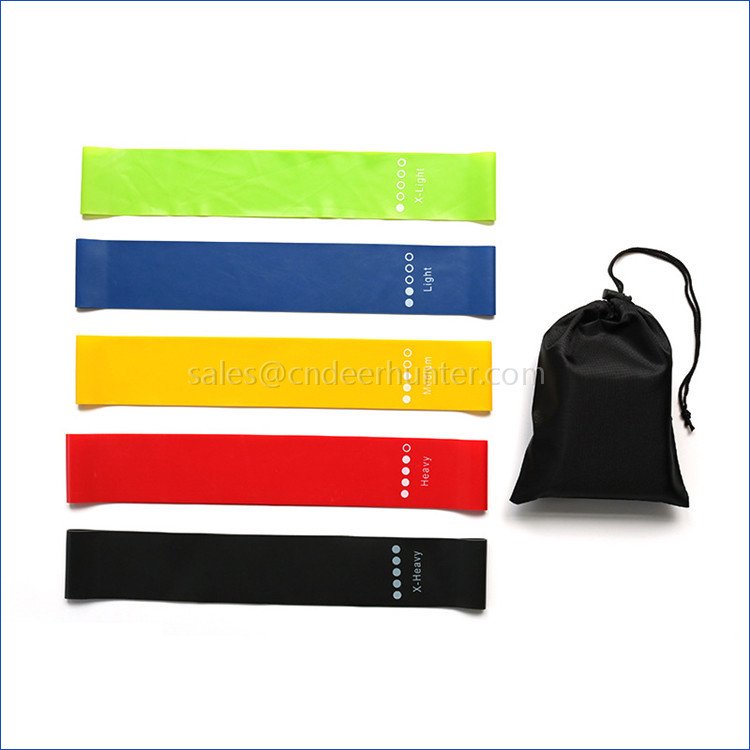 Notes:
If you want to get your own logo printed on the surfaces, please inform us in advance. Such as below: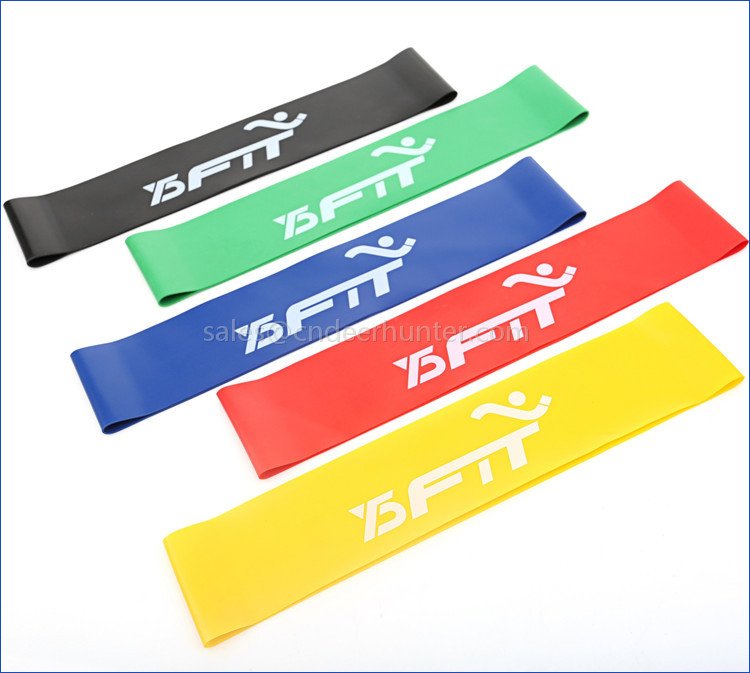 Frequently Asked Questions Fit Simplify Resistance Loop Exercise Bands
1: Question:
What are the "weights" for each band and how thick are each of these bands?
Answer:
Each one of the 5 different bands that comes in the set has a different resistance level:
COLOR - STRENGTH - EST. LBS
0.35mm - Green - X-Light - 5lbs
0.5mm - Blue - Light - 10lbs
0.7mm - Yellow - Medium - 20lbs
0.9mm - Red - Heavy - 30lbs
1.1mm - Black - X-Heavy - 40lbs
The advantage of a set with 5 bands is that regardless of your fitness level, we guarantee that you will find a band that has the proper resistance to challenge your muscles for each workout you wish to perform.
2: Question:
How can I clean the fitness bands?
Answer:
To clean the fitness bands, wipe them with a damp cloth. Do not use soap or chemicals on the bands, as they can damage the strength of the rubber.
We also recommend that from time to time after cleaning the bands you dust with talcum powder, baby powder or corn starch, to guarantee a long life and make them less sticky.
3: Question:
Do these fit simplify resistance loop exercise bands contain latex?
Answer:
The bands are made of high quality 100% natural latex. As stated on the product package, if you are allergic to latex you may consider another product.
4: Question:
Do any exercises/work outs come with these bands?
Answer:
Resistance bands can be used for at least four different types of exercises:
* Stretching and mobility
* Warm ups and muscle activation
* Resistance training and "getting a pump"
* Developing the "mind-muscle" connection (learning to better "feel" your muscles working) see less
5: Question:
Is it fit for the Hip exercise?
Answer:
It's excellent for arm workouts and limited leg workouts. You can do leg, some squats, shoulder, arm workouts, strength training workouts.
For urgent questions, can you send more contact information?
* Please check below to contact us - 7days/24hours.
And you can contact us by email sales[at]cndeerhunter.com
Mobile/Whatsapp/Wechat: +86-13823789007
Skype: FULLCHANCE100