Anti Static Mats | Rubber ESD Table Mat
Description:
Anti Static Mats are made of two layers with the top one as a static dissipative rubber layer laminated to a black conductive to the bottom layer. The surface resistivity of the top layer is 10E6-10E9 ohms and the bottom layer is 10E3-10E5 ohms. The Anti static mat material offers excellent resistance to heat, chemicals, oil, grease and common solvent.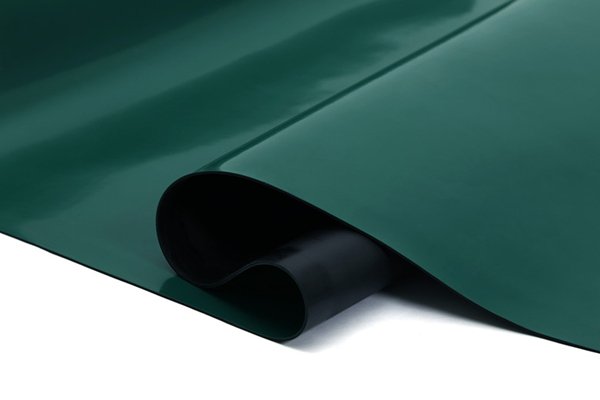 Anti static mats should be laid out in the workshops or advanced laboratories for microelectronic industries such as electronic semi-conduct devices, electronic computers, electronic communication equipment and integrated circuits, etc.
• Great value ESD Bench Matting
• Made from anti-static (conductive) and static-dissipative materials with synthetic rubber
• 2mm thick double-layer structure
• Surface layer is a 0.5mm thick static-dissipative layer
• Bottom layer is a 1.5mm conductive layer
• Available in blue, grey or green
• Made in China
Features:
High quality rubber ESD mat roll
Resistant to solder Iron and chemical agents
Oil resistance Low reflecting
Easy to clean
Anti-skidding surface(alternative)
Excellent flexibility and comfort
Specifications:
Product Name:
Anti Static Mats
Model Number:
DH-Green-2mm
Material:
Rubber
Surface Resistance:
Top dissipative layer: 10E6-10E9 ohms
Bottom conductive layer: 10E3-10E ohms
Thickness: 2mm
Top dissipative layer: 0.5mm
Bottom conductive layer: 1.5mm
1.6mm-5mm thickness are available
Width:
0.3m-1.5m
Length:
10m, 15m, 20m, 25m, 30m per roll
Colour:
Light Green, Green, Dark Green
Light Blue, Blue, Dark Blue
Gray, Brown, Black, Yellow
any colour as required
Decay Time:
<0.1 second
Abrasive Loss:
<0.02
Gross Weight:
about 3kg/square meter
30kg/roll for size:T2mmxW1.0mxL10m
Certificate:
SGS, RoHS
Applications:
Table top use to provide a static safe work surface for static sensitive products in Aviation, Clean-rooms, Computer Operators, Computer Technicians, Fiber Optic, Hospitals, and Pharmaceutical Industries in the high-temperature settings. Aerospace Assembly, Electronic Manufacturing, Electronic Repair, Medical Assembly and Soldering.
Packaging Details:
Standard Export yellow carton, with polyethylene bag, 1 roll/carton.
Also can do any packing as customer's requirment.
Packing Size:
2mm x 0.6m x 10m Roll: 64 x 17 x 17cm / 18kg
2mm x 0.9m x 10m Roll: 94 x 17 x 17cm / 27kg
2mm x 1.0m x 10m Roll: 104 x 17 x 17cm / 30kg
2mm x 1.2m x 10m Roll: 124 x 17 x 17cm / 36kg
PortShenzhen, Yantian, Shekou
Lead Time:3-7 working days against deposit
Before ordering our ESD Mat For Workbench, we should have to confirm some details firstly as below:
1: Thickness, Width and Length?
2: Color of top surface?
3: Black bottom surface, smooth or textured?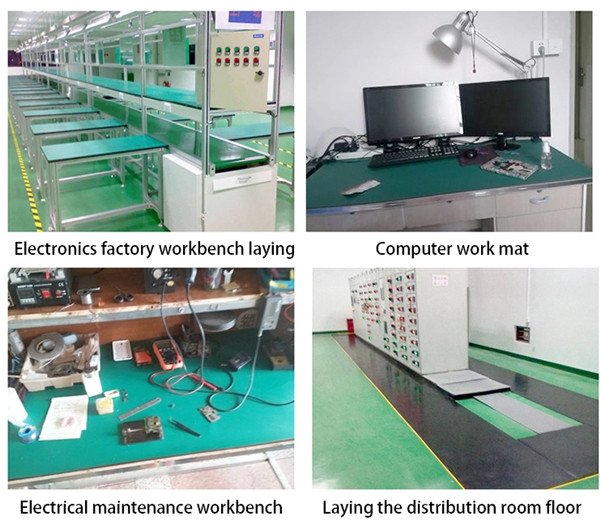 Many Colors Available For Anti Static Mats
And you can contact us by email at sales@cndeerhunter.com
Mobile/Whatsapp/Wechat: +86-13823789007
Skype: FULLCHANCE100