Gray Silicone Membrane For Solar Panel Lamination
Deer Hunter's gray silicone membrane is known throughout the industry for its consistency and durability. With high tear and temperature resistance, these diaphragms are in use worldwide on the full variety of module laminators.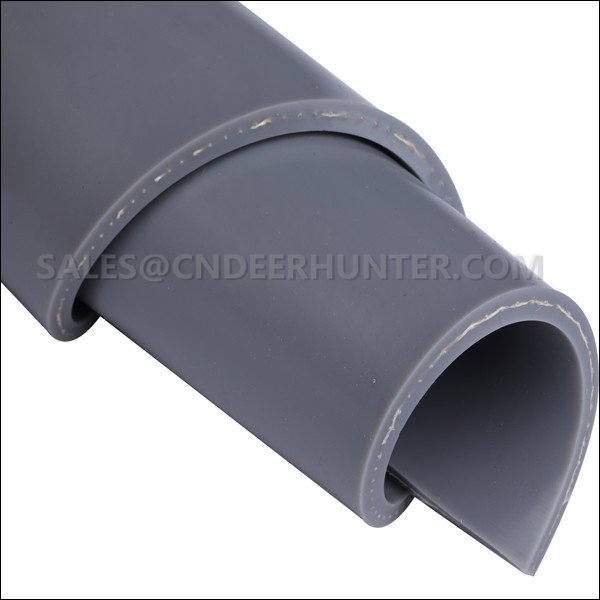 The 2nd Gen grey silicone membrane is our original & most popular silicone membrane sheet quality – combining hi-elongation, good life cycle performance under controlled environments and very competitive pricing. It's available with both sides smooth or single-sided fabric impression surface finish.
Availability and technical Features:

- Seamless (no weak point)
- Standard thickness 4 mm available
- Long life time resulting in increased service
- High stability
- Compression and temperature resistant + 250 °C
- Low-priced
- Colour gray
- 1 Ply premium grade aramid fabric reinforcement
Technical Data:
| | |
| --- | --- |
| Material | Silicone |
| Color | Gray |
| Surface | Smooth/Smooth or Smooth/Textured |
| Reinforcing Layer | 1 Ply Premium Grade Aramid Fabric |
| Hardness | 70+/-2 Shore A |
| Density | 1.25 ± 0.05g/cm3 |
| Tensile Strength | 12.5MPa |
| Tear Strength | 48N/mm |
| Temperature resistance | 250°C |
| Elongation | 600% |
| Compression Set | 2% |
| Resilience | 30% |
The 2nd Gen 4mm silicone sheet is our well-proven standard product.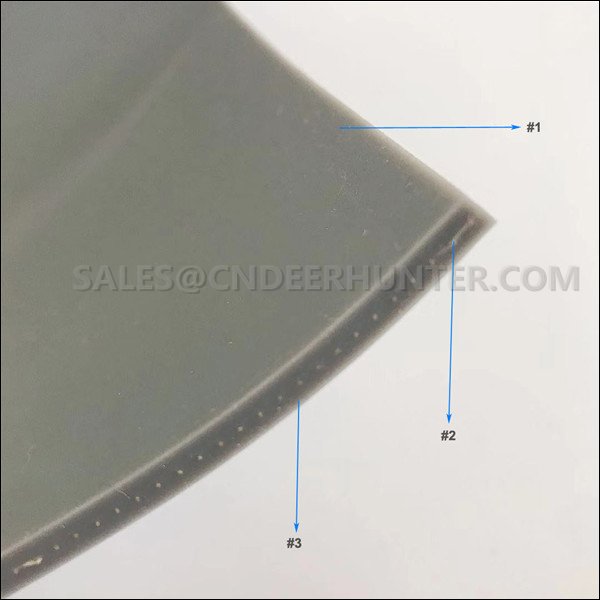 Structure
1# Grey silicone
2# 1 Ply premium aramid fabric reinforcement
3# Gray silicone
Standard dimensions

Width: Max up to 3800mm
Material thickness: 4 mm
Fabrication even beyond the standard width
The Second Generation lamination membranes are specially designed for the solar module lamination process.
Our silicone membranes are enhanced to achieve higher laminator uptime and decreased running costs.
Starting from base silicone materials, our membrane material formulation and its manufacturing process have been optimized to offer a superior product. Our solar module lamination membranes are available up to 3800 mm wide without a splice. This offers module manufacturers the advantage of not having seam marks visible on their back sheets created during the lamination process.
Do you need a wide silicone laminator membrane without a splice?
Deer Hunter's seamless lamination membrane enables module makers to produce modules up to 3800 mm wide with no seam marks visible on the backsheet.
Do you prefer smooth/smooth or smooth/textured?
We find the question of surface finish interesting - but in conclusion, we see no evidence that one option is better than another. Commonsense says that a fabric impression will provide a natural venting path to aid release especially in hot / sticky conditions. Most of our customers do prefer fabric impression 1 side and smooth 1 side. The physical properties of the material will be exactly the same irrespective of colour or surface finish - these do not change.
Lamination Process
The lamination process involves pumping the air out of the module layers in a vacuum chamber, heating the layers to melt the encapsulant, and pressing the layers together with a flexible diaphragm or membrane to embed the cells in encapsulant and adhere the front and back sheets. The flexible membrane is attached to the top of the vacuum chamber, and a set of valves allows the space above the diaphragm to be evacuated.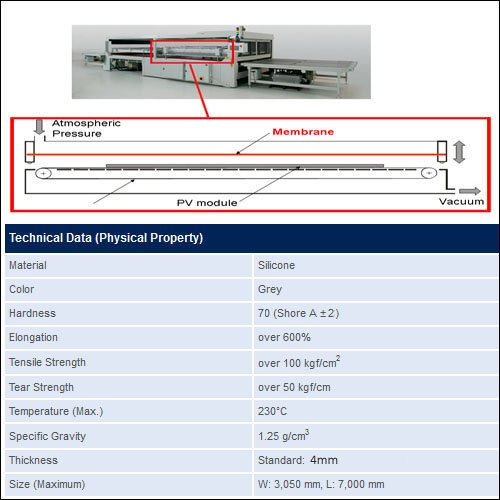 There are 3 main purposes of the grey silicone membrane in the vacuum process:
* To exert a uniform pressure throughout the solar lay-up.
* Removal of moisture, solvents and volatiles from curing composite layers.
* Allow encapsulant material to flow evenly throughout solar cell lay-up.
Photovoltaic modules need to withstand harsh environmental conditions for long periods – 25 years or more. One of the keys to module longevity and reliability is the lamination process, which needs excellent gray silicone membrane to encapsulate solar cells while attaching front and back protective sheets.
And you can contact us by email at sales@cndeerhunter.com
Mobile/Whatsapp/Wechat: +86-13823789007
Skype: FULLCHANCE100