High Clear EVA Adhesive Film Hot Melt Glass Lamination Sheet - 0.25mm, 0.38mm, 0.5mm, 0.76mm, 1.0mm Glass Films Supplier

High clear EVA adhesive film or EVA (Ethylene-vinyl acetate copolymer) is a non-toxic, non-polluting, environmentally friendly hot melt adhesive. Technically, it is called EVA hot melt adhesive film, created from long practice and knowledge to satisfy the highest criteria to glass laminated products, excellent for heavy architectural constructions, safety applications, and decoration with PET and different type of inserts.
Available Standard 5 Thicknesses:
0.25mm, 0.38mm, 0.50mm, 0.76mm, 1.00mm
Items
Model No.
Color
Thickness
(mm)
Width
(mm)
Length Per Roll
(M)
High Clear Series
GS25TH
High Clear
0.25
2400
150
GS38TH
0.38
2400
100
GS50TH
0.50
900~2500
80
GS76TH
0.76
900~2500
50
GS100TH
1.00
2000~2500
40
* Custom width and length are both available from us.
Technical parameters of GS-TH series (Ethylene Vinyl Acetate Film)
| | | |
| --- | --- | --- |
| Item | Unit | Value |
| Melting point | ℃ | 66 |
| Density | g/cm3 | 0.954 |
| Glass transition temp | ℃ | -45 |
| Tensile strength | Mpa | 24.9 |
| Elongation (before laminated) | % | 811 |
| Degree if crosslinking | % | 75 |
| Water absorption | % | ≤0.1 |
| Haze | % | 0.31 |
| Light transmittance | % | 91.4 |
| Bonding strength (to glass) | N/10mm | 98 |
| UV reduction | % | ≥99 |
| UV aging reistance (15Kwh/m2, 290~385nm) | Light transmittance% | 88.3 |
| Damp&heat aging resistance(85℃ 85% humidity 1000h) | Light transmittance% | 86.2 |
| Impact resistance against shot-bag (GB-15763.3-2009) | 1200MM | Qualified |
| Ball impact resistance (GB-15763.3-2009) | 4800MM | Qualified |
| Humidity aging resistance (GB-15763.3-2009) | / | Qualified |
GS-TH series EVA laminating films for high transparent safety glass is made of high quality, visual transparent polyester material processed by special equipment. It has the characteristics of toughness, high transparency, high bonding strength, high elongation, good low-temperature resistance, and so on. It is an ideal bonding material for laminating safety glass in the world. The glass can be widely used in curtain wall, sunshine room, guardrail, staircase handrail, and other special glass production fields. Our film has passed the test by China national safety glass & quartz glass test center and fully in line with the standard of GB 9962-1999.
Processing instructions for EVA Adhesive Film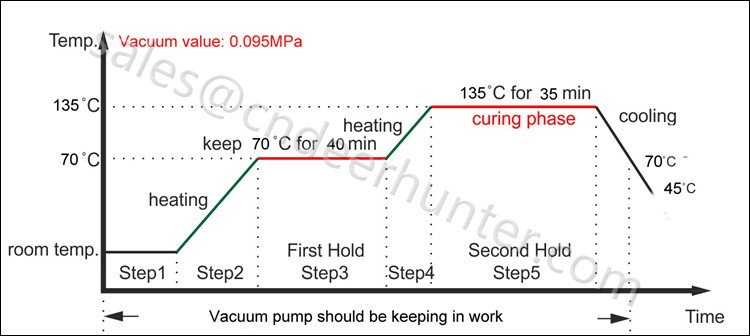 1: Seal the silicone vacuum bag. Before the silicone bag shelf being pushed into the oven, start the vacuum pump to vacuum for 10 minutes at room temperature. See "Step1". The purpose is to check whether the silicone bag is leaking out or not. And the vacuum value should at least be set 0.095Mpa.
2: Push the silicone bag shelf into the oven, then set the parameters of temperature and time. Start increasing the temperature up to 70℃ at a rate of 2-3℃/min slowly. See "Step2". Keep the temperature at 70℃ for 40minutes. See "Step3".
(Notes: following the instructions that the EVA FILM MANUFACTURERS give to you, the parameters may be different for different manufacturers). Because it takes time for the heat transfer through the silicone bag, so the temperature the detector gets may be different from the real temperature of the laminated glass.
3: Go on increasing the temperature up to 135℃ at a rate of 2-3℃/min slowly. See "Step4". Keep the temperature at 135℃ for 35minutes. See "Step5" curing phase.
4: Stop heating. Wait till the temperature is lower than 70℃, then open the oven door and pull out the silicone bag shelf to help to cool. But don't open the silicone bag or let cold water touch the laminated glass.
5: After the temperature is lower than 45℃, now you can open the silicone bag and check the laminated glass.
1. Application
EVA film product is a kind of interlayer adhesive film for glass lamination for architecture and decoration. It could be used with different kinds of inserts and PET, resulting in creative special designs with high decorative value. In any case – with or out inserts – glass processor needs to find out optimal laminating conditions case by case using his own equipment.
2. Expiration date
Every EVA film roll received, could be used within 9 months after the production date marked on the plastic bag of the roll. Keep the label and avoid using the material after the expiration date cause performances decrease with time which could lead to a lack of adhesion.
3. Storage conditions
EVA hot melt adhesive sheet must be stored inside the building in its original packing at temperatures between 0 and 30°C and humidity under 50%. Storage place must be not exposed to direct sunlight, heat, dust, chemical contamination (also in the air). EVA adhesive film must be kept away from heating units, hot tools etc. Opened rolls must be resealed if not in use. In case the rolls are stored on the feeder stand in the workshop, they must be covered by polyethylene film to protect from dust until using.
Precautions:
(1). Keep EVA adhesive film far from the fire. It can burn when exposed to direct fire. Do not burn the waste!
(2). Do not allow EVA films to be contaminated with oils. Oily material does not reach adhesion.
(3). Do not allow EVA glass film to be contaminated with any solvents. Adhesive properties could be lost.
4. Handling
Do not press, stick, or bend the rolls! Use proper jigs/stoppers/lifters while storing or handling EVA adhesive film in order to avoid personal injury or damage. Handle gently with care.
* We recommend to remove and do not use about 1M from the beginning and end of the roll, where the material has been in long contact with other material lately.
5. Preparing glass compositions
The glass must be clean and dry. Thorough cleaning of the glass is an essential requirement for good adhesion. Washing equipment must be kept clean from grease and dust.
Never touch EVA adhesive film with naked hands or dirty fabric gloves. Use a clean sharp knife to cut the excessive film around edges, keeping fingers from injury. Seal the edges by high-temperature tape to avoid slipping and displacement. A proper type of tape means to allow air evacuation effectively.
Do not edge or drill ready laminated glass within 24 hours after taking out from the oven.
6. Environment protection
Dispose of EVA laminate film waste and unused lengths in conformity with the laws and regulations concerning industrial waste in your country.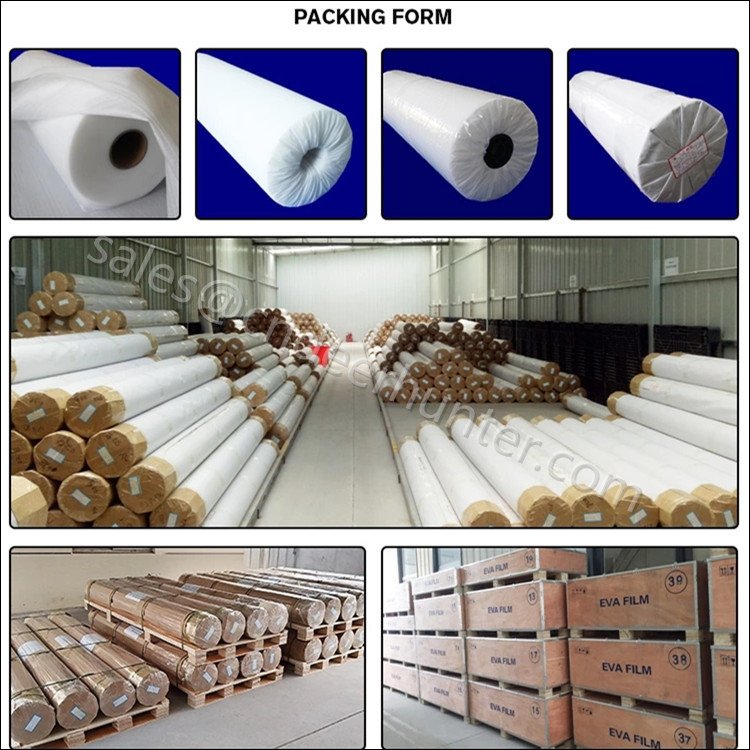 Not Sure Where To Start?
Before purchasing EVA Adhesive Film for laminated glass, customers need to know as follows:
1: Please let us know your application (indoors or outdoors); then we can recommend the very right thickness and model for you.
2: Free samples of EVA films are available from us.
3: To get our latest Catalog - EVA Adhesive Film For Laminated Safety Glass, or please contact me by email sales@cndeerhunter.com
Mobile/Whatsapp/Wechat: +86-13823789007
Skype: FULLCHANCE100