Ordinary Clear EVA Films For Laminated Glass - 0.25mm, 0.38mm, 0.5mm, 0.76mm Glass EVA Interlayers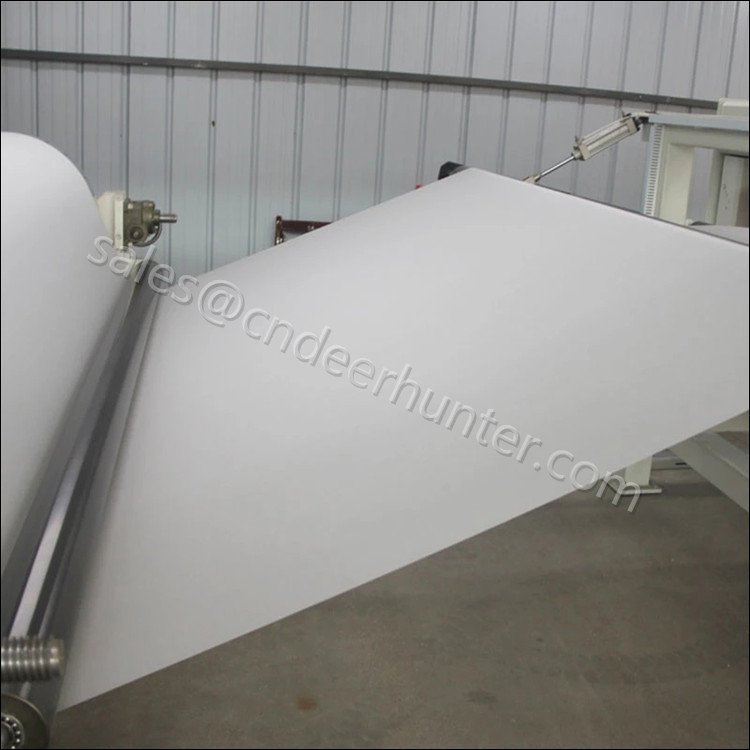 As technology progresses, EVA films for laminated glass are gaining popularity among more and more security glass manufacturers. Glass EVA film is a revolutionary new type of interlayer for glass and plastic sheet lamination and encapsulation without an autoclave.
EVA stands for Ethylene Vinyl Acetate.
It is a thermoplastic copolymer resin.
EVA resin, together with a number of ingredients, is heated, mixed thoroughly, and then extruded through a flat die of a specially designed plastic extruding machine.
EVA film is then formed. This film is wrapped in rolls for storage and packing.
This extraordinary adhesive film is non-sticky and inert to water moisture.
Handling and glass assembly can be done at room temperature. No air conditioner or dehumidifier is required.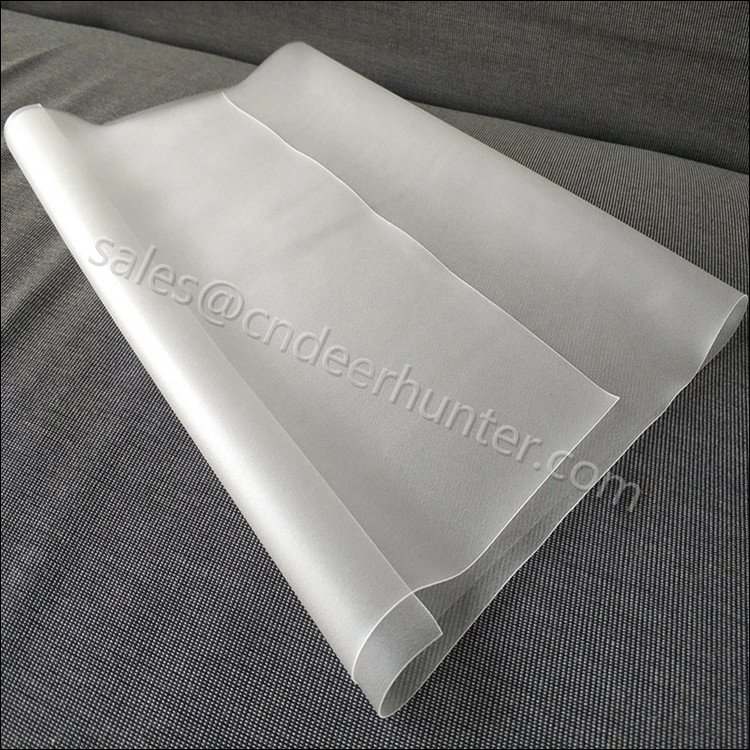 EVA interlayer films are created for high-security glazing and windows laminated glass interlayers. Through vacuum and heating lamination, it makes a great difference in art glass, safety glass, and enhance protection against large impact, storm wing of powerful blasts.
Available Standard 4 Thicknesses:
0.25mm, 0.38mm, 0.50mm, 0.76mm
Wholesale EVA films for laminated glass
Items
Model No.
Color
Thickness
(mm)
Width
(mm)
Length Per Roll
(M)
Remarks
Ordinary Clear Series
GS25T
Ordinary Clear
0.25
900~2450
150
Only used indoors
GS38T
0.38
900~2450
100
GS50T
0.50
900~2450
80
GS76T
0.76
900~2450
50
* Custom width and length are both available from us.
Feature:

1) Excellent Resistance, such as weather resistance, high temperature, and high humidity resistance, more than 80% UV light resistance.
2) Excellent adhesion to glass, metal, and plastics PET, PVC, fabric, paper, maintaining long term adhesion
3) Excellent light and transmittance and transparency.
4) High cross-linking rate after 115-degree lamination.
5) High tensile strength at 18.6 MPA, suitable for indoors.
6) Long service life than 15 years.
Processing instructions for EVA Films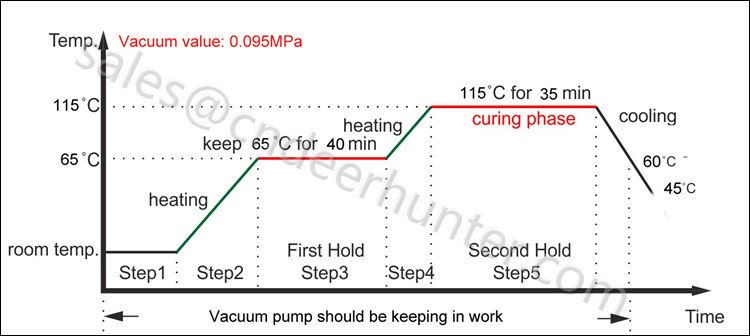 1: Seal the silicone vacuum bag. Before the silicone bag shelf being pushed into the oven, start the vacuum pump to vacuum for 10 minutes at room temperature. See "Step1". The purpose is to check whether the silicone bag is leaking out or not. And the vacuum value should at least be set 0.095Mpa.
2: Push the silicone bag shelf into the oven, then set the parameters of temperature and time. Start increasing the temperature up to 65℃ at a rate of 2-3℃/min slowly. See "Step2". It is usually followed by keeping the temperature at 65℃ for 40minutes. See "Step3".
(Notes: Following the instructions that the EVA films manufacturers give to you, the parameters may be different for different manufacturers. Because it takes time for the heat transfer through the silicone vacuum bag, so the temperature the detector gets may be different from the real temperature of the laminated glass.)
3: Go on increasing the temperature up to 115℃ at a rate of 2-3℃/min slowly. See "Step4". Then keeping the temperature at 115℃ for 35minutes. See "Step5" curing phase.
4: Stop heating. Wait till the temperature is lower than 60℃, then open the oven door and pull out the silicone bag shelf to help to cool. But don't open the silicone bag or let cold water touch the laminated glass.
5: After the temperature is lower than 45℃, now you can open the silicone bag and check the laminated glass.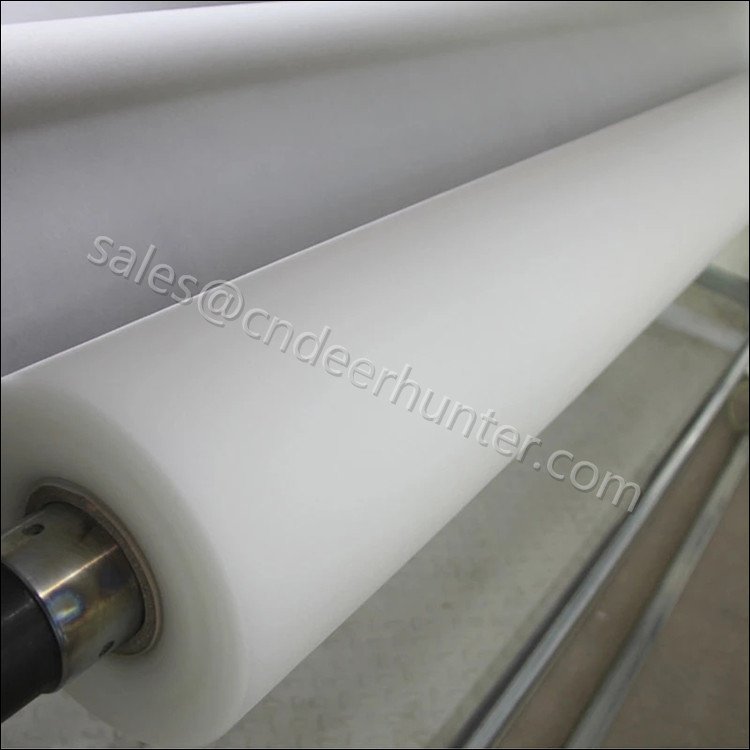 Application
Ordinary Clear EVA laminated glass interlayer is a kind of special film for decoration projects. It is mainly designed for use indoors and can be combined with spun silk, metal wire, paper, glass fiber, fabric, etc. in order to produce various high-grade extremely laminated architectural decorative glass.
Not Sure Where To Start?
Before purchasing EVA films for laminated glass, customers need to know as follows:
1: Please let us know your application (indoors or outdoors); then we can recommend the very right thickness and model for you.
2: Free samples of EVA films are available from us.
3: To get our latest Catalog - EVA Films For Laminated Safety Glass, or please me by email sales@cndeerhunter.com
Mobile/Whatsapp/Wechat: +86-13823789007
Skype: FULLCHANCE100