6Pcs Round Reusable Silicone Stretch Lids Kitchen Food Storage Bowl Seal Wraps Covers For Containers Cups Plates Cans Jars Pots
Are you looking for a product that replaces plastic wrap and storage bags? Here is a great replacement to introduce to you. Silicone stretch lids can help us say goodbye to environmental pollution.
You will never again need to buy cellophane to cover your leftover food once you purchase these stretchable silicone lids. The set includes 6 clear silicone lids in different sizes so that you can cover any unfinished food or drink and keep it fresh for later. These food saver covers are made with premium quality, food-grade silicone that is BPA free and completely non-toxic.
1: About the product
Set of 6 Sizes can meet your daily use. The safety reusable food wrap cover has strong flexibility and elasticity, can be stretched to 2 times of the original product, widely used in various shaped cups, bowls, basins, dishes, etc.
1/ 2.6" = 6.5 cm (will stretch to 3.5" = 9 cm)
2/ 3.8" = 9.5 cm (will stretch to 5" = 13 cm)
3/ 4.5" = 11.5 cm (will stretch to 6" = 15 cm)
4/ 5.7" = 14.5 cm (will stretch to 8" = 20 cm)
5/ 6.5" = 16.5 cm (will stretch to 9" = 23 cm)
6/ 8.1" = 20.5 cm (will stretch to 11" = 28 cm)
The best gift ideas for everyone especially mom!
Perfect Sealing, No leakage with liquids, Reusable & Eco-friendly
Silicone is indisputable safer for human health than plastic, which is a petroleum-based material commonly containing estrogen-mimicking chemical like bisphenol-A (BPA). Home reusable silicone stretch lids are made of 100% silicone environmental protection materials. Identified by FDA safety certification, Non-toxic, durable, soft texture, leak-proof. Sustain the temperature from -22F up to 450F, no worries about any damage. Even use in oven and refrigerators with superior wear resistance.
2: 10 Reasons why every home needs one set of silicone stretch lids
(1) Vacuum seal fits well
Not all the containers we own come with a good vacuum seal lid. The silicone food covers not only act as a lid but also create airtight vacuum seal.
(2) Fits to bowls with any shape
It is common to lose the lids to our kitchen containers, or in some cases not having lids at all, like cups, bowls, glasses, etc. We now have these stretchable silicone food wraps to alter. They can be used in home containers with almost all shapes, such as square, oval, rectangular, round, even a hexagonal bowl.
(3 )Spill-proof seal
The stretchable silicone lids are spill & leak proof. Works perfectly to cover one freshly squeezed juice and prevent from going bitter, to cover a can of cola to prevent it from refreshing fizz. The lids ensure that accidental tumble of the glass doesn't spill the liquid over.
(4) Keeps food fresher for longer
Fresh food oxidizes very quickly, just take a bite of an apple and leave it on the table for 5 minutes and you will see the oxidation. The silicone stretch lids can keep your food fresh longer.
(5) Microwave friendly
Trying to heat a bowl of dal you covered with stretchable silicone lids? No problem now take your food directly from the fridge to the microwave without even removing the lids. Your stretchable silicone lids are microwave friendly and will not get damaged in the microwave.
(6) Food grade silicone
All stretchable silicone lids are made with food grade silicone. You and your families health and safety are out top priority.
(7) Quick use and easy to store
Use stretchable silicone lids is quick and easy and needs less space for storage.
(8) Reusable and Stretchable
Stretchable silicone lids would last about 2-3 years. You can use it daily to cover different shaped containers.
(9) Faster marinating
Cover your marinated meats and veggies with lids for faster marinating. The vacuum seal creates faster marinating process.
(10) Freezer friendly
You now even use the stretchable silicone lids to even cover food in the freezer.
3: Key features
* 6 SIZES: Each pack includes 6 different sizes to meet all your needs
* HEAT-RESISTANT: Can be safely used in Microwave, Dishwasher, Freezer
* REUSABLE AND DURABLE: Extra thick silicone is durable and will not tear or warp
* COMPATIBLE: They compatible with many container sizes and shapes
* KEEPS FOOD FRESH: Airtight Seal keeps food fresh longer and Prevents Spills
Incredibly clingy, super stretchy, and totally convenient. This silicone stretch lid is made from pure silicone, and it's able to fit a variety of bowls, dishes, pans and containers. Use it on glass, metal, ceramic, or plastic with the same great results, and cover almost anything, no matter what the shape is. Although it's round initially, it's able to stretch and reform to cover square, rectangular, oval and circular containers, and seal them perfectly. Thanks to superior materials and design, you'll never have to worry about slipping, sliding or popping off, and thanks to the dishwasher safe material, you can easily wash and reuse it over and over again. Once in place, it will create an airtight seal to keep contents fresh and secure, so you can easily save them for later, or take them with you on the go. The thick, food grade silicone creates a strong lid, so covered containers can be stacked without worry when needed. Safe for freezer, microwave or oven use, this versatile lid offers many advantages over disposable wraps and foil, and it will save you money at the same time.
4: How To Use It
Nearly impossible to use incorrectly, this amazing lid works incredibly well, and covers just as easily as the traditional product you're using now. Just stretch to fit, and cover round bowls from 10" - 12" in diameter, or large rectangular dishes up to 13" x 9". There is no special technique, and anyone can master it with the first attempt, but follow the steps below for optimal performance.
(1) Clean and dry lid prior to use. A wet lid may cause slipping, and dirt may contaminate the contents of your container.
(2) Ensure the dish or bowl you want to cover is LARGER than this lid. If unable to stretch, it will not create a tight seal.
(3) Grab with two hands and secure one side of the lid to one side of your container.
(4) Hold lid in place, and stretch the other side to secure it on the other side of the container.
(5) Use the integrated tabs to pull and adjust as needed to create a perfect seal on the top of your container.
(6) Once in place, it will provide a solid and sturdy lid that will not slip off.
(7) To take one off, pull outward with the longer tab to release the bond. Once released, lift up to remove.
(8) Totally dishwasher safe when dirty, just place on the top rack.
5: Where To Use It
Perfect for a variety of situations, you will love how versatile this lid is. Because it fits on so many shapes and sizes of containers, it offers incredible value and convenience. Use it to replace existing tops that no longer work, use it to replace one that is lost, or use it as a versatile cover to replace plastic wrap and foil on a regular basis.
* Leftovers. Keep meals fresh in the dish they were cooked in. No need to transfer to a container with a lid, just stretch on, and store for later.
* Parties. Quickly cover a cake, a dip, or a pan of brownies, and take them with you on the go. The rigid lid will keep foods fresh, and protect them from damage while you travel.
* Fresh Fruit. Watermelon can be difficult to save. With this lid, it's easy. Simply stretch over the unused half, and the inside will stay fresh.
* Baking. Cover cookie dough, and stick it in your fridge to cool prior to cooking, or use to cover stuff when baking in the oven.
* Food In the Fridge. Once in place, it creates a stack-able surface so you can easily pile things up to conserve space in your refrigerator.
* Splatter Guard. Because it's microwave safe, you can keep the lid on when reheating pasta and other food prone to splattering, and the inside of your oven will stay clean.
6: Customer questions & answers
(1): Can the lids be cleaned in a dishwasher?
* Yes, our silicone stretch lids can be cleaned in a dishwasher or by hands. But then should be air-dried. Do not dry with a towel as this will cause lint build-up and may impair wraps grip on containers. They can then be stored easily in a drawer or cabinet on the flat surface.
(2): Does it work in the freezer?
* Yes, our reusable silicone food wraps are made to work in the freezer.
(3): How many silicone lids come in each package?
* There are 6pcs in a set: Diameter 6.5cm, 9.5cm, 11.5cm, 14.5cm, 16.5cm and 20.5cm.
(4): Do you have extra large sizes.
* Yes, please check below image, and you will see 16 packs Eco Lifestyle Silicone Stretch Lids.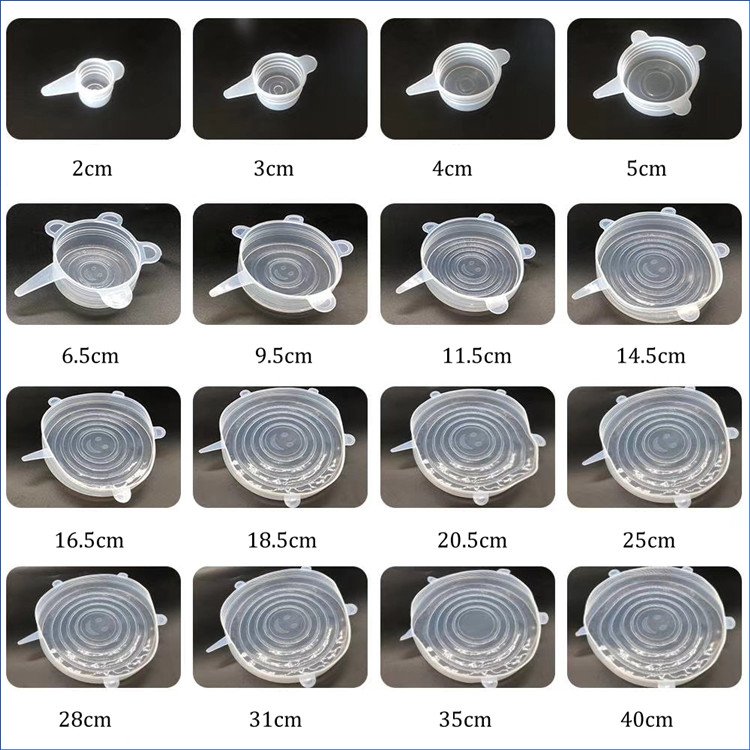 (5): Can you stack with them (one container on top of another)?
* Yes. Unlike cellophane, or those little bowl covers with elastic around them that you get at the grocery store, these are taut enough to stack something on top of.
(6): What are your contact details?
* You can email us at sales[at]cndeerhunter.com or phone us on +86-13823789007