Heat Resistant PTFE Mesh Conveyor Belt For UV Dryer Machine
Teflon mesh conveyor belt: superior strength and easy release for conveyor applications

PTFE mesh conveyor belt is manufactured from a PTFE coated glass mesh and is commonly used in heat resistant applications that require good airflow through the belts. The PTFE coating also provides excellent release properties making it popular for a wide range of product transfer and drying applications. Our PTFE mesh conveyor belting can be manufactured into endless conveyor belts with sealed edges to your requirements.
Many models available from us
Item

Color

Fabric weight
(g/m²) ±3%
Total weight
(g/m²) ±5%

Tensile strength (N/5cm)±5%

Mesh size

warp

weft

mm

ME001

Beige

367

440

1800

1650

1*1

ME001B

Black

367

440

2400

1600

1*1

ME003

Black

395

545

1350

1700

4*4

ME004

Beige

395

545

1350

1700

4*4

ME007K

Yellow

417

570

3200

2300

4*4

ME008

Brown

414

570

1800

3000

4*4

ME008S

Brown

470

630

2000

3000

4*4

ME012

Black

470

630

1800

3000

4*4

ME010K

Yellow

247

410

3300

2050

4*4

ME013

Beige

306

460

1400

1000

10*10

ME014

Beige

307

440

1500

1100

0.5*1

ME015

Beige

416

520

2000

1450

2*2.5

ME016(round)

Yellow Mesh Joint

417

615

3000

2000

-

ME016(square)

410

580

1900

4000

-

ME018

Beige

490

735

2000

4000

4*4

ME019

Beige

620

890

2300

4000

4*4

ME032

Beige

420

710

2500

3000

4*4

ME033

White

595

830

3500

3500

2*2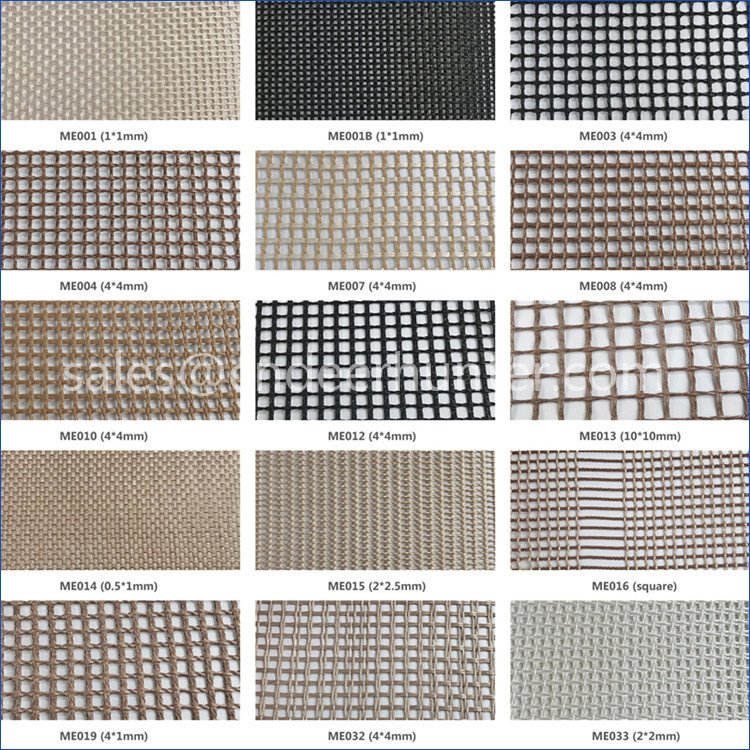 Main Physical Features
1: PTFE coated fiberglass open mesh belt includes mesh size 0.5mm*1mm, 1mm*1mm, 2mm*2mm, 2mm*2.5mm, 4mm*4mm and 10mm*10mm, and according to the different warp and weft, there are single weft PTFE open mesh conveyor belt and double weft open mesh conveyor belt.
2: Thickness ranges from 0.5mm~1.2mm.
3: Max width up to 4000mm.
4: Packed in rolls and any length can be available.
5: Standard color - Brown, Beige, Black, White
6: Edge covering can be with heat-sealed PTFE film, PTFE coated fiberglass fabric or PTFE coated Aramid (Kevlar) fabric.
Use pure PTFE film with color red, black or white.

Normally use 0.13mm PTFE cloth.

With very high strength but expensive material.
7: Splicing Options
To assure the best performance and accurate tracking, we recommend ordering open mesh conveyor belts with splices wherever possible. We offer all the standard splices. The following images somehow can help you to determine the best splicing option for your specific application.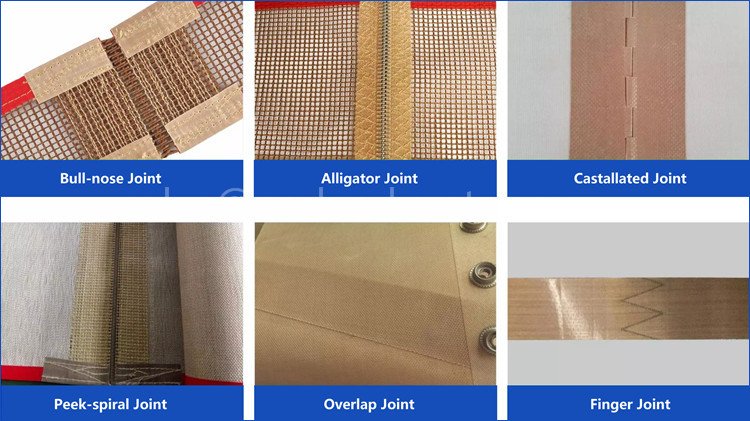 Selecting the PTFE Mesh Conveyor Belt
* Made according to customer's specs.
* If you do not need mesh, you can choose Teflon fabric conveyor belt ( details please refer to the Teflon fabric conveyor belt )
* Bindings and joints shall be used technically, details please refer to the related illustration.
* If the width of the belt is more than 2m, double weft or kevlar belt will be recommended to ensure the strength.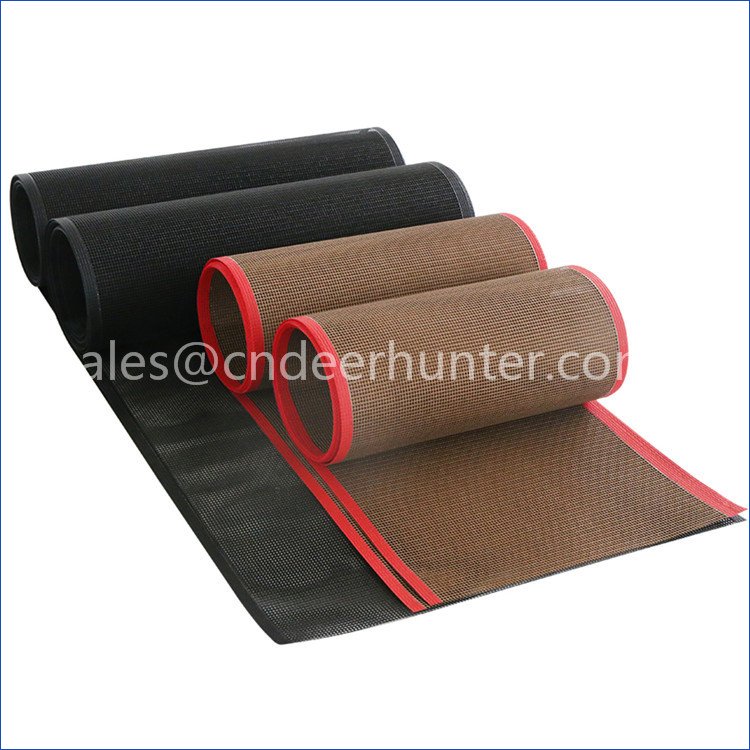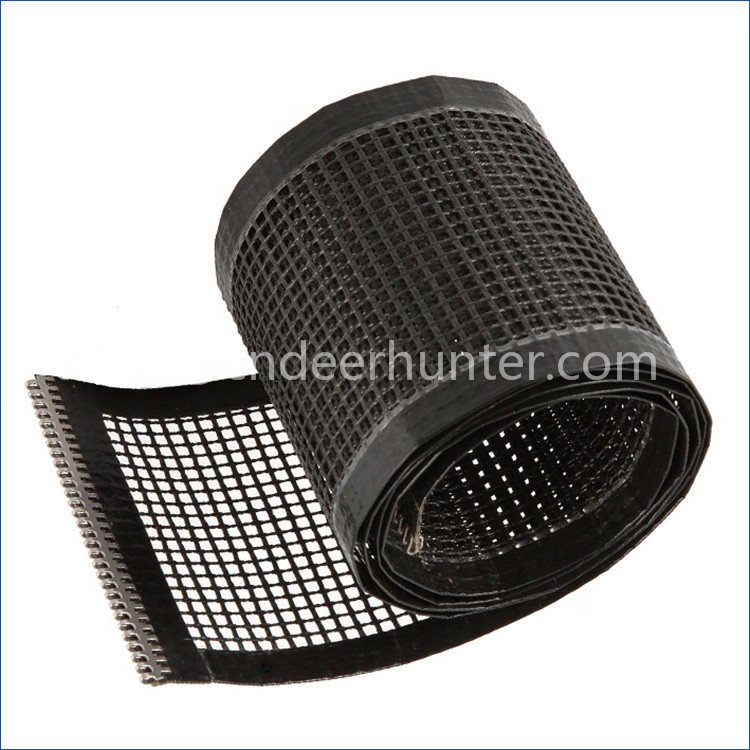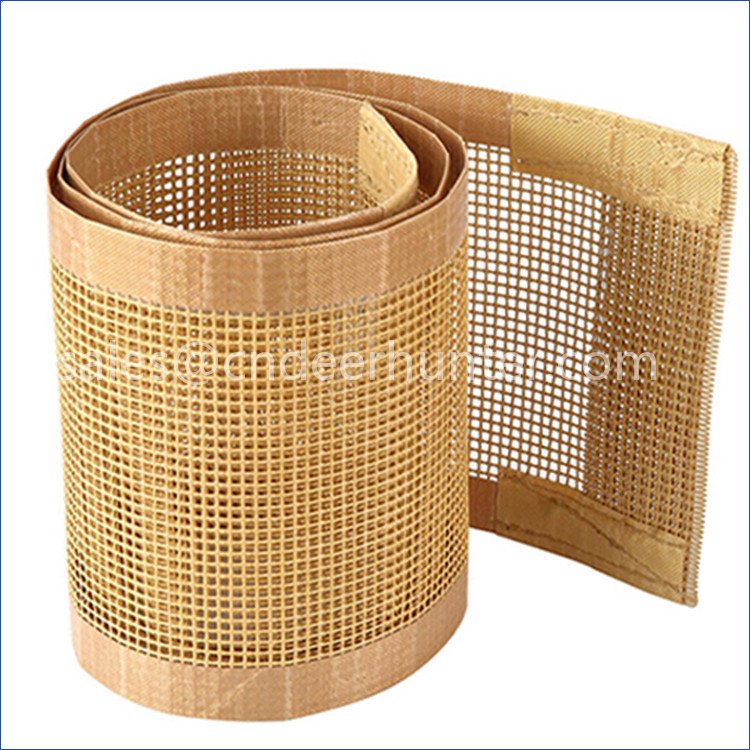 Major Use
* PTFE mesh belts of drying machine for non-woven textile, textile printing, silk-printing and dyeing machine.
* PTFE mesh conveyor belting of shrinking machine for garment fabric, high-frequency and UV dryer.
* Dryer conveyor belt for hot-air dryer, quick-frozen machinery.
* Open mesh belting of oiling machine for paper glazing and waxing, plant engineering
* Conveyor belt for sealing auto packing machines
* PTFE mesh sheet for hardboard production
* For various of food and drugs processing, packaging and handling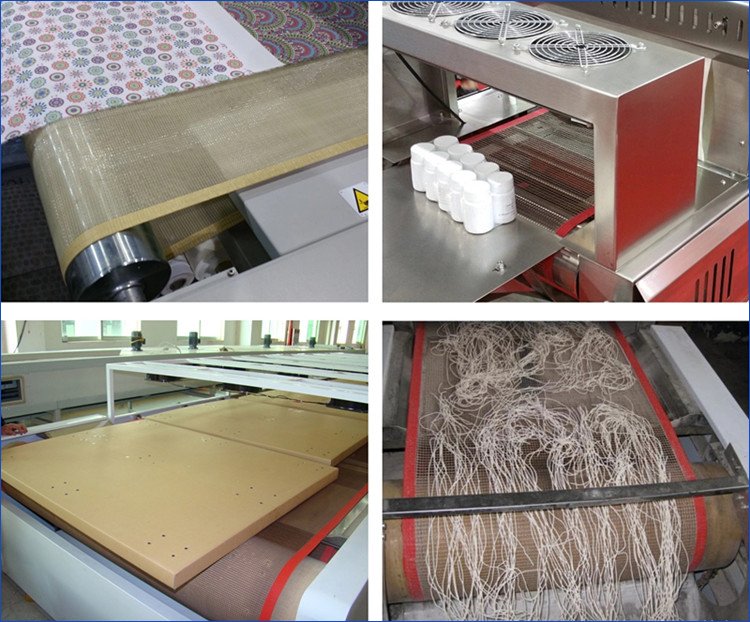 Frequently Asked Questions
1: Who will pay the freight fee for the samples?
* As a leading PTFE conveyor belting supplier, we pay the freight fee for the samples you want. And sample size is usually with 20cm x 30cm each. Just let us know your shipping address.
2: How is your production time?
* Usually 5-10days for below 1000m2 and 15-20days for below 5000m2.
3: Where is your nearest shipping seaport?
* Shenzhen.
4: Which type of PTFE mesh conveyor belts do you recommend?
* Mesh size 4*4mm black and brown are gaining popularity all the time.
5: What are your contact details?
* You can email us at sales@cndeerhunter.com or phone us on +86-13823789007