Full Body Coverage 9D Hydrogel 3D Curved Anti-explosion HD Clear Soft Screen Protective Film For Huawei Mate 20 Pro Not Glass
Adopted top-level chemical processed real glass, it features high transparency, high sensitivity, and delicate touch feeling. The premium screen protective film for mobile phone has an oleophobic coating that prevents fingerprints and other contaminants. Secure shatterproof function, will not be broken into small pieces of sharp. It offers a tough, durable, and transparent surface while keeping the LCD screen clean and unscratched. Easy to install and remove, no bubbles, no residue left.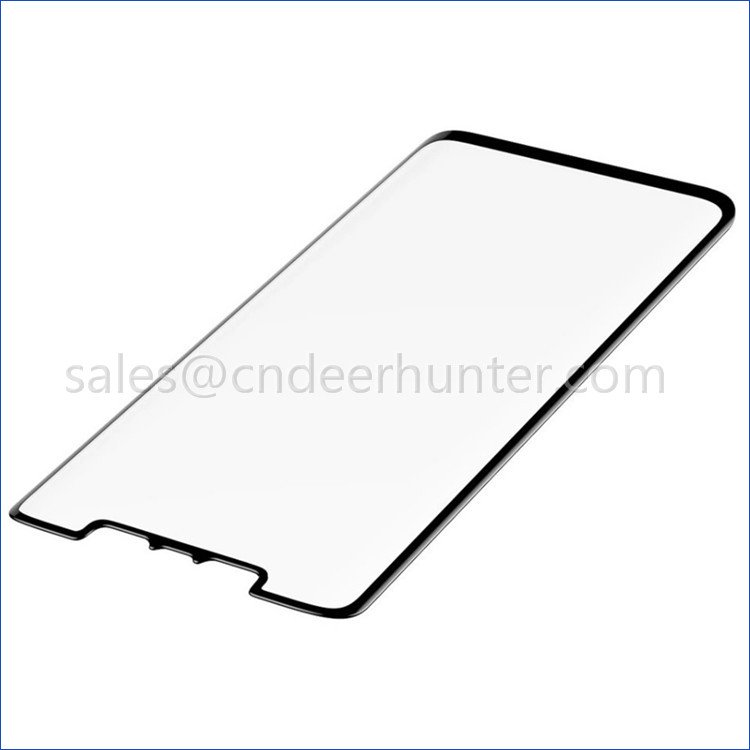 Keep your Huawei MATE 20 Pro's display fully protected with our selection of the very best Huawei MATE 20 Pro screen protective film. All of our 3D curved screen protective films have been vigorously tested to ensure they work perfectly with your Huawei MATE 20 Pro. Protect your smartphone screen with this shatter-proof high-quality HD clear screen protective film.
Production Description
1: Full cover protection for your Huawei MATE 20 Pro's screen
This ingenious solution to protecting your Huawei MATE 20 Pro's screen involves a 0.1mm thick soft PET-made material soft film protector that covers even the edges of the display. The underside of the screen protector sits flat on the screen and matches the contours of your phone's screen.
2: Ultra clear protector with a 92% light penetration ratio
The soft film Huawei MATE 20 Pro screen protector won't diminish the sharpness or brightness of your phone's display. It is ultra-clear and has a 92% light penetration ratio, compared to tempered glass screen protectors that generally have an 80% light penetration ratio.
3: Compatible with the in-screen fingerprint reader
Each 3d curved screen protector for the Huawei MATE 20 Pro Pro has been designed to be compatible with the in-screen fingerprint reader, ensuring you can continue to use your phone without any issues.
4: Working layer with 0.1mm thickness adds minimal bulk to your phone
Despite being the ultimate in screen protection for your Huawei MATE 20 Pro, this cell phone screen protector is only 0.1mm thick. This means it only adds an almost imperceptible amount of extra thickness to your phone, so you can be sure it is safe from harm while looking as good as new.
5: Tailed for the Huawei MATE 20 Pro
Designed specifically for the Huawei MATE 20 Pro, the cell phone screen protector offers a perfect fit for your device. It features cut-outs for the camera, sensors, speaker and button, with transparent sections for the capacitive buttons so you can still see when they are lit.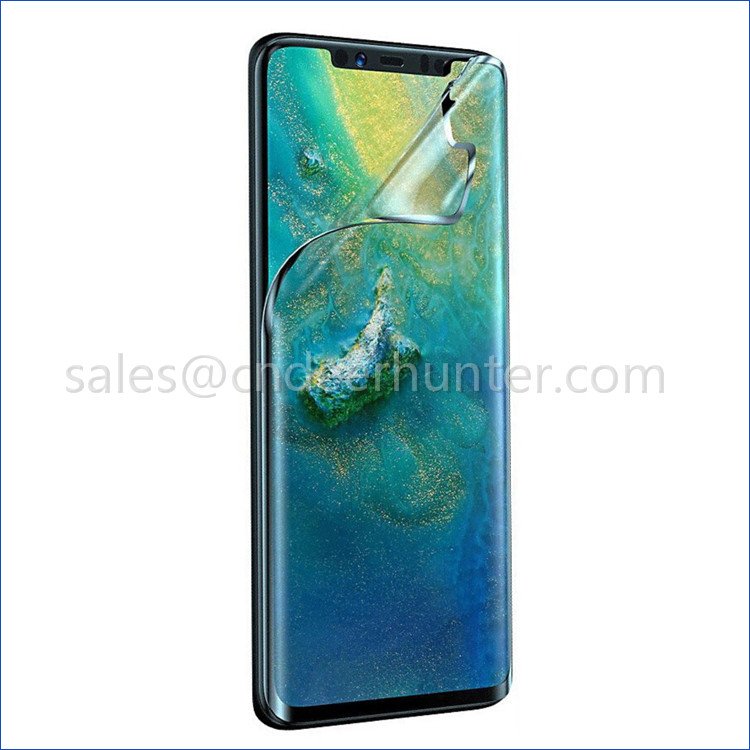 6: Product Specifications
Items

Specs

Model

Soft Screen Protective Film For Huawei MATE 20 Pro

Material

Flexible PET protective film

Structure

*Hydrophobic and olephobic coating
*Base film PET layer
*Silicone Adhesive layer

Feature

* Fingerprint proof, Scratch resistant and Touch sensitive
* Precise cutting provide 100% perfect fit
* Rapid exhaust and bubble free

Color

Clear + black

Total thickness

0.26±0.01mm

Working layer thickness

0.1mm

Light transmittance

92%

Hardness

4H

Accessories

1.Dusty removal; 2.Fiber 3.Alcohol Pad

Package

Neutral or Tailored
Frequently Asked Questions
1: Is the material PET film or Tempered glass?
* Our raw material is a flexible PET protective film.
2: Is the hardness 9H?
* Our hardness is 4H. That is enough. 9H is all a publicity stunt.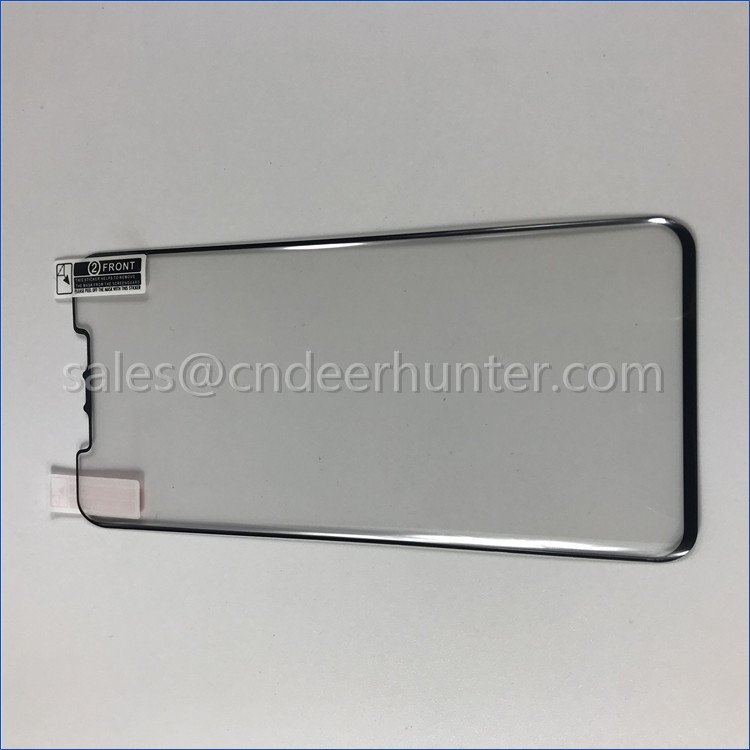 3: How is the MOQ like?
* In theory, 1pc is available from us. But considering the freight charges, MOQ50-100pcs is preferred.
4: How is the package like?
* Naked/Neutral/Customized package - all available.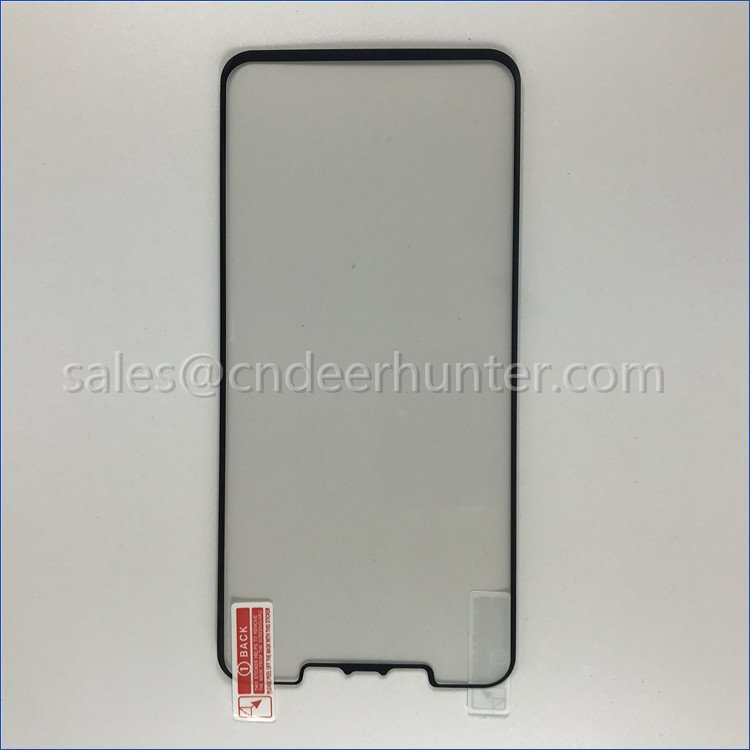 5: Can I get a sample?
* A sample is free. But you gotta pay the freight.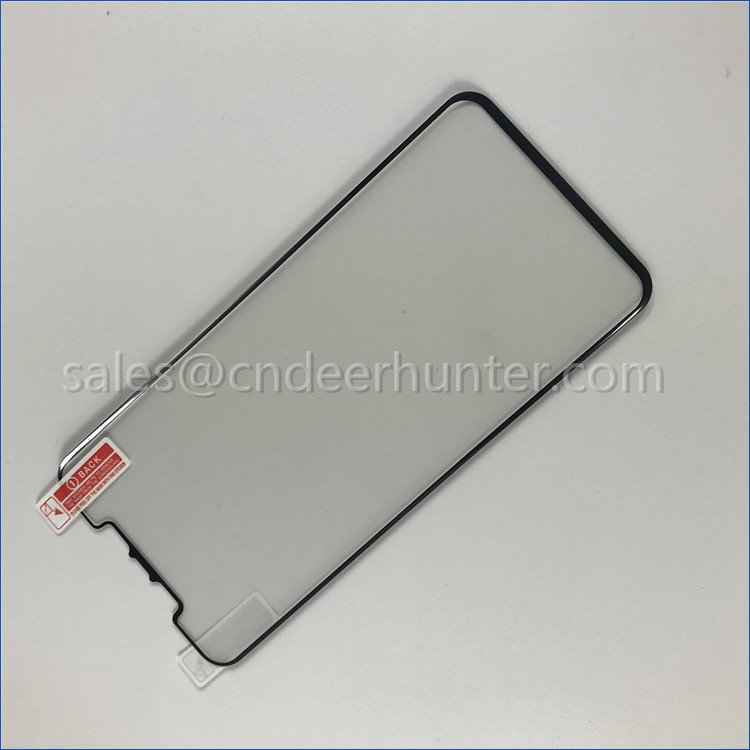 6: When should I pick an Edge-to-Edge screen protector and when should I pick a normal one?
* If you use a case that wraps around the edges of your mobile device, an edge-to-edge protector could possibly damage your screen around the edges. The edge might cut into the screen. Use a regular protector in this case. Our soft screen protective film for Huawei Mate 20 Pro mobile phone leaves enough room for your case.
We are a professional screen protector supplier in China. And you can contact us by email sales[at]cndeerhunter.com
Mobile/Whatsapp/Wechat: +86-13823789007
Skype: FULLCHANCE100